Senator's Son Says Trump Ally, Sheriff Joe Arpaio, Pursued Charges Against Him to Smear Father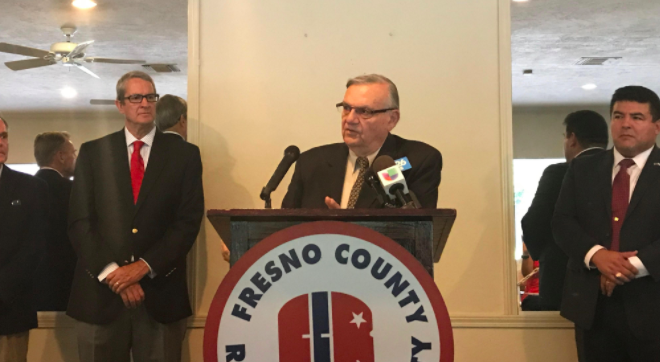 One of the sons of Arizona Senator Jeff Flake has filed a lawsuit against President Trump ally Sheriff Joe Arpaio, accusing him of maliciously pursuing charges of animal cruelty to damage his father's political reputation.
The lawsuit is one of a series filed against notorious Maricopa County Sherriff Arpaio in recent years.
President Donald Trump issued a pardon for him in August after he was convicted of being in contempt of a court order banning him racially profiling suspects.
Jeff Flake is one of Trump's fiercest Republican critics and has criticized Arpaio's anti-immigrant policies as Sheriff. In October he announced he would not seek re-election to the Senate.
The charges go back to 2014, when Austin Flake and his wife were watching dogs at an animal shelter run by her parents when the air conditioning broke and 21 animals died of heat exhaustion.
The owners of the animal shelter pleaded guilty to animal cruelty charges for not properly maintaining the air conditioning unit, and the investigation into Flake and his wife was dropped at the request of prosecutors.
But Austin Flake's lawsuit alleges that Arpaio has been determined to link the senator to the case, going as far as to order surveillance of his home and examining Austin Flake's phone.
Stephen Montoya, an attorney for Austin Flake and his former wife, said, as cited by the Associated Press, "It splashed their names across the internet as the murderers of 21 dogs. It really ravaged them emotionally."
Arpaio denies being responsible for criminal charges being brought against the couple. The case will go to trial Dec. 5.