Senators Urge Janet Yellen to Prioritize Putting Harriet Tubman on $20 Bill
Sen. Jeanne Shaheen (D-N.H.) and Sen. Ben Sasse (R-Neb.) have urged Treasury Secretary Janet Yellen to prioritize putting civil rights icon Harriet Tubman on the $20 bill.
The bipartisan senators sent Yellen a letter on Tuesday urging her to move forward with the redesign effort. The plan to replace former President Andrew Jackson with Tubman, an abolitionist and former slave who was a key figure in the underground railroad, was hatched in 2016 but later put on hold under the administration of former President Donald Trump.
"The Department announced in 2016 plans for a series of changes to our paper currency, including that it had selected Harriet Tubman to be depicted on the $20 bill during the next redesign of that denomination," the senators wrote to Yellen. "Our understanding, corroborated by public reporting, is that much of the work of that redesign was well underway, when the previous Administration indicated it would not be moving forward with the update in 2020."
The original plan called for the new Tubman bills to be issued last year and extensive work had been completed by the time former Treasury Secretary Steven Mnuchin announced in May 2019 that the redesign would be delayed by at least six years and may no longer feature Tubman, according to The New York Times.
"We hope sincerely that is no longer the case, and encourage the prioritization of Ms. Tubman before working on other redesigns," the senators wrote. "We stand ready to offer any support for your efforts to ensure this towering figure in our nation's history receives the recognition she has deserved for so long. Our currency tells the story of our nation, and it is long past due for Ms. Tubman's part of that story to be told."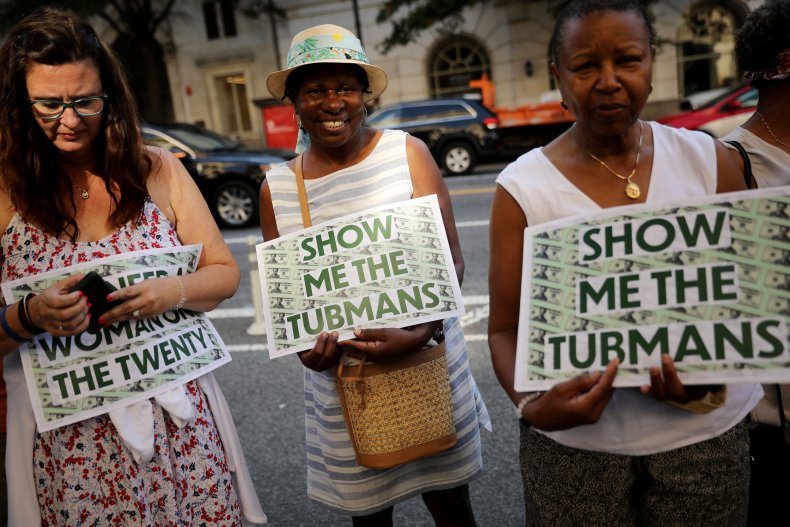 If $20 bills featuring Tubman are issued, it would be the first time that both a woman and a person of color has ever appeared on U.S. paper currency. The senators stressed that "portraying a woman on one of the most important symbols of American society recognizes the contributions of the full diversity of significant American historical figures, including women."
The redesign plan was not viewed favorably by Trump, who insisted that the decision was "pure political correctness" and would be disrespectful to the "great history" of Jackson, a slave owner, while suggesting that Tubman be placed on the far less common $2 bill instead. The $2 bill currently features Thomas Jefferson on its face.
President Joe Biden's administration is taking a different view and has expressed a desire to revive the effort. White House Press Secretary Jen Psaki suggested that Yellen, as head of the Treasury Department, would be in charge of an effort to "speed up" the Tubman redesign during a January 25 press conference, although no further details concerning a timeline were offered.
"The Treasury Department is taking steps to resume efforts to put Harriet Tubman on the front of the new 20 dollar notes," Psaki said. "It's important that our notes—our money, if people don't know what a note is—reflect the history and diversity of our country, and Harriet Tubman's image gracing the new 20-dollar note would certainly reflect that. So, we're exploring ways to speed up that effort, but any specifics would of course come from the Department of Treasury."
Newsweek reached out to the Treasury Department for comment.