'Send Her Back' Chant at Trump Rally Brings Social Media Support for Ilhan Omar
President Donald Trump spent a large chunk of time needling into Rep. Ilhan Omar at a Wednesday rally in North Carolina, prompting many in the Greenville arena to chant, "Send her back."
Omar, a Democrat from Minnesota, responded on Twitter with a quote from author and civil rights activist Maya Angelou, but social media has gone a step further to support her.
Sen. Bernie Sanders, an independent from Vermont, threw his support Wednesday to Omar on Twitter.
"#IStandWithIlhan and am proud to work with her in Congress," Sanders tweeted. "Trump is stoking the most despicable and disturbing currents in our society. And that very hatred and racism fuels him. We must fight together to defeat the most dangerous president in the history of our country."
An entire thread supporting Omar began Wednesday night, but here's how it began.
Shortly after Trump began the speech, he mentioned "the squad" — Omar, Alexandria Ocasio-Cortez, Rashida Tlaib and Ayanna Pressley — four Democratic Congresswomen of color who the president said should "go back and help fix the totally broken and crime infested places from which they came" and that "these places need your help badly, you can't leave fast enough."
On Wednesday he started with Omar, who was born in Somalia and defected to America as a refugee, and the only one of the "squad" born in another country
"Representative Omar blamed the United States for the terrorist attacks on our country, saying that terrorism is a reaction to our involvement in other people's affairs," Trumo said. "She smeared U.S. service members involved in Black Hawk down. In other words, she slandered the brave Americans who were trying to keep peace in Somalia."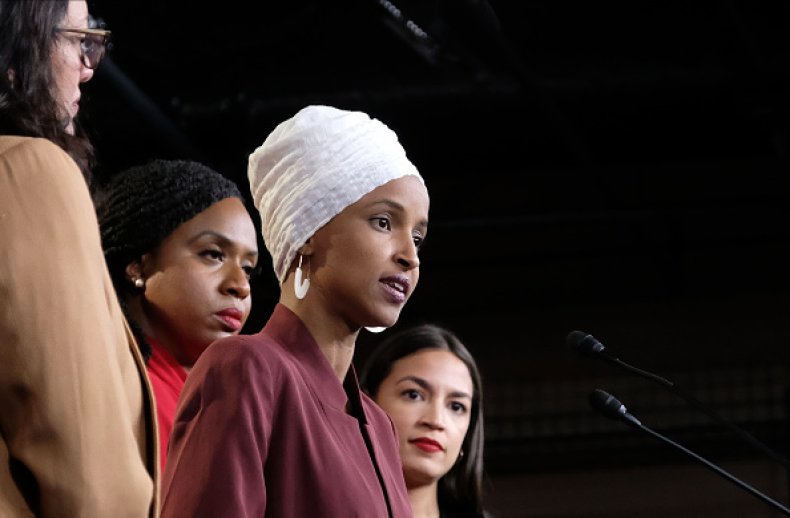 The president resurfaced comments Omar previously said, and mentioned a Tuesday press conference when Omar was asked whether or not she supported al-Qaeda.
"That's our enemy," Trump said. "They are a very serious problem they we take care of, but they always seem to come along somewhere. She refused to answer. She didn't want to give an answer to that question.
"Omar blamed the United States for the crisis in Venezuela ... and she looks down with contempt on the hard-working Americans, saying that ignorance is pervasive in many parts of this country."
And while the president continued, the crowd began their "Send her back" chat.
Omar quoted Maya Angelou in this tweet. A Twitter thread started not long after that, and here are what the people are saying.