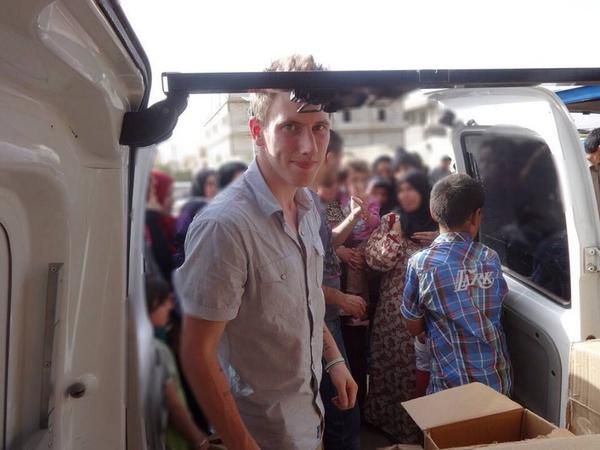 A senior member of al-Qaeda has spoken out in defence of Abdul Rahman Kassig, the American hostage threatened with execution by ISIS, saying he once gave him medical treatment.
Abu Omar Aqidi, a senior commander of Al-Qaeda's official Syrian offshoot Jabhat al-Nusra, said in a series of tweets that the American aid worker who changed his name from Peter after converting to Islam in while in captivity had "performed a successful operation under bombardment by the regime".
He added that Kassig had removed a piece of shrapnel from the head of one of his fellow jihadists, and had treated "most of those injured" in clashes between forces of the Assad regime and ISIS, al-Nusra and other groups fighting for control of the city of Deir ez-Zour in eastern Syria last year.
"Naturally, I assumed he was a Muslim doctor who had come to Syria," Aqidi wrote in Arabic.
"It later became clear to me that he's an humanitarian activist that served in [Deir ez-Zour] for more than a year and was then kidnapped by ISIS," the militant added.
Kassig initially went to Iraq as a soldier in the US army, but later returned to establish an aid convoy in the region, appalled by the civilian suffering he had witnessed during his tour of duty.
The 26-year-old from Indiana was abducted in October last year, while working on humanitarian projects in Syria. Kassig was shown on-screen and threatened with death at the end of the ISIS video depicting the execution of British aid worker Alan Henning.
Members of ISIS tweeted that the deadline for his execution was last Wednesday. However, the group has been known to delay executions in contradiction to official announcements. Alan Henning's murder last month occurred several days after the promised two-week deadline.
On Friday, Kassig's mother Paula took to Twitter to beg her son's captors to make contact with the family.
Mrs Kassig wrote: "We have tried to contact you directly to plea for the life of our only son, Abdul Rahman Kassig, and have not received any response. Please tell us what more we can do that Abdul Rahman may continue to serve and live his life in accordance with the teachings of Islam."
Both ISIS and al-Nusra are classified as terrorist organisations involved in fighting the Iraqi and Syrian governments, although the groups have been rivals for much of the time that ISIS has been involved in Syria's civil war.
Although ISIS initially grew out of al-Qaeda's offshoot organisation in Iraq, the former Islamic State of Iraq (ISI), the al-Qaeda leadership condemned its former affiliate earlier this year.
In a statement posted to jihadist web forums in February 2014, the al-Qaeda general command claimed that they had "no connection with the group called the ISIS… [were] not pleased with it and [had] ordered its suspension".
"Al-Qaeda is not responsible for ISIS's actions," the statement added.
The groups have diverged on several issues since then, with al-Nusra largely concentrating on toppling the Assad regime. ISIS, on the other hand, has appeared more concerned with making territorial gains and implementing their hardline version of Sharia law across the beleaguered region.