Elderly Man Found Alive in Washington, D.C., Senior Center Five Days After Fire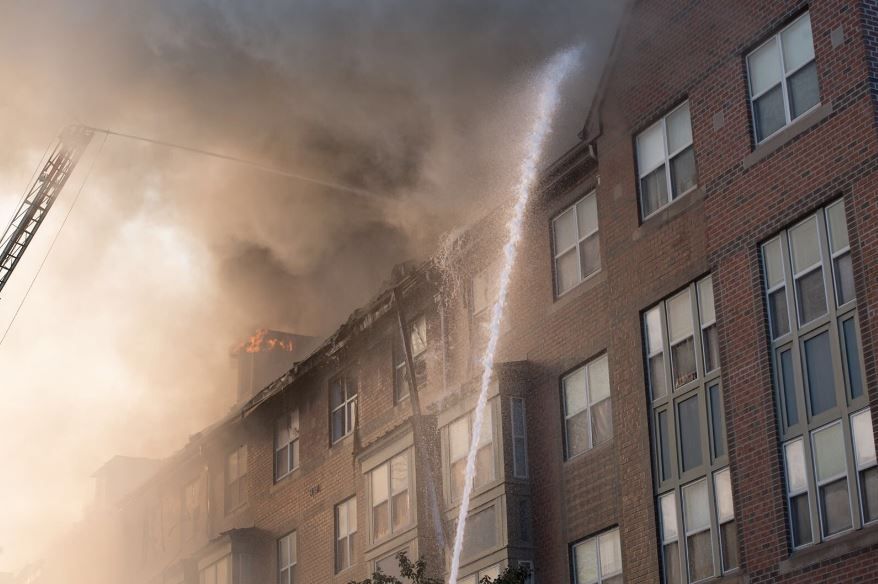 Five days after a fire erupted at the Arthur Capper Senior Housing Center in Washington, D.C., a man was found inside the building.
On Monday, D.C. Councilmember Charles Allen announced that the man, who he identified as elderly, had been located inside the building. His identity has not been released and Allen said that he appears to have non-life-threatening health issues.
"For someone to be found inside the building five days after the fire, clearly there have been multiple failures to this point in either identifying and locating every resident or securing the building—whichever the case may be," Allen said. "I will be demanding answers."
During a press conference, Mayor Muriel Bowser told reporters that the man, who is believed to be a resident of the second floor, was sitting in his apartment when he was found and was helped out of the building.
The fire broke out on Wednesday afternoon at the public senior housing residency and required the assistance of more than 100 firefighters to contain. Firefighters first attempted to fight the fire from inside the building but had to come outside after conditions deteriorated.
Firefighters remained on the scene overnight to ensure the fire didn't reignite and were still putting out hotspots on Thursday morning.
"Firefighters needed to rescue a few residents via window from the higher floors. When our office got word, our staff started calling to alert residents inside the building," Allen said in a statement. There's no doubt the alert and fast action of those neighbors and our D.C. Fire and EMS saved lives today."
Along with firefighters, an estimated 100 Marines stationed about a mile away sprinted to the building after the fire began and some entered the housing complex to help evacuate residents. Gunnery Sgt. John Jackson told Military.com that the Marines were acting on their own initiative and were not ordered to respond. Navy corpsmen also responded to help administer health checks on fire victims.
At least four people were transported to the hospital with non-life-threatening injuries, according to WTOP, and an estimated 160 residents were displaced.
Officials initially reported every resident was accounted for and brought to safety.
"We believe that everyone has gotten out of the building. The building management has also contacted all tenants, and all tenants have been accounted for," Bowser said during a press conference on Wednesday night.
In light of the man being found, Bowser said the list from the management company of residents was clearly wrong and shared that the fire department has been instructed to recheck units.
"We did not know that he was in the building," Bowser said. "We certainly looked at the building management to tell us who lived in the building and if those residents were accounted for."
The management company told city officials that they had not laid eyes on the man, who was on a resident list, and gave no reason as to why, if they didn't see him, they listed him as being accounted for.
Bowser explained that the city was working with the Centers for Medicare & Medicaid Services to ensure residents have continued care including access to all of their prescriptions.
A structural engineer was brought in by the building's owner to determine if the structure was safe for residents to enter and gather their personal belongings. However, Bowser acknowledged that it may not be possible for residents to return.
In the interim, Bowser said residents were being housed in motels, but the goal is to find them long-term affordable housing options. Residents displaced by the fire would be eligible for a housing choice voucher. The voucher program provides rental assistance to residents to live in privately owned buildings.
Bettye Carter was rescued from the fourth floor of the building by 21-year-old Da'Von McRae, a D.C. firefighter whose own father lost his life on the job, and on Sunday, the two got to meet under far less stressful conditions.
"I'm not gonna let nothing happen to you, so if you go down, I go down," McRae shared with WJLA that he told Carter during the rescue.
With only about a year on the job, Carter was McRae's first rescue and he explained that he'll never forget her.
The Arthur Capper Senior Center had 162 units and was completed in 2007. It's designed to house independent seniors that qualify for low-income housing. Following the fire, the Capitol Hill Community Foundation partnered with the Van Ness Elementary School Parent Teacher Organization and ANC Commissioner Meredith Fascett to establish a donation fund for those who lost their homes.