As New York endeavors to expand public access to coronavirus vaccinations, many eligible residents are encountering logistical barriers amid their efforts to secure the immunization. In New York City, individuals who meet established criteria required to receive vaccines are expected to navigate a complicated, lengthy online process in order to book an appointment.
New York state launched the second installment of its Phase 1 vaccine distribution program on Monday, which allows millions of additional residents to receive immunizations. After initially administering COVID-19 vaccines to health-care workers whose employment settings carry the highest risks of potential virus exposure, New York is offering shots to individuals older than 75, first responders, and education, public safety and public transit employees under the program's Phase 1b.
New York City residents who qualify for COVID-19 vaccines through the distribution plan's next phase can schedule an appointment using resources made available at the New York City Health Department or New York City Health and Hospitals' websites. Both options are relatively confusing to maneuver, as Scott Stringer, the city's comptroller, pointed out in an extended Twitter thread posted Sunday evening.
"The @nychealthy site has a multi-step verification process just to set up an account, and then a six-step process to set up an appointment," Stringer wrote, after having attempted to navigate the digital portal himself. "Along the way, there as many as 51 questions or fields, in addition to uploading images of your insurance card."
"All of this will be particularly challenging for populations that struggle with digital literacy and digital access—who have been hit hardest by this pandemic and who need the vaccine most," the comptroller continued. "We can't force frontline workers and those over 75 to confront a bewildering signup process. Any barrier to getting shots in arms is only going to prolong the agony of this crisis."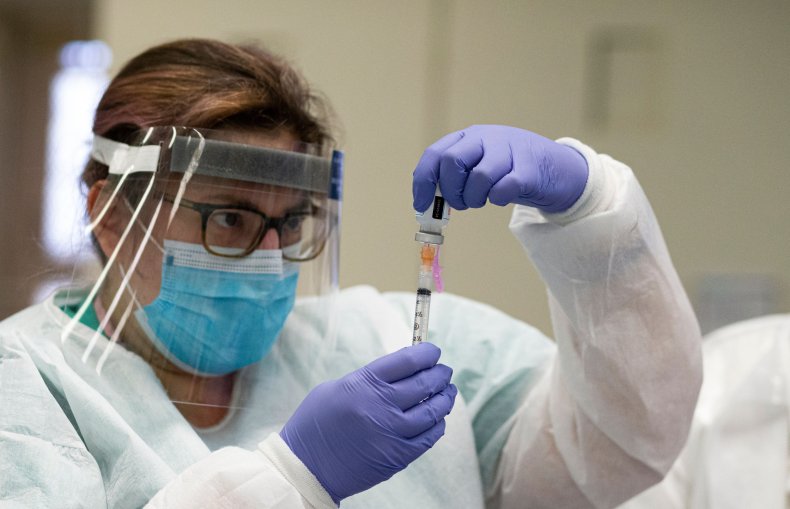 The health department's vaccine enrollment module initially asks users to input their ZIP codes and select a nearby facility where immunizations are currently being administered. Once selected, users are redirected to a webpage that requires them to create an account before completing an online questionnaire and finally providing proof of identification. New York City Health and Hospitals presents its COVID-19 vaccine questionnaire upfront, routing users through a series of questions concerning their personal information and medical history before moving on to a digital scheduling system.
The health department's scheduling portal appeared to grapple with technical errors that blocked access to some during its launch, according to Stringer's Twitter thread. Newsweek received the same error message when attempting to access the schedule on Monday afternoon.
Newsweek reached out to the New York City Department of Health and Mental Hygiene for comment but did not receive a reply in time for publication.