Senior Dogs Get 'Married' in Animal Shelter to Help Them Be Adopted Together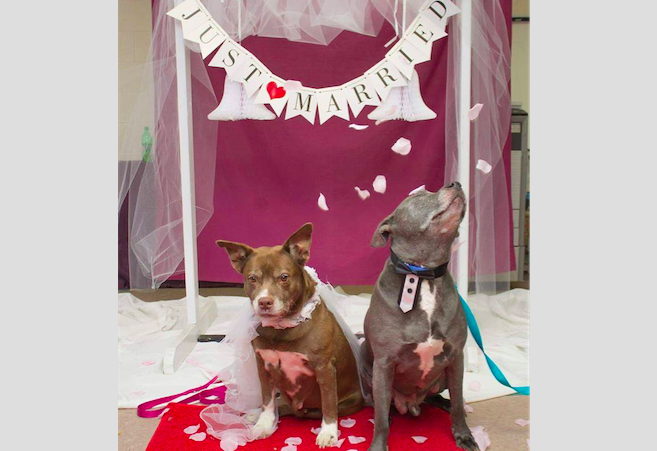 Two elderly mixed-breed dogs got "married" at an animal shelter earlier this month so they could get adopted together.
The dogs, named Jack and Diane, celebrated their wedding at the Kennebec Valley Humane Society (KVHS) in Augusta, Maine, on February 8, with the help of workers from the shelter.
Jack wore a bowtie collar and Diane donned a bridal veil before posing for pictures during the ceremony, which was complete with a red carpet covered in pink flower petals and a "Just Married" sign at a makeshift altar. The image was shared on KVHS's Facebook page later that day.
"Jack & Diane have finally made things official and tied the knot, and what a beautiful celebration it was! Our blushing bride and handsome groom may be considered 'seniors', but they will forever be young at heart!," the shelter wrote, alongside several pictures from the ceremony. "And you know where they'd like to go for their honeymoon? Home."
KVHS told Newsweek on Wednesday that Jack, who is around 10 years old, and Diane, approximately 7, were found wandering around a cemetery in Maine together a few months ago. Workers at KVHS then decided to marry the two strays so they could be adopted together as the two have been completely inseparable.
"They were found with their leashes tied together wandering a cemetery," a KVHS staffer said. "They do need to find a home together because they are very bonded."
Although the newlyweds' adoption fee has already been sponsored, their road to finding a home together could face some challenges as they come with two restrictions: No children or other pets in the home.
"Our dogs without restrictions often get adopted very quickly, leaving those with restrictions being posted often and left on our adoption floor for a much longer time," KVHS explained on Facebook. "We place the restrictions to ensure a successful life in their forever home; in this case, these two are just older and prefer to not be disturbed when resting or lounging, which proved to be an issue when living with younger children previously."
Founded in 1927, the Kennebec Valley Humane Society is a non-profit open-intake animal shelter. According to their website, KVHS's mission is to "care for, protect and place animals for adoption in lifelong homes; to prevent cruelty to animals by educating our communities in the proper and humane care of all animals."