U.N. Women Starts the Disciplinary Process for a Staff Member Accused of Sexual Misconduct
Phumzile Mlambo-Ngcuka, the under-secretary-general of the United Nations and executive director of U.N. Women, told the executive board on Monday that they have begun the disciplinary process of a senior U.N. Women staff member accused of years of sexual misconduct and workplace misconduct.
The allegations against Ravi Karkara, a senior adviser to a former U.N. assistant secretary-general, were first made public after a Newsweek investigation published in early August found eight men had accused Karkara of using his prestige and position to sexually harass them, said five sources with knowledge of the U.N. investigation.
The former organizing partner for the U.N. Major Group on Children and Youth, Aashish Khullar, told Newsweek that, as part of his job representing youth at the U.N., he spoke to "seven or eight" young men who have complained about Karkara harassing them. Three of those men—policy activist Steve Lee, British Member of Parliament Lloyd Russell-Moyle and former youth activist Junaid Mandoori—shed their anonymity to accuse Karkara of sexual and/or workplace misconduct.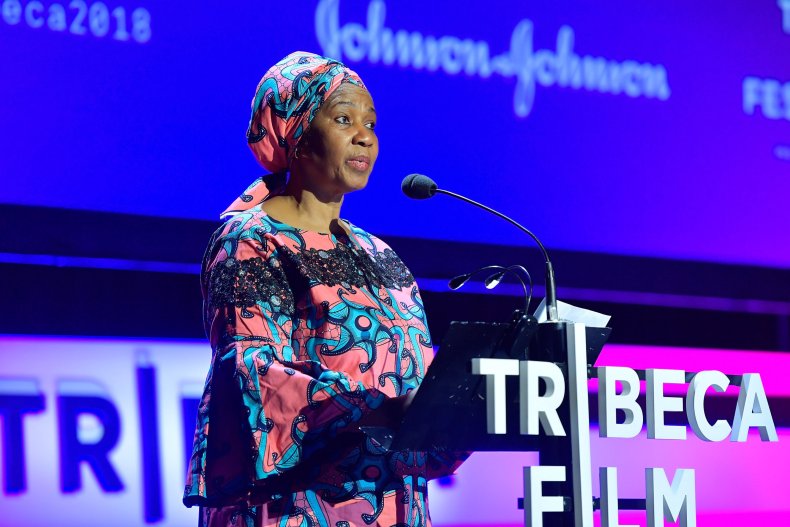 "As you know, we have a case of sexual misconduct allegations, which has been a source of pain for months as we await its conclusion," Mlambo-Ngcuka said.
While Mlambo-Ngcuka did not identify the subject of the probe in her remarks Monday, it is widely believed to be Karkara, whose more than 20-year career expands service in prominent international organizations such as Save the Children and U.N.-Habitat.
U.N. Women is the youngest division of the United Nations and aims to achieve global gender equality, helping countries develop laws, policies and programs.
The U.N. Development Programme's Office of Audit and Investigation completed the 14-month investigation in late August, delivering the results to executives of U.N. Women. No charges have been filed, and U.N. Women did not specify whether they will refer him to local authorities or assert diplomatic immunity on his behalf.
"A few days ago, when we received the investigation report from the Office of Audit and Investigation of [ U.N. Development Programme], we took immediate action to initiate a disciplinary process under our policy," Mlambo-Ngcuka said. "In the coming weeks, once due process is complete, we will share the outcome. It is regrettable that the process takes this long because justice delayed is justice denied."
Mlambo-Ngcuka vowed to be as transparent as possible throughout the disciplinary process, but asked for executive board members to be discreet to prevent compromising the case. "I am deeply committed to seeing that every resource is dedicated to dealing with such cases with speed and sensitivity," Mlambo-Ngcuka said. "Again, your support to help the system tighten up the pace at which it is undertaking its work on these issues will be most appreciated."
Karkara did not respond to requests for comment on Monday. Newsweek first contacted Karkara for comment in December 2017, when the U.N. announced a sexual misconduct investigation (without identifying the subject by name) and continued to attempt to contact Karkara over the course of Newsweek 's eight-month investigation. Karkara has yet to respond directly.
A friend and work associate of Karkara confirmed to Newsweek that he was the subject of the probe. Even though Karkara wanted to speak to the media to publicly deny the accusations, he was bound by a confidentiality agreement with the office investigating him, the work associate indicated.
Karkara's friend said the senior adviser has been under siege. "This has all been a shock to him, and he's going through a real hard time," the friend said.
The Hindustan Times asked a U.N. spokesperson on August 9 if the initial Newsweek story was accurate. "I would not dispute any of the information contained in the Newsweek article," U.N. spokesman Farhan Haq told the paper. "I can confirm that the individual from U.N. Women has been under investigation."
The friend and associate of Karkara's added that Karkara disputed media reports that he remains on U.N. payroll.
"He completely denied [the misconduct] to me, all of it, but he is under oath and can't talk," Karkara's U.N. Women associate said on the condition of anonymity. "He's my friend, and I trust him, but I also trust the claims of those victims and survivors, too."
Since he was identified by Newsweek as the subject of the internal U.N. probe on August 7, Karkara and his allies have contacted others associated with U.N. Women and the U.N. Development Group, two U.N. sources said, asking them to push back on the allegations against him, or at least to withhold judgment until the final results are made public.