Seniors Are Having Lots of Sex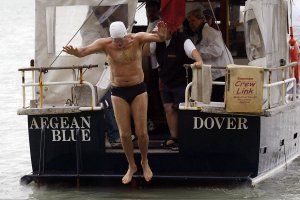 In the summer movie Love Ranch, 65-year-old actress Helen Mirren portrays an aging madam who heats up the screen in a sex scene. To promote the film, Mirren posed topless for New York magazine, which elicited a gaggle of fawning comments online. "Foxy," praised readers. "She puts the sex in sexagenarian," crowed one. "Helen, I want to have your children," said another.
Mirren represents a class of older adults newly embracing their sexuality. Now, more than ever, academic researchers are studying how much sex is being had by senior citizens. And the early consensus is that the Viagra era is officially in full swing.
"It looks like there is a tendency of older people to be more interested in sex, and there is probably a tendency of more engagement in sex," says Natalia Gavrilova, a researcher at the University of Chicago's Center on Aging. In a recent study, she and coauthor Stacy Tessler Lindau found that nearly 40 percent of men and 17 percent of women between ages 75 and 85 were sexually active. Among that cohort, 71 percent of men and 51 percent of women had quality sex lives.
According to a recent AARP report, 40 percent of people older than 45 have sex at least once a month, and in another recent study, researchers at the University of California, San Francisco, suggest that any decline in sex among older women might be primarily due to health, not lack of desire.
Because researchers have only recently begun asking seniors about their sex lives, it's still too early to confirm with statistical certainty that they're spending more time rolling between the sheets than ever before. Alison Huang, of the University of California's Department of Medicine, says ageism likely played a role in overlooking seniors in previous sex studies. "Perhaps people just assumed that older adults weren't having sex, so nobody asked them," she says. She also notes that the discussion of sexual activity has broadened over time, making it more difficult to compare the numbers.
But some sex experts say they don't need to wait for published studies to know that seniors are getting friskier. "There is no question. We do know that older people do engage in more sex activity than before," says Ruth Westheimer, coauthor of Dr. Ruth's Sex After 50: Revving Up the Romance, Passion and Excitement. Westheimer says taboos have been lifted, and many seniors are finding different ways to have sex. Because testosterone levels are higher in the morning, for example, older couples might go at it right after breakfast. "Men realize they can't be hanging from the chandelier anymore," she says. (The 82-year old declined to talk about her own sex life.)
In certain aspects, sex after 60 might even be better, at least for women. "Let's pause—shall we?—and consider the possibility of spontaneous sex without the paralyzing fear of an unplanned pregnancy. Who wants that, right? I mean, besides every heterosexual woman I know," writes Connie Schultz in her latest ClevelandPlain Dealer column, about menopause.
Retirement facilities will soon be opening their doors to an onslaught of baby boomers, with greater self-confidence, more money, and better health—all of which lead to more sex. Their values are also liberalized; now, only 22 percent of people older than 45 disapprove of sex outside of marriage, compared with 41 percent 10 years ago, according to AARP. Westheimer suggests that retirement residencies build special love shacks, outfitted with couches, fireplaces—and DO NOT DISTURB signs on the doors.
Such a concept might seem farfetched, but the directors of senior residencies are beginning to understand her point. The Hebrew Home, a nursing facility in the Riverdale section of New York, now has a policy that upholds the sexual rights and intimacy needs of seniors—including those with dementia and Alzheimer's. Residents are permitted to have pornography on hand, for example, and staff members are trained to leave the room if they accidentally walk in on a couple getting busy.
"Up to this decade, the majority of providers never considered sexual rights, but in fairness, clinical care should be about quality of life," says Robin Dessel, a director at the facility. She doesn't rule out a day when condoms are distributed. "This is a home, not a hospital," she says. "It's about life's pleasures."
The entertainment establishment, too, is starting to reflect the growing numbers of sexed-up seniors. In the recently launched reality television series Sunset Daze, featuring an Arizona retirement community, the cast makes references to vibrators and going commando. In the new film Lovely, Still, Martin Landau, who is now 82, romances Ellen Burstyn through a series of dates and, eventually, into a bed scene. (The film's director, Nicholas Fackler, says the scene wasn't meant to imply that the couple was sexually active.) The recent Oscar-nominated film Away From Her, starring Julie Christie, also tackled issues of love and Alzheimer's.
"Hollywood has realized the new market," says Pepper Schwartz, a love and relationships columnist for AARP. "The film industry has been persuaded that you can have movies about older romantic couples that won't make anyone gag."