Seoul Mayor Park Won-sun Found Dead Hours After Being Reported Missing
Seoul Mayor Park Won-sun, who was reported missing by his family on Thursday, was found dead in the South Korean capital police confirmed.
Park's body was found at Mount Bukak in northern Seoul just hours after he was reported missing. The exact cause of his death is under investigation, The Korea Herald reported.
The 64-year-old mayor was recently facing sexual harassment allegations, according to local media. A former secretary of his filed a complaint Wednesday against Park with the Seoul Metropolitan Police Agency for alleged sexual assault.
Police were reportedly planning to call Park as well as Seoul government officials for investigations into the case, The Korea Herald reported.
The woman, who claimed Park made physical contact several times since she began working with him in 2017, was reported to have submitted to police as evidence the messages she exchanged with the mayor via the Telegram messaging app.
There are others who have alleged sexual assault against Park, according to her testimony, The Korea Herald reported.
More than 700 police officers, drones and police dogs, as well as a firetruck and ambulance were mobilized in the search for Park, searching around his home and the Gilsangsa temple nearby in the Seongbuk-dong neighborhood of Seoul, where his cell phone signal was reported to have been last detected.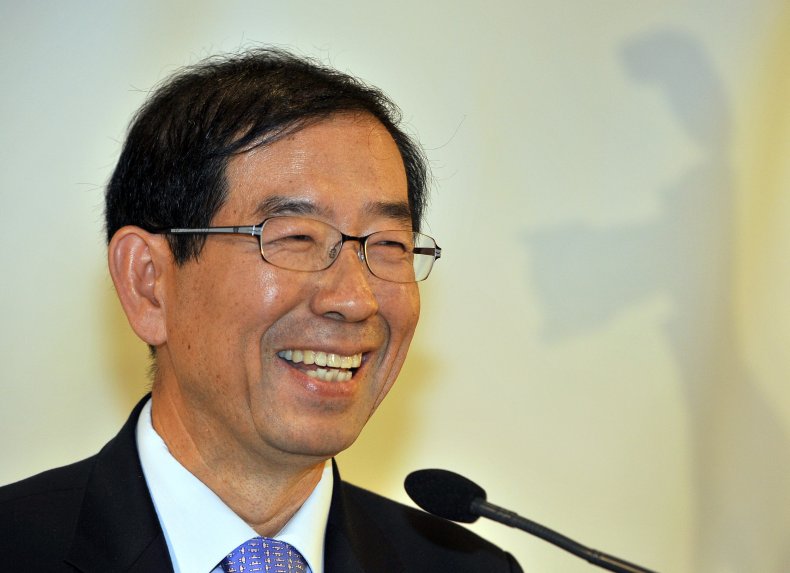 The mayor's daughter reported Park "had left home four to five hours ago after leaving words like a will, with his phone currently off," according to a police report she filed at around 5:17 p.m. local time, South Korea's Yonnhap News Agency reported.
On Thursday morning, the city government confirmed that all events and meetings that Park was scheduled to attend that day were called off for "unavoidable reasons," The Korea Herald reported.
On Wednesday, Park held a press conference on the capital's "Green New Deal" which aimed to cut carbon dioxide emissions while creating new jobs.
In June, the CAC (Cities Against COVID-19) Global Summit 2020, an online conference, was hosted in the South Korean capital. During the conference, Park led a discussion themed around "the world's paradigm shift after COVID-19," according to the city government website.
A former human rights lawyer and a civil rights campaigner, Park was elected in 2011 and was in his third and final term as the mayor of Seoul.
He is survived by his wife, a son and a daughter, The Korea Herald reported.