Separated Immigrant Children Suffered 'Suicidal Thoughts,' Shelter Admits
Confidential documents obtained by ProPublica Illinois told a chilling story of the mental and physical health of immigrant children held in federal custody in the Chicago area, with some having had suicidal thoughts during their detention.
The documents covered nine federally funded Heartland Human Care Services youth immigration shelters over a span of several years, including recent months in which about 2,500 children were forcibly separated from their parents at the U.S.-Mexico border.
In one document, a 16-year-old from Guatemala who was detained for at least 584 days described wanting to "quitarme la vida," or "take my life away" as he waited to be released.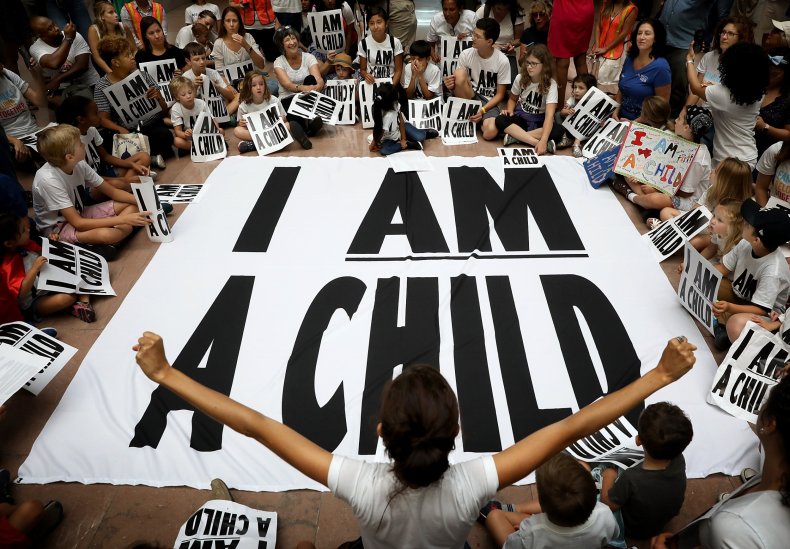 In another case, a 10-month-old boy who had been forcibly separated from his father at the border in March and had been held in detention for five months had been bitten repeatedly by an older child and was later hospitalized after falling from a high chair.
In a statement to ProPublica, officials at Heartland, which is part of a larger nonprofit organization called Heartland Alliance, acknowledged that children held in custody "don't want to be with us at all—they just want to go home.
"That can play out in deep feelings of despair, unhappiness, wanting to escape and even suicidal thoughts," they said.
The shelter, however, insisted that "this has nothing to do with the shelter and everything to do with the trauma and horror these children have lived through—coming to a foreign country, being brought to an unknown place without your loved one, and suffering emotionally from being forcibly separated from their parents."
Human Rights Watch also noted that immigrant parents separated from their children were told that their young ones had experienced "trauma, suicidal feelings" and "dangerously inadequate medical care."
One trend ProPublica noticed was that the longer children had been detained, the more they appeared to struggle, based on what children had said and what had been written about their experiences.
That revelation came as the Trump administration announced plans to withdraw from the Flores Settlement Agreement, which placed strict limits on the conditions under which immigration authorities could detain children, including rules curbing how long children could be detained.
The Departments of Homeland Security and Health and Human Services said that the administration was planning to issue new regulations that would replace the Flores agreement.
Under those proposed regulations, immigration officials would be allowed to keep children and their parents together in custody for the entire length of their court proceedings, which could mean months in detention.
Human Rights Watch has said that the new regulations would gut a settlement that had been "designed to address serious abuses experienced by child migrants."
The organization asserted that in order "to be consistent with international human rights law, children should not be held in immigration detention except for very short periods of time for the purpose of effectuating a deportation order."
The National Immigrant Justice Center has vowed to fight to stop the Trump administration "from further traumatizing children and families" with its proposed regulations.
In a statement published online, the center accused the government of trying to "roll back basic requirements for how children are treated in custody."
"At the end of a summer in which the Trump administration and Attorney General Sessions took thousands of children from their parents at the border, and failed to reunite many of them even after a federal court order, they continue to search for new ways to punish immigrant children and parents and funnel taxpayer money into DHS's immigrant incarceration system," said Heidi Altman, the center's director of policy.
"Americans spoke out and made a difference in demanding an end to the family separation policy; saving the Flores protections is the next phase in the fight to protect these kids," Altman added.
Heartland Alliance has not immediately responded to Newsweek's request for comment.