Separatists Put Ukrainian Captives on Show in Rebel Stronghold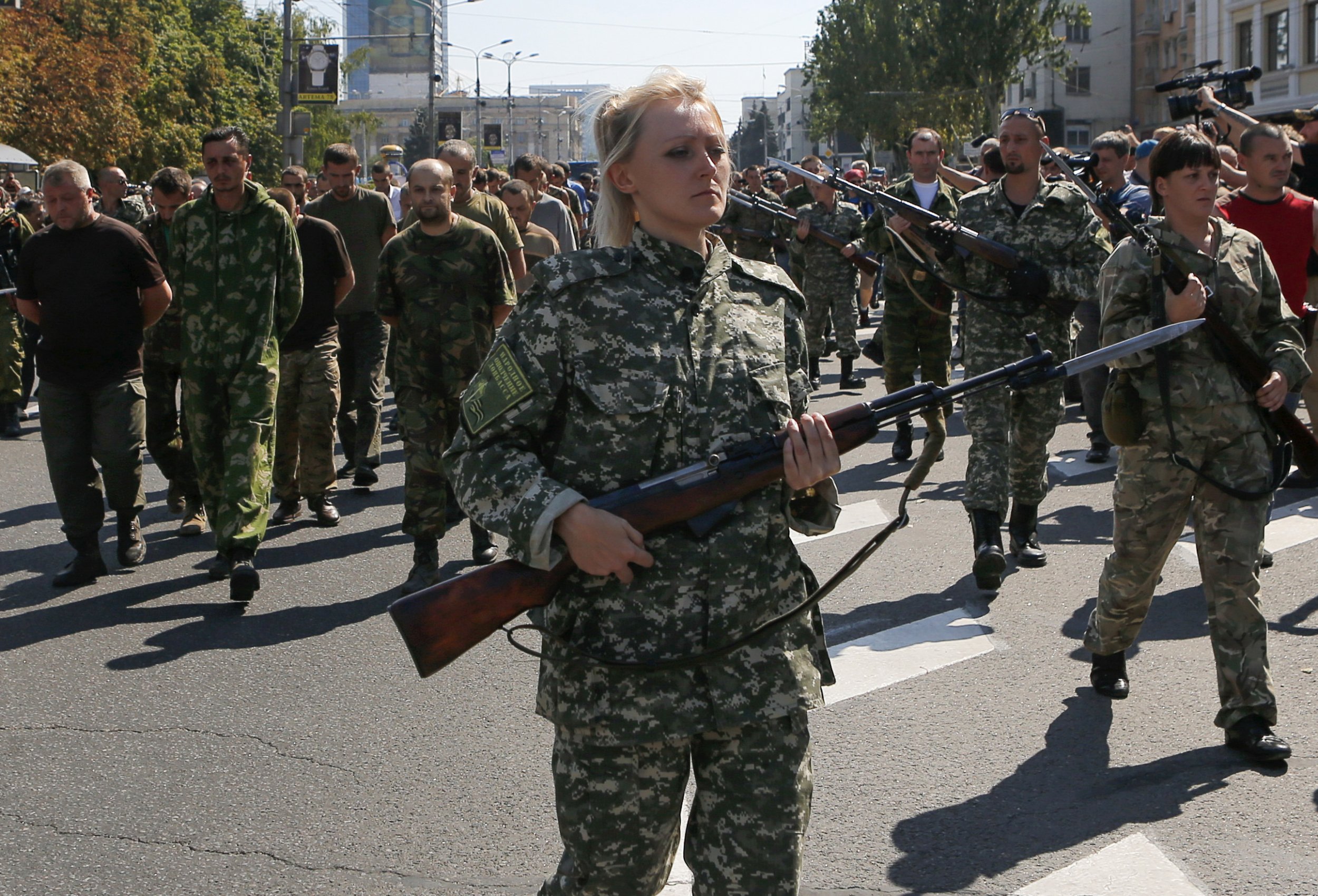 Pro-Russian separatists marched dozens of Ukrainian prisoners of war through the eastern rebel stronghold of Donetsk on Sunday in a parade meant to counter Independence Day celebrations in Kiev.
Some bandaged, some limping, the men were marched up one of Donetsk's main streets and past the remains of Ukrainian armoured personnel carriers destroyed in battle and put on display in the city's main Lenin Square.
Hundreds of people lined the street to see the largely dishevelled and unshaven soldiers who walked with their heads bowed and their hands behind them, led by an armed woman in camouflage and flanked by men carrying Kalashnikovs.
"We are now able to watch passing people who were sent to kill us," a voice said over the loudspeaker, mocking the soldiers as "victorious Ukrainians".
"We are Russians," the voice boomed to applause.
For days, separatists have prepared for the march, timed to coincide with Independence Day celebrations and a military parade in Kiev where Ukrainian President Petro Poroshenko called for solidarity against the rebels.
Kiev blames Russia for fanning the conflict by sending fighters and weapons to eastern Ukraine through rebel-held border regions. Russia denies it is involved in the conflict.
Steeped in historical significance, the event was meant to recreate the forced march of nearly 60,000 German Nazi soldiers through the streets of Moscow in 1944 towards the end of World War Two.
Some on Sunday threw bottles from the crowd of men and women waving the Russian flag and the red, black and blue standard of the self-proclaimed Donetsk Poeple's Republic. Others shouted "fascists" and "murderers".
In a theatrical gesture intended to show the captives were sullied, street cleaning vehicles moved behind them spraying water where they had walked, similar to what happened in Moscow in 1944.
Separatist rhetoric and Russian state-owned media coverage of events in eastern Ukrainian have evoked memories of World War Two, revered in Russia as the Great Patriotic War.
Ten armoured personnel carriers and military vehicles, some of them still littered with bullets, were displayed on Lenin Square. One had a sneaker and a dirtied yellow cap inside.
"Today the Ukrainians have their Independence Day. But today we have our day of independence from them. They are attacking today, we are defending ourselves," said a rebel.