Sephiroth 'Smash Ultimate' Release Time: When and How to Download New Fighter
Nintendo is giving gamers a major gift in Super Smash Bros. Ultimate. Sephiroth from the Final Fantasy franchise will be joining Nintendo's premiere fighting game before Christmas with a new stage, music and much more.
The company revealed that Sephiroth will be released in Super Smash Bros. Ultimate few days before Christmas, but if you're an early adopter to the latest Fighters Pass, you can unlock the character early.
We'll get into all the details of when players can unlock Sephiroth today and when its general release is expected to release on the Nintendo Switch.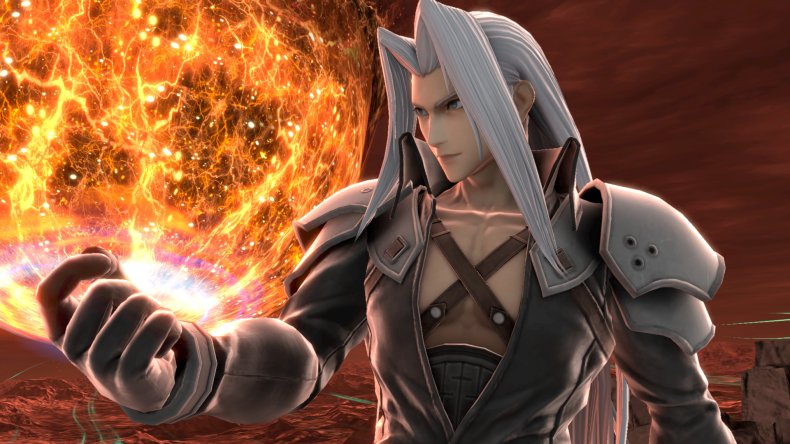 HOW TO UNLOCK SEPHIROTH EARLY IN SUPER SMASH BROS. ULTIMATE
Series director Masahiro Sakurai revealed during his special Sephiroth stream that players can battle and unlock the villain today.
This brand new mode is called Sephiroth Challenge and will have players fight a "boss" version of the villain. Defeat him in either Easy, Normal or Very Hard mode to unlock the character for the roster.
However, the caveat is that this early access is only available for those who purchased the Fighters Pass 2—the one that includes Min Min and Minecraft Steve—or pre-ordered Challenge Pack 8 that contains only Sephiroth.
This new mode is available now until Tuesday, December 22 at 8 p.m. EDT.
WHEN WILL SEPHIROTH BE AVAILABLE IN SUPER SMASH BROS ULTIMATE?
Sephiroth will arrive in Super Smash Bros. Ultimate on Tuesday, December 22, but fans should not expect an early-day release.
Minecraft Steve, Min Min from ARMS!, Byleth, the protagonist from Fire Emblem: Three Houses, all arrived in Super Smash Bros. Ultimate around 9 p.m. EDT.
However, the Sephiroth Challenge ends on December 22 at 8 p.m. EST, which would likely mean that the Final Fantasy character should be released between 8 p.m. and 9 p.m.
HOW TO DOWNLOAD SEPHIROTH IN SUPER SMASH BROS. ULTIMATE
If you don't want to unlock Sephiroth early in the new Sephiroth Challenge game mode can wait until the character is released to purchase them.
Sephiroth will be available to purchase individually with Challenger's Pack 8, which also includes a new stage and tracks from Final Fantasy. Sephiroth is also available to download as part of the Fighters Pass 2 bundle.
Go to the Nintendo eShop and search "sephiroth" or "fighters pass." There, you can sort the results by Downloadable Content, which will put the latest DLC at the top of the list.
Gamers don't normally have to look hard for new releases, as Nintendo does a good job of posting them on the front page of the eShop.
Alone, Sephiroth costs $5.99, and purchasing the Super Smash Bros. Ultimate Fighters Pass 2 will cost players $29.99. The Fighters Pass 2 includes Min Min, Minecraft Steve, Sephiroth and three other unannounced fighters.
Super Smash Bros. Ultimate is available now for Nintendo Switch.