Sepp Blatter: FIFA's Reputation 'Can't Be Dragged Through the Mud'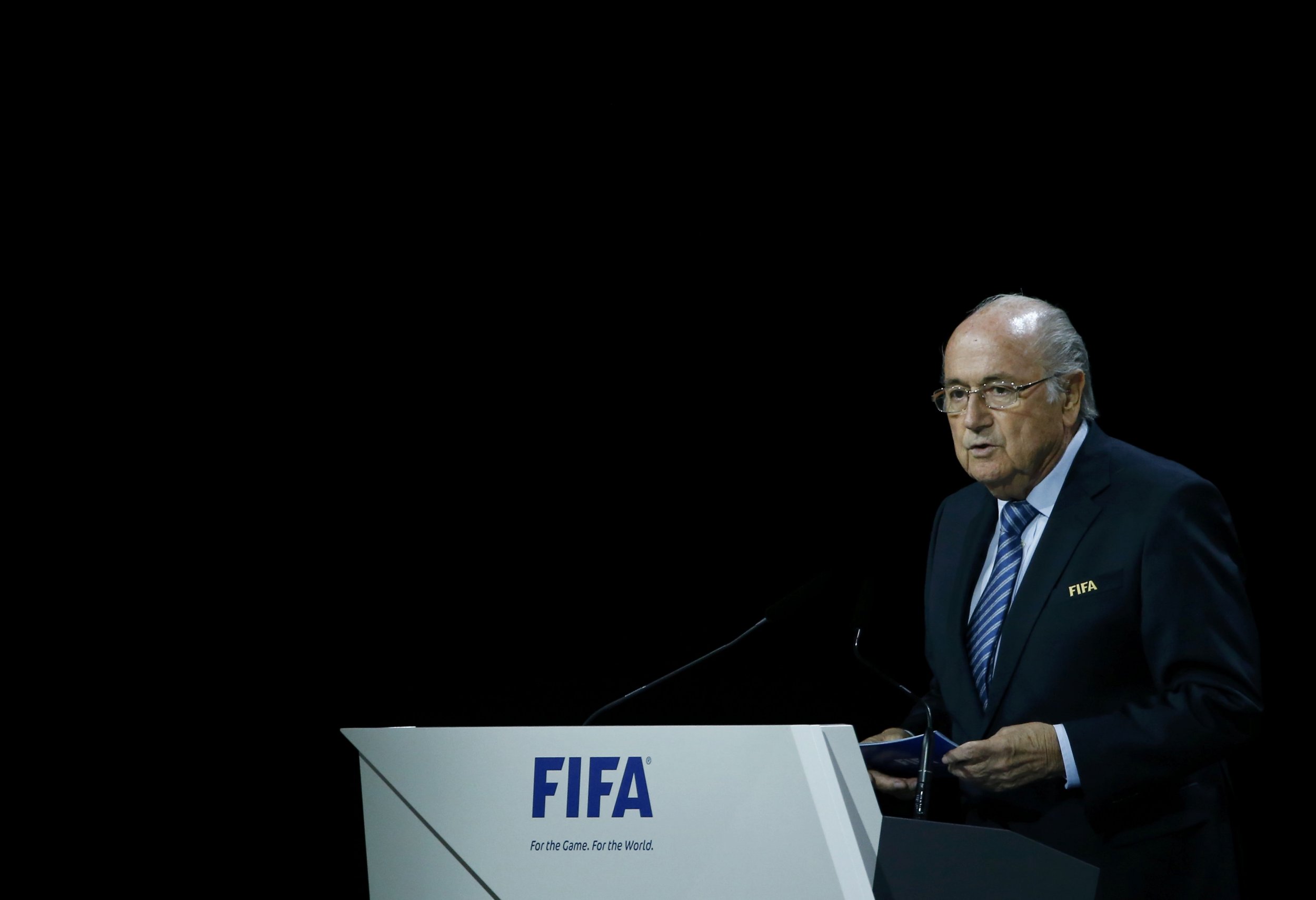 Updated | FIFA President Sepp Blatter called for unity within the world soccer organization during two separate speeches to 209 voting delegates on Friday ahead of the election to nominate the body's next president.
Blatter, who has been in office for almost two decades and is widely expected to win a fifth term, faces mounting criticism to resign after 14 FIFA officials were indicted on U.S. federal corruption charges earlier this week. Authorities arrested seven of the defendants as FIFA executives gathered for their annual meeting at a hotel in Zürich. U.S. Attorney General Loretta Lynch announced the charges on Wednesday and said the allegations stem from an FBI investigation that began in the early 1990s.
"We can't let the reputation of football and of FIFA be dragged through the mud like that; we can't accept that," Blatter said in French at the conference on Friday, according to a translator. "Those that are behind this are those that are truly at fault.... These are individuals, and they are not the entire organization." Those charged with corruption, he added, have lost sight of the game's principles of discipline, respect and sportsmanship.
The FIFA congress recessed for lunch earlier than expected Friday, as Swiss police investigated an anonymous bomb threat that was made over the telephone, according to Reuters. Delegates later were allowed to reenter the room once it was deemed safe. The previous day, protesters campaigning for a proposal by the Palestine Football Association to suspend Israel from FIFA gathered outside waving banners and Palestinian flags. But the Palestinian association dropped the request to expel Israel on Friday.
Blatter earlier refused to give in to pleas calling for his resignation, saying he was not responsible for the corruption. United Kingdom Prime Minister David Cameron is among the leaders demanding the president step down, according to BBC News.
"I will accept this responsibility, and I want to fix FIFA together with you. I want to do it now and tomorrow and the day after and the weeks and months to come," he said later in a second speech ahead of the vote.
The events earlier this week "have thrown a shadow across football and also across this congress. Let's try to lift that shadow. Let's try to lift our spirits," Blatter told the delegates on Friday, as he encouraged them to pull together and move forward.
His only challenger is Jordan's Prince Ali bin al-Hussein.
"There are no easy answers and no blame that can be passed that will wash away the stain," the prince said before the start of the election. "Today is about taking the first step toward the process of change."
Sepp Blatter: FIFA's Reputation 'Can't Be Dragged Through the Mud' | Sports