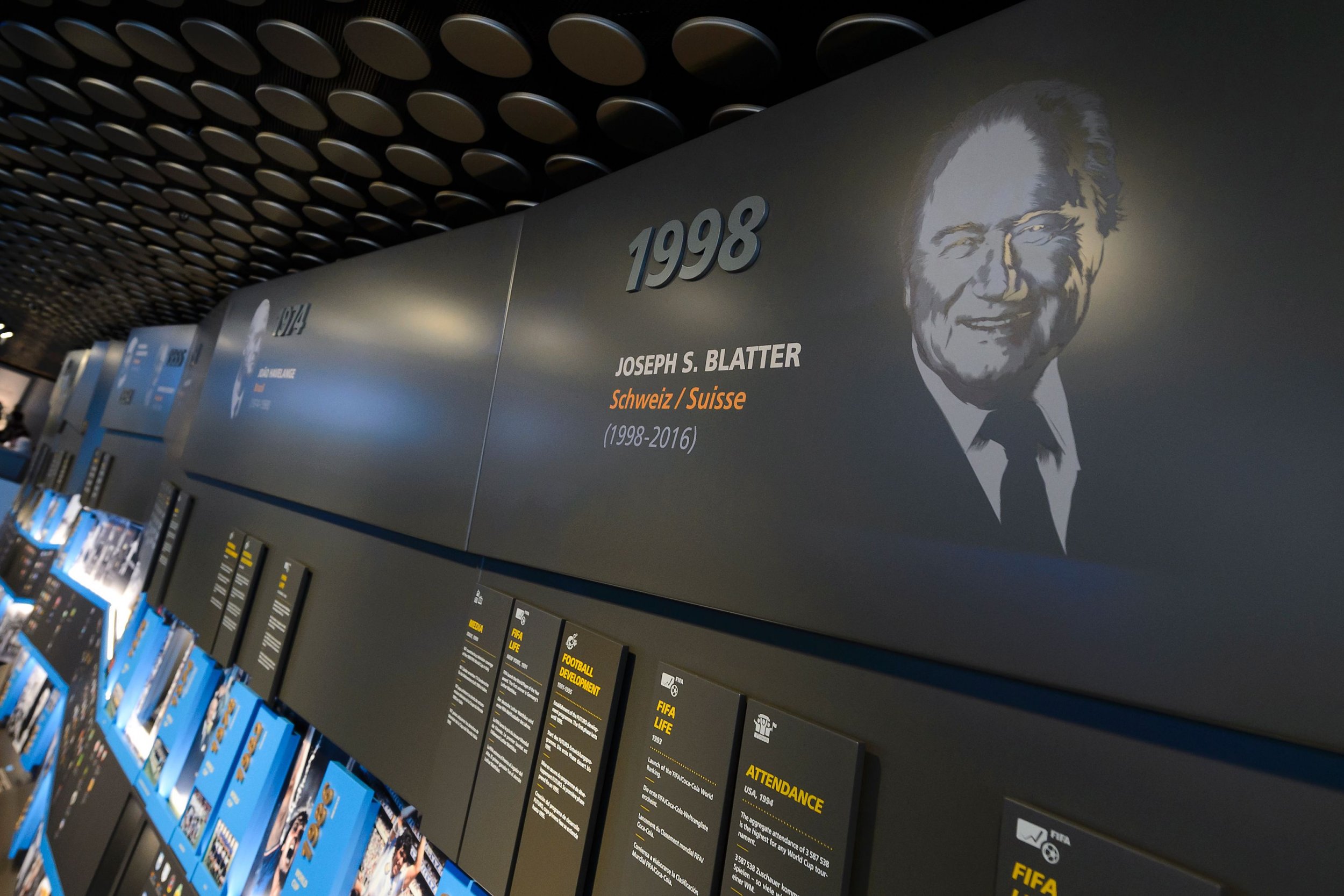 "This is Sepp Blatter speaking, good morning."
Mor-ning. The emphasis is on the first syllable—tone insistent, brooking no wasted time. The octogenarian whose kingdom eventually crushed him wants you to know he is still a busy man.
"Yes, I have a schedule all day. Today I have different items on my agenda. 11 o'clock this morning with Newsweek, it's okay."
How does a dethroned monarch fill his days?
"I am preparing my activities which I started already last year. I am working on a new version, let's say, of my book. I have a book which is called Football and Passion. Unfortunately it has not been translated into English so far, but now it will go to Russia, it will go to other countries.
"We are just putting in a little backdated news, because something has changed since March last year when this book was published. I have been asked since one year now to be a speaker in different organizations, sport or economic. I do it with pleasure. I can speak about the importance of sport and specifically football, in our lives and the economy and also in the geopolitical side."
Very good, but stop, for a second. Rewind, a little. Let's remind ourselves how the King toppled.
Something like this. On the morning of Wednesday May 27 2015, Federal Bureau of Investigation officials, coordinating with Swiss authorities, conducted a raid on the Baur au Lac Hotel in Zurich and arrested seven officials from FIFA, world football's governing body.
The charges against those men, two of them FIFA vice presidents, stretched back more than two decades and alleged more than £100 million received in bribes. A separate criminal investigation claimed "criminal mismanagement" over the awarding of the 2018 and 2022 World Cups, to Russia and Qatar respectively. The raids came two days before FIFA's annual congress, where then president Blatter faced a solitary challenge to his hegemony from Prince Ali bin Hussein of Jordan.
Blatter won, of course, as he had at every election since June 1998 when he succeeded his mentor Joao Havelange as FIFA president. His challenger that year, Lennart Johansson, told television channel SVT in his native Sweden in 2011 that he was aware of "brown paper envelopes" being handed to FIFA delegates around the time of the election, claims which have never been substantiated.
Blatter would not, however, see out another term as president. On June 2 2015, he announced his resignation, as the flames of scandal around his ankles threatened to engulf him. The FBI had toppled those around him, but for Blatter the worst was to come.
In December 2016 he lost an appeal to the Court of Arbitration for Sport (CAS), the final hope of salvation over a six-year ban from football imposed for sanctioning an alleged "disloyal payment" to former UEFA president Michel Platini. Swiss prosecutors were interested in the details of that money, too. "Suspicion of criminal mismanagement and suspicion of misappropriation," as they called it, carries a prison sentence under Swiss law. In February 2016, former UEFA general secretary Gianni Infantino won the election to succeed Blatter. Still the palace that Blatter built but now missing its tarnished overlord, FIFA limped on, promising reform under the Swiss-Italian lawyer.
Blatter insists the legal threats swinging about his head do not worry him. "Not at all," he tells Newsweek. "Really, I tell you, as long as it is in the hands of the Swiss prosecutor and the Swiss lawmakers, I have no problems. My conscience… I am absolutely convinced I haven't done anything which would go into penal rights.
"I said from the first meeting we had with Mr Eckert [Hans-Joachim, chairman of FIFA's ethics committee, which banned Blatter from football due to the Platini payment] this is like an inquisition to make sure Platini will not be the president of FIFA, and I had to pay the price with that. This is a sports suspension, it's not nice but it's not by law, it's not by civil law, it's not by criminal law."
Blatter did not last as long as Havelange, who spent almost a quarter of a century as FIFA president from 1974 to 1998. As his general secretary for 17 years, though, he saw the Brazilian's success in transforming FIFA into what a 1998 New York Times article called a "worldwide force." (The same article, commenting on Blatter's succession, describes him as a "gregarious Swiss backed by the United States," half of which remains the case.)
By pouring money into projects in lesser-known footballing hotspots, with the expansion of the World Cup to 32 teams in 1998 and, ultimately, the vote to hold Africa's first World Cup in 2010, Blatter consolidated Havelange's vast support base across Africa and Asia. Under his watch, FIFA also became staggeringly wealthy. Blatter says that in his final year, 2015, the organization had $1.4 billion in reserve and $1 million available as assets. Did he expect the force with which FIFA eventually turned daggers on its impresario?
Asking Blatter these questions feels like removing the first brick from a dam, the flood increasingly difficult to halt. "I only expected that they [FIFA] shall respect the principle of law and that means that it is not the man who is accused who has to prove he is innocent. Those who made the investigation, they have to prove I was guilty and they could not, they could not."
Summing up the case on its website in December 2015, FIFA said it did not have "sufficient evidence" to establish that the payment constituted "bribery and corruption" under its Code of Ethics. But it did state that "no legal basis" existed for the payment, a contravention of its rules on offering and accepting gifts.
"But it's such a nonsense when at the final stage of the CAS [appeal] in Lausanne, journalists asked the secretary the motivation for their decision, why the panel did not reduce the years of suspension as they did with Platini," Blatter continues. "And what was the answer? Because Blatter has not asked for it. I have asked to be free, a free man coming out. It's a nonsense from a legal point of view. You cannot have such a motivation there. But one day this will change. I am sure the history of football will say it's not correct."
Change how, exactly? "It's such a clear and clean situation, because in civil rights in Switzerland, even in the big organizations like FIFA or the IOC, the Swiss civil law of association [applies.] At the end of term of a year, and it was the case in 2011 [when the payment to Platini sanctioned by Blatter in 1998 was made], the [FIFA] General Assembly accepts all the accounts and reports. And this 2 million francs was in there, there was no hidden part. So then it's finished and it's over, you cannot come back.
"I tell you it was an inquisition against me but also against Platini. What I hope is that in one of the next Congresses, I will not say now but another one, somebody will say 'Why has this happened' and will bring up a discussion on this matter."
In its judgement available in full on its website, the CAS stated Blatter had "requested the annulment of the ban but did not request a reduced penalty," adding that the "sanction imposed was not disproportionate."
***
Perhaps it is a shared fate of the powerful to only recognize the danger of hubris when it is too late—that the ambition which makes an organization muscular will eventually pose it an existential crisis.
FIFA began to self-immolate on the fuel of its own pride on Thursday December 2 2010. Zurich was the backdrop for two secret ballots whose tremors are felt just as strongly across world football more than seven years on.
Russia's successful bid to host the 2018 World Cup left the English FA, which spent £21 million on two votes from FIFA's executive committee, spitting feathers so much that that Simon Johnson, the chief operating officer, described the process as "neither fair nor transparent" as late as 2015.
But it was the 2022 vote won by tiny Qatar, with its arid desert climate, questionable human rights record and lack of any discernible football tradition or fervor, that stood out as particularly brassy.
Blatter continues to insist that French political pressure, allegedly applied by then President Nicolas Sarkozy on Platini, sent the World Cup to the Persian Gulf and Asia for the first time rather than corruption.
"It is obvious that if there was no political intervention the last week before the election by [the then] French President, then the result would have been different and we would have had this situation which I was hoping for—that the two superpowers in the world would organize the World Cup, the one in 2018 in Russia and the one in the USA in 2022. We could not only be very happy about marketing and television matters but also the handshake for peace, which we had started to speak about at that time. This would have been a very good combination."
In the spring after the vote, Mohamed bin Hammam, the president of the Qatar FA and a leading figure in the bid, announced his intention to run against Blatter in the 2011 FIFA presidential election as a reform candidate. Three days before the vote, he withdrew and was suspended by FIFA's ethics committee over allegations of bribery towards the Caribbean Football Union. The scandal would take down Jack Warner, a member of FIFA's executive committee and the most powerful voice in North American football at the time, accused of distributing the bribes. Scorned, Warner revealed details of an email in which Jerome Valcke, Blatter's right-hand man as FIFA general secretary, claimed Qatar had bought the World Cup, an allegation repeatedly denied by the country.
"I regret that [the vote for Qatar] but I cannot change it," Blatter says when asked if that vote ultimately led to his downfall four and a half years later. "Maybe you are right and if this had not happened I would still be president of FIFA, but nobody is master of his destiny. And my destiny was I would be a victim in this matter. I am a sportsman and I accept you learn to win but you also learn to lose."
What does he think, now, when he sees reports from Amnesty International calling Qatar the "World Cup of Shame" for its alleged treatment of migrant workers? Blatter is dismissive. "It's easier to speak about football or the World Cup," he says. "This will make headlines. But if this had happened in construction of houses or in infrastructure like the airports or whatever, this [would not be] interesting. I would say the discussions to help the workers are still going on. And that I am not now in a situation to make any comments where they are now and how far they have changed. But it's not only the football."
***
Infantino's plans for a 48-team World Cup dropped in December 2016 with the familiarity of a Sunday broadsheet's thud against the doormat, and not just because they were a part of his election pledge.
FIFA's marquee event expanded in 1982 from 16 teams to 24, and again in 1998 to 32. Infantino's move, approved by FIFA's council on January 10, will strengthen a support base outside of Europe and bring in even more money via sponsorship and television rights, possibly as much as $1 billion extra in revenue from Russia 2018 according to the organization's own estimates.
"He [Infantino] went to a 48-team World Cup without any opposition," Blatter says. "Everybody, all the media, said it was not possible. He did it, and this is a success for him in dealing with football matters. Now, to say if it is good or not, the future will show. There are still many years to go. In my time we came from 16 to 24 and then to 32 [teams]. The world is developing."
In December 2016, in an interview with the BBC's World Football Show, Blatter chastised Infantino as "disrespectful" for what he claimed were offers of help that went unacknowledged. "At the beginning they [FIFA's new administration] contacted me for advice," Blatter says. "The actual president [Infantino] contacted me for advice twice when he started office.
"I have no problems with him. In March last year we had personal contact in my house. Since then no more contact. He is the president, he is doing his job. I have once made a remark that he was not so very respectful. But it is his attitude, he started to have contact with me and then stopped. So what? Life is going on with him and life is going on with me."
Could the remainder of that life include the most remarkable act of survival yet from football administration's hardiest limpet? After all, Blatter will only be 85 in 2022 when his ban ends. "Ah no, no, no, no, no. That's over. I am not going back to football administration, definitely not. I will never go back to the administration and I do hope that my suspension will be clarified before the year 2022. That's my hope.
"One day somebody will say, let's change it. Who knows if I'm still alive in 2022? What I want is, finally, somebody to say one day 'he has done a good job in FIFA.'
"It was the development idea by Joao Havelange that football should be for everybody. And I was then the man who could—first as technical director and then secretary—go with his mission for football.
"And I did it, and I am happy to have done it, and to bring to the World Cup also to Africa and especially south of the Sahara. And so I'm very satisfied with what I've done, I'm really proud."
About the writer
Sportswriter at Newsweek.