Why Won't Congress Fund the 9/11 First Responders Bill?
Senate Majority Leader Mitch McConnell said Wednesday that he was unaware that there was legislation in play to permanently renew the September 11th Victim Compensation Fund and that he had dealt with the issue in a compassionate way in the past.
"Gosh, I hadn't looked at that lately. I'll have to. We've always dealt with that in the past in a compassionate way, and I assume we will again," he told reporters.
But during the last renewal fight in 2015, McConnell was instrumental in voting down a permanent version of the fund and only agreed to a temporary, five-year renewal after facing months of pressure from comedian Jon Stewart, an activist for the fund.
"So far, he has been an enormous obstacle, unwilling to move the bill forward for purely political reasons," Stewart said of McConnell at the time. "He's not nice."
Stewart slammed Congress yesterday for failing to prioritize a permanent renewal for the fund, which provides health care and aid to first responders and those around Ground Zero after the 2001 attacks.
"As I sit here today, I can't help but think, what an incredible metaphor this room is for the entire process that getting health care and benefits for 9/11 first responders has come to," Stewart said to a largely empty Congress Tuesday, with a group of first responders sitting behind him.
The fund is currently set to expire in 2020 but is already running out of money as the number of health claims related to September 11 have increased significantly in recent years. The fund announced earlier this year that it would have to cut payouts between 50 and 70 percent to keep going. Around the same time, New York Representative Carolyn Maloney introduced legislation to permanently fund the program, which currently needs to be re-approved every five years, but it has not gone far.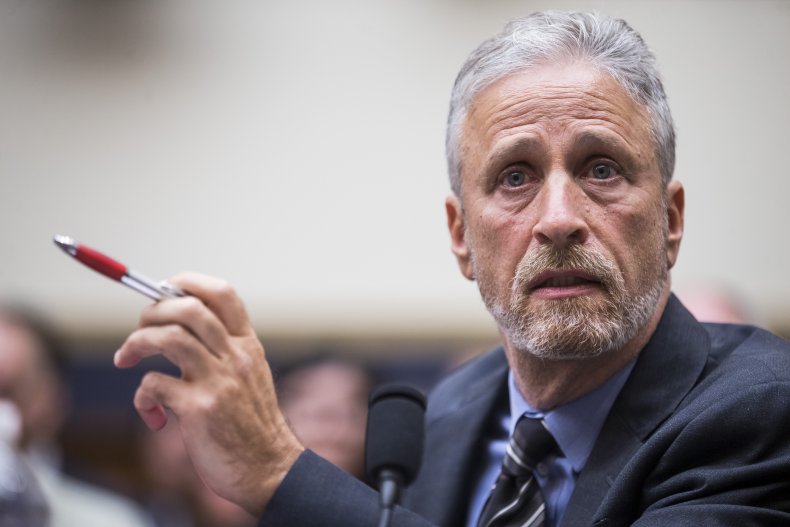 "There is not a person here, there is not an empty chair on that stage, that didn't tweet out, 'Never forget the heroes of 9/11,'" Stewart said. "Well, here they are! And where are they? Your indifference cost these men and women their most valuable commodity — time!"
On Wednesday, the legislation finally passed out of the House Judiciary Committee and will go to a full floor vote in Congress, where it is expected to pass. But in the Senate, the bill does not necessarily have a veto-proof majority.
John Feal, a 9/11 first responder, said this morning on CNN that the bill will go to Senate, "where bills go to die, because it's run by a bunch of cranky old white men, who are trying to keep control of this country," he said. "So, Mitch McConnell, we're on our way. Lindsey Graham, we're on our way."
Since 9/11, there have been more than 2,077 certified cancer conditions in firefighters caused by the toxins breathed in on September 11 and afterward. In total, there have been 9,300 registered cancer conditions related to the aftermath. More people have now died because of toxins breathed in at ground zero sites than did during the September 11th attacks. The Victim Compensation Fund was passed by Congress in 2011 to compensate those affected by toxins from the World Trade Center, Pentagon and Shanksville, Pennslyvania attacks and was renewed with additional funding in 2015.