Sepulveda Brush Fire Update: Los Angeles Fire Erupts Off Bel Air Freeway
A brush fire erupted early Wednesday morning in the Bel Air area east off the I-405 Freeway.
More than 200 Los Angeles Fire Department personnel have been assigned to extinguish the flames which have burned an estimated 50 acres, the Los Angeles Fire Department said.
The fire on the Sepulveda Pass was reported at the 1300 block of Sepulveda Boulevard, east of 405 Freeway near Getty Center Drive, just after midnight. The terrain-driven flames moved eastward as weather conditions remained hot and dry with minimal wind. The L.A. County Fire Department has joined LAFD firefighters battling the blaze both on the ground and in the air from water-dropping helicopters.
Two LAFD firefighters who suffered non-life-threatening injuries were treated at the scene and no structures are reported to be imminently threatened. The fire is considered to be 15 percent contained as of now.
There have not been any evacuation orders issued for the nearby homes in the Bel Air area. The California Highway Patrol said the San Diego Freeway will remain open in both directions, although the northbound off-ramp at Getty Center Drive will remain closed. Sepulveda Boulevard will be closed in both directions for morning commuters.
The cause of the fire is still under investigation.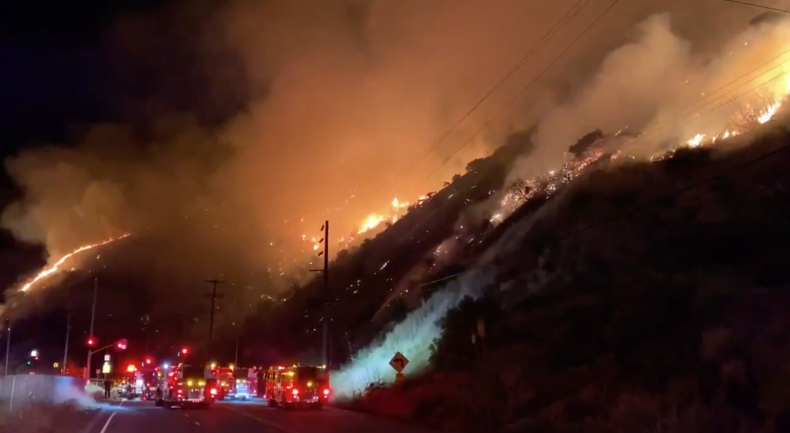 "We flanked both sides where we had firefighters rush up these steep, steep hills to be able to pinch this fire together to minimize it from spreading up these canyons and we certainly utilized our aircraft to take the heat out of the head of the fire," LAFD spokesperson Erik Scott told LAist on Wednesday.
The Sepulveda Fire broke out two days into Southern California's heat wave. The National Weather Service reported record highs 20 degrees above normal and issued a heat advisory for coastal and inland Orange County, Los Angeles, Malibu, Santa Monica, Beverly Hills, Long Beach and parts of Ventura County.
The recent drop in humidity also created a fire danger for Southern California. Forecasters have predicted potential triple-digit temperatures for the area but the heat is expected to cool down after Wednesday.
Temperatures are expected to drop Thursday and fall from upper 90s to upper 70s for the weekend.
Last October, the flames of Getty Fire engulfed 745 acres near the location of the Sepulveda Fire at 1800 Sepulveda Boulevard. The wildfire was much larger and took firefighters over a week to contain.
The LAFD told Newsweek the next update on the Sepulveda Fire will come around 8 a.m. local time.