Novak Djokovic's Treatment Leaves Serbians Incensed: 'Outright Scandalous'
Prominent Serbian diplomat and politician Vuk Jeremić has condemned the Australian authorities' treatment of tennis champion Novak Djokovic, and some of his fellow countrymen have reacted with anger after his visa was canceled for a second time.
Days before he was due to defend his Australian Open tennis title, Australia's immigration minister, Alex Hawke, said on Friday that he canceled Djokovic's visa "on health and good order grounds, on the basis that it was in the public interest to do so."
Djokovic could face deportation and is set to be detained on Saturday as his lawyers mount an appeal and the dispute over his right to remain in the country unvaccinated against the coronavirus rolls on.
Jeremić, who was Serbian foreign minister between 2007 and 2012 before serving as president of the United Nations General Assembly, told Newsweek that Djokovic had made a "mistake" by doing an interview with French sports daily L'Equipe after a positive test.
But he said that "he unambiguously apologized for that" and that the "Australian Government's conduct towards him has been outright scandalous."
He said that Djokovic flew to Melbourne "only upon fulfilling all the predefined criteria for travel" having applied for and received a medical exemption.
"Certain politicians decided to jump on this, and escalated the situation in the media," said Jeremić, who also headed the Tennis Federation of Serbia between 2011 and 2015 in an emailed statement.
Djokovic's lawyers said that he was held for eight hours at the airport by border guards before being sent to a detention center.
"If that's the way to treat people who are not on Interpol red warrants, sought for international crimes or traveling on fake documents, then after all my years in international relations, I don't actually understand the way the world works," Jeremić said.
"All the other tournament participants who got the medical exemption from the same medical panel got the same visa, and entered Australia without hindrance," he said, "Novak was picked as a scapegoat for brinkmanship by political opportunists."
Jeremić expressed dismay that a "bearer of a Serbian diplomatic passport, continues to be intentionally humiliated," adding that he expected the situation would adversely impact ties between Australia and Serbia.
When contacted for comment a spokesperson from the Australian Border Force referred Newsweek to Hawke's earlier statement, adding, "as the matter is the subject of ongoing legal proceedings, it would be inappropriate to comment further."
Djokovic is a hero in his native Serbia where his predicament has divided people.
"Australians are dragging him around like an old rag," Belgrade resident Aleksandar Petrovic told Reuters. "They are ready to burn world's number one because of politics."
Djordje Simic told the agency, "He won nine grand slams (in Australia) and they are treating him like some wretched migrant because of their own problems."
Another local told CNN: "We are Serbs, we are on his side, everything he said is right." Another told the network: "It's his personal choice, most people see it that way here."
However, Belgrade resident Jovo Tadic told Reuters, "Their country, their rules. If Australia tells you to get vaccinated to enter, do it, or face problems."
Earlier this week, Serbian Prime Minister Ana Brnabić had said no one was above public health regulations.
Meanwhile, Serbian President Aleksandar Vučić, who had said last week the tennis player was the victim of a "political witch hunt," told Serbian Public Television (RTS) "I do not think it is quite responsible not to get vaccinated, but I do not belong to those people who will start a hunt against those who are not vaccinated [...]."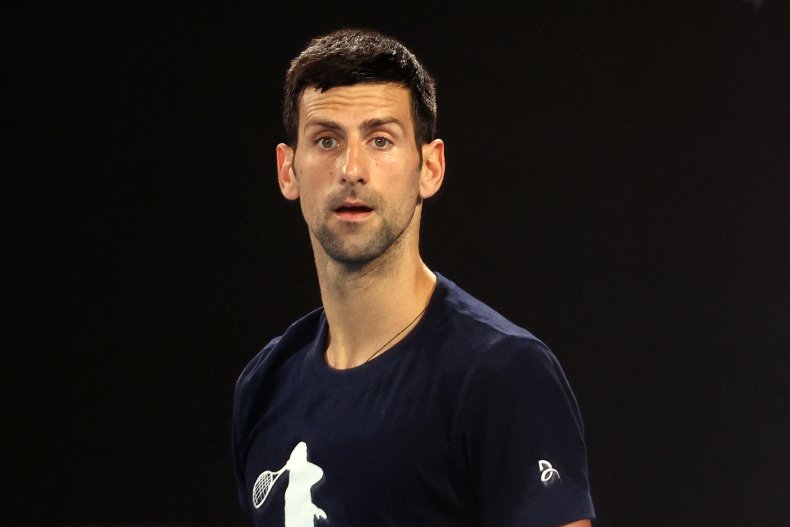 Update 01/15/22, 3:55 a.m. ET: This article has been updated with response from the Australian Border Force.