The Serbian Orthodox Church announced on Tuesday that Patriarch Porfirije tested positive for COVID-19, just days after attending a mass.
The ceremony, which was held in Republika Srpska, a Serbian entity of neighboring Bosnia, was carried out largely without face masks.
Porfirije took over as patriarch in November of 2020 after Patriarch Irinej died of COVID-19 at age 90.
According to a statement from the church, the 60-year-old leader had "very mild symptoms of the virus infection" and is isolating at home. It said he has been in constant contact with his associates, and his administrative duties have been unaffected.
"Also, [Porfirije] has not stopped to support in prayer the doctors and medical staff in their work, and separately prays for the healing of everyone who has been affected by the epidemic," the statement said. "The patriarch expresses regret that the public events he was supposed to participate in are postponed until further notice."
Serbia has seen record numbers of virus infections as the Omicron variant surges around the world. On Tuesday, the country reported 13,000 infections, the highest single-day number since the pandemic began. Health experts have attributed the increase to New Year's Eve events with little to no virus restrictions.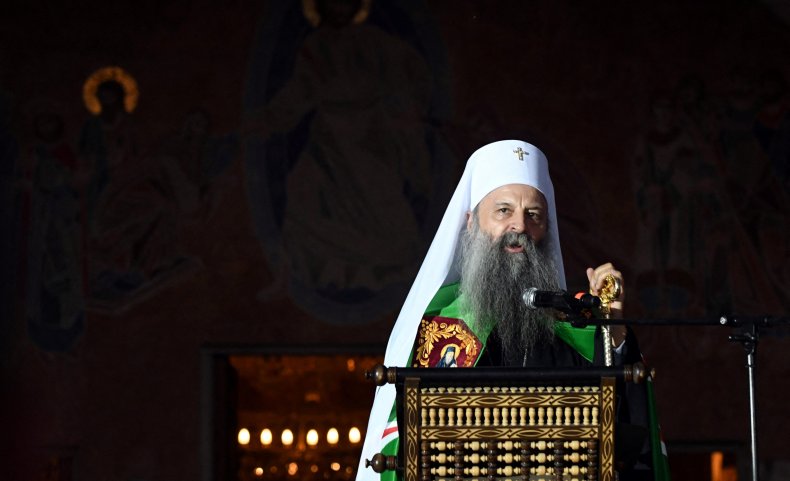 Experts say the current rise in cases is driven partly by the fast-spreading Omicron variant of the coronavirus and is likely to worsen further. Epidemiologist Predrag Kon on Monday criticized the virus policies of authorities.
"Everything that was organized should not have happened," Kon said. "Belgrade exploded after New Year's and now it's spreading to the rest of Serbia."
Serbia has recorded over 1.3 million cases of infection since the start of the pandemic while almost 13,000 people have died of COVID-19.
Infections have been on the rise in neighboring Croatia where authorities further limited gatherings from Tuesday, widened the mandatory use of face masks and urged companies to organize home work when possible.
Croatia on Tuesday reported almost 8,000 new cases in the past 24 hours while authorities said that 38 people died, bringing the COVID-19 death toll in the country to nearly 13,000.
Croatia's neighbor, Slovenia, on Tuesday reported 5,164 new cases of coronavirus, which the official STA news agency said is the highest daily tally since the start of the pandemic. Slovenia has tightened entry and other rules in face of the Omicron wave.
In Bosnia, authorities in part of the country said they recorded a 98 percent rise in infections in the past week which has led to the tightening of rules on gatherings and testing. Officials said further limitations are possible.
The Associated Press contributed to this report.