Serbia's 'Trump' Is Building an Authoritarian State | Opinion
How did $1.2 billion of U.S. state aid end up in the hands of a Balkan autocrat who uses it to build a dictatorship where democracy activists face violent threats?
Serbian President Aleksandar Vučić is a Trumpian-styled ultra-nationalist, and the head of a country in line to join the European Union (EU). He has a violent track record: as a young MP, he was a key figure in the Serbian Radical Party (SRS), led by Vojislav Seselj, who was subsequently charged with war crimes at The Hague. During the conflict in Kosovo, Vučić served as minister of information to Slobodan Milošević, and sought to clamp down on free media. When outlets found a way to circumvent his censorship rules, Vučić promised he would have his "revenge.
Later on, the CEO of an independent newspaper was assassinated in front of his apartment building, in a case that remains unsolved.
In 2012, Vučić returned to Serbian politics in a transformed state. He severed ties with the SRS, formed the Serbian Progressive Party, and cast himself as a partner of Angela Merkel's Christian Democratic Union (CDU). He cultivated an image of a modern politician, who would resolve Serbia's dispute over Kosovo and lead the country toward EU membership.
This positioning meant that Vučić was left unchecked, as he funded private media close to him from Serbia's state budget. Many independent local TV and radio stations died out as a consequence.
At the same time, the EU, politically dominated by the CDU and Germany, poured money into Serbia through private investment and accession funding. European Commission reports were positive, and the EU cynically ignored criticism by NGOs and remaining independent institutions. The result? Professional murders are committed in the middle of the day, cars are blown up in traffic jams, and there are underage drug rings in all major cities.
Vučić's totalitarianism is sophisticated, compared to other authoritarians of the region, and masked by outwardly progressive, liberal, and pro-Western behavior. Laws have been overhauled in accordance with EU accession criteria, and a member of the country's LGBTQI+ community now sits as prime minister. Yet, this is just a carefully curated façade, which enables the Serbian government to pocket taxpayers' money from abroad, a claim that has been openly denied by the EU and the U.S.
Activist groups, like the one I work for called Kreni-Promeni, are seeking to expose Vučić for what he is. We are the children of those who lived under Milošević's tyranny.
My childhood school in Serbia was full of refugees from Bosnia, Croatia, and Kosovo. Every day, on my way home, I would meet my parents, who were protesting for free elections. I watched my father, a surgeon, being called up to the army during the war in Kosovo, and I remember not hearing a word about him for a month. My colleagues experienced similar trauma: Savo, a refugee, was forced to leave his home because of death threats, while Nikola endured his family being put under surveillance by the secret police.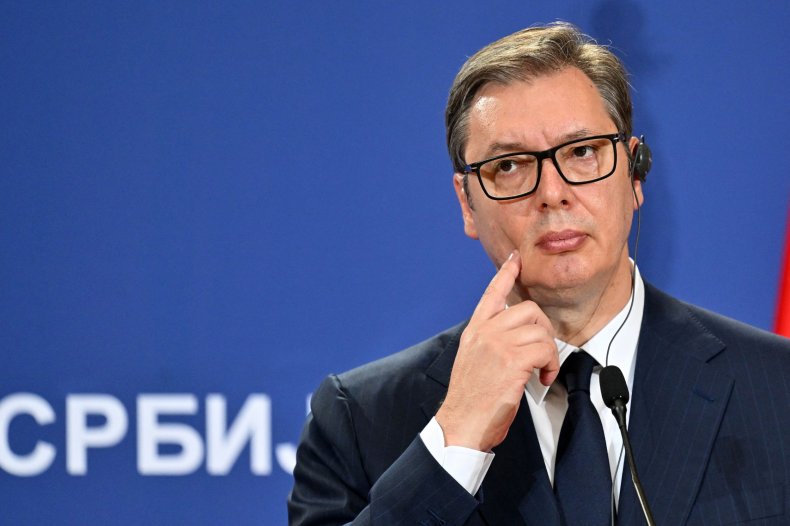 Today, just like our parents, we are feeling the impact of Vučić's media, for our daring to speak out. Nebojša Krstić, who now heads a prominent government-allied marketing agency in Belgrade, publicly stated that Kreni-Promeni activists should be "thrown off a bridge" for our opposition to a proposed property expropriation law. While Vučić, his prime minister, Ana Brnabić, and others have accused us of "receiving money from abroad," and of being "CIA stooges," "Rockefeller errand boys," and "the servants of Soros."
Now, as we work across a new campaign to defend our country's media freedoms, we're enduring a fresh wave of harassment. On Aug. 1, 2022, Serbia's national regulator, Regulatory Authority of Electronic Media (REM), will decide which channels should win the license to broadcast terrestrial TV.
This institution is supposed to be independent. However, during the course of Vučić's presidency, it has been undermined, and its board now comprises allies of the ruling party. This makes our plea, for REM to issue and revoke license without prejudice, a potential roadblock to Vučić's ambitions. Over 200,000 Serbs have signed our petition, in just 12 days, and, in turn, we're now facing intensified assaults from government-allied media, as well as a volley of death threats from government-supporting citizens on social platforms. We're a "bunch of traitors," according to one citizen. While others warn that an "operation is being prepared," which will result in our "liquidation."
If something like that happens, and Serbia continues on its path to ruin under Vučić, the hard-earned tax contributions of U.S. citizens will be funding a "hit" on those who are standing up for our most basic freedoms.
Luka Tripkovic is a campaign organizer at "Kreni-Promeni" ("Go-Change"), an activist group that focuses on addressing environmental injustice, human rights abuses, economic inequality and democratic backsliding in Serbia.
The views expressed in this article are the writer's own.