Serena Williams 'Greatest Momma of All Time': Husband Welcomes Superstar Back to Tennis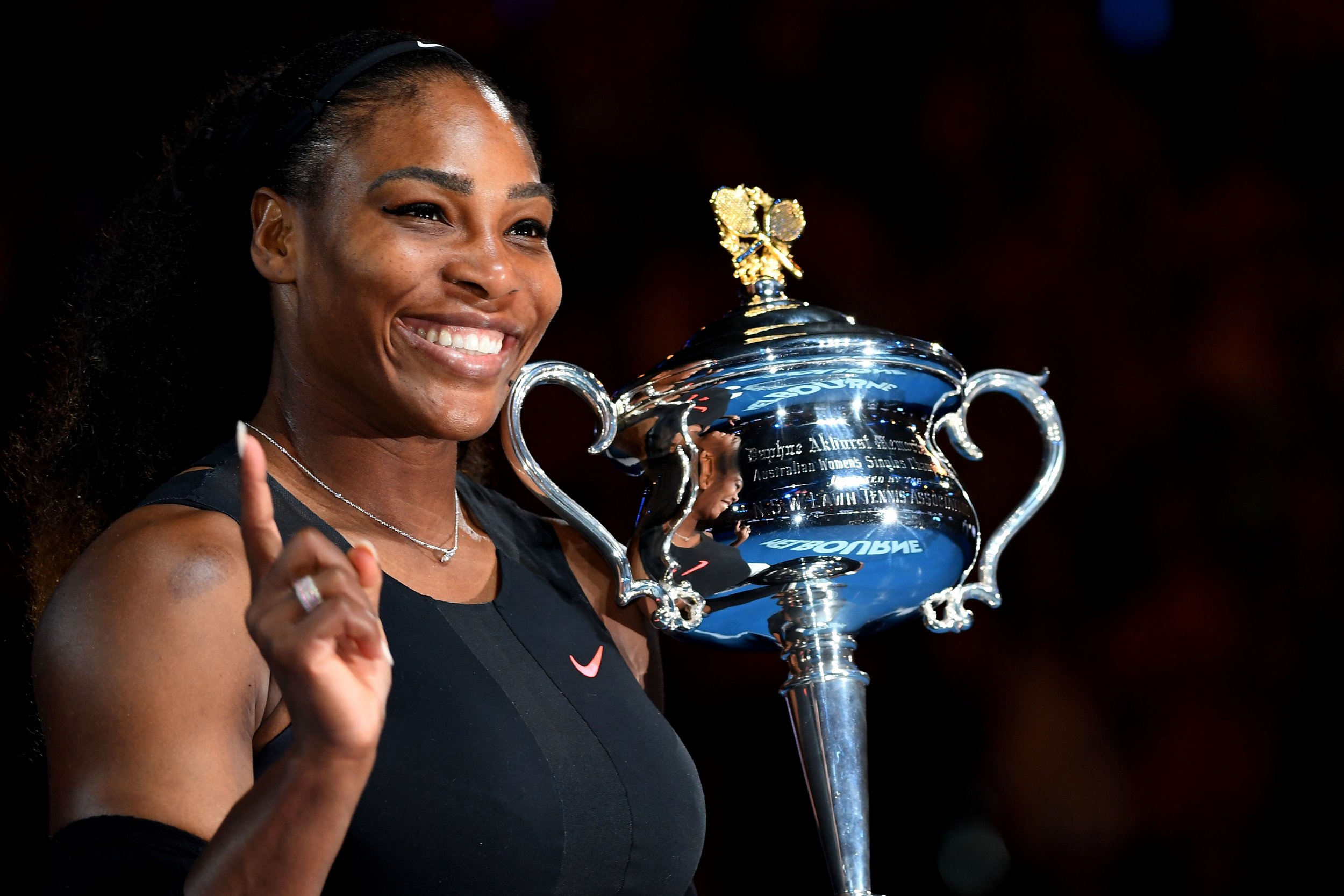 More than a year ago, tennis superstar Serena Williams stepped away from the sport when she became pregnant with her first child. But with Williams's about to step on the court for the first time since giving birth to her daughter, Alexis Olympia Ohanian, Jr., she's getting some supersize encouragement.
The 36-year-old athlete is expected to return to tennis by competing in the 2018 BNP Paribas Open, which begins March 5. To mark the occassion, Williams's husband, Reddit co-founder Alexis Ohanian, bought space on four Adquick billboards to praise his wife as the "Greatest Momma of All Time (G.M.O.A.T.)."
The billboards feature pictures of Williams and the couple's 5-month-old baby alongside the G.M.O.A.T. acronym. She reportedly saw the huge display on her drive to the BNP Paribas Open's location in Indian Wells, California, according to Us Weekly.
"These just went up on alongside I-10 into Palm Springs," Ohanian wrote on Instagram. "@olympiaohanian & I wanted to welcome her back to tennis. Designed them myself, with some help from Jr. #GMOAT."
Williams and Ohanian welcomed their daughter in September. Two months after the child's birth, the pair tied the knot in New Orleans before A-List attendees Eva Longoria, Anna Wintour and Kim Kardashian West, among many others.
"He's incredible—a really nice person," Williams said of Ohanian at the Australian Open in January 2017, according to People magazine. "I think he definitely treats everyone the same, which is really cool to see. Really, really nice to see."
In a January profile that ran in Vogue magazine, Williams revealed that she experienced health complications during her pregnancy. She said she suffered from a pulmonary embolism, a medical condition that causes blockage to the lungs and arteries. Williams reportedly endured symptoms, including shortness of breath, following her delivery, which led her to be transported from the hospital's recovery room to its operating room. There, doctors came across a hematoma—an atypical grouping of blood clots.
After Williams's experience was published in Vogue, she recieved a huge amount of support from fans and, especially, other women touched by her story.
"I didn't expect that sharing our family's story of Olympia's birth and all of [the] complications after giving birth would start such an outpouring of discussion from women—especially black women—who have faced similar complications and women whose problems go unaddressed," Williams wrote on Facebook. "We have a lot of work to do as a nation and I hope my story can inspire a conversation that gets us to close this gap."