Alexis Ohanian Net Worth Revealed After Serena Williams Wedding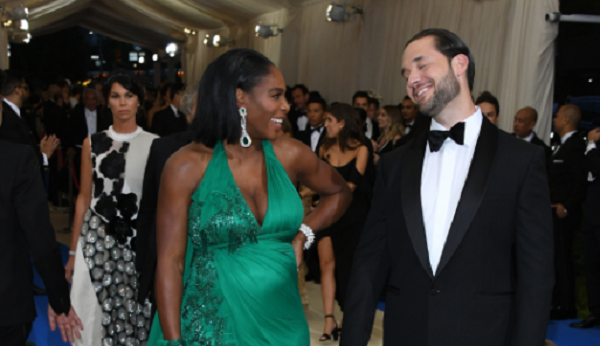 Update | Serena Williams is officially an Ohanian. The tennis star and her new husband, Alexis Ohanian, exchanged vows on Thursday, according to People magazine. The nuptials came nearly a year after the couple annouced their engagement, in December 2016, and two years after they began dating.
The wedding was held at the Contemporary Arts Center in New Orleans, and the guest list was packed with family members, including their two-month-old daughter, Alexis Olympia Ohanian Jr., and celebrity friends.
Fans of the seven-time Wimbeldon champion may only know Ohanian as Mr. Serena Williams. But in the tech world, he's a star in his own right. The 34-year-old is the co-founder of the website Reddit and is worth an estimated $9 million. Williams—the only woman listed on Forbes' "100 Highest Paid Athletes in 2017"—made a reported $27 million as of June 27. As of 2016, her net worth was $150 million, according to Forbes.
A Brooklyn native, Ohanian founded the social aggregated news sharing and discussion site along with Reddit's current CEO, Steve Huffman, in 2005. Boasting some 542 million visitors a month, Reddit is worth about $1.8 billion, according to a CNBC report released in July.
Ohanian first made his fortune after selling Reddit to Condé Nast when he was just 23 years old. After spending time working on other ventures, he returned as the company's executive chairman in 2014.
Rumors about Williams and Ohanian's romance began making headlines in 2015, after Ohanian posted photos of the Grand Slam champion at that year's U.S. Open. But it wasn't until 2016 that Williams confirmed the rumors, posting a throwback photo on Instagram that pictured Ohanian. She followed that with another photo of the duo decked out in bear-themed costumes around Halloween.
In December 2016, Williams announced her engagement with a poem, posted on the Reddit subforum "isaidyes."
"A little late
Someone had a bag packed for me
And a carriage awaited
Destination: Rome
To escort me to my very own "charming"
Back to where our stars first collided
And now it was full circle
At the same table we first met by chance
This time he made it not by chance
But by choice
Down on one knee
He said 4 words
And
r/isaidyes."
Updated: This story was corrected to clarify Serena Williams' salary and net worth.