Serena Williams Loses in Straight Sets to Serena Halep in Wimbledon Final
At the Wimbeldon women's singles final on Saturday, Serena Williams was denied a record-equalling 24th grand slam title by Romanian Simona Halep, who secured her first Wimbledon crown on Centre Court.
Halep became the first Romanian to win Wimbledon, going one better than Illie Nastase who came close but lost his opportunity during an epic 1972 men's singles final with Stan Smith.
In just 26 minutes, Halep had a near-flawless first set, taking it 6-2 from the 37-year-old superstar. Despite Williams raising her performance in the second set, Halep broke in the fifth and seventh games, before serving out to win the set 6-2, taking the singles title at the All England Club.
"She literally played out of her mind," Williams said of Halep's win during an on-court interview. "It was a little bit deer in the headlights for me. Whenever a player plays like that you just have to take your hat off. I love coming out here, playing in front of you guys. It's literally a joy."
Halep is now a two-time Grand Slam champion. The 27-year-old former world No. 1 also won the French Open in 2018.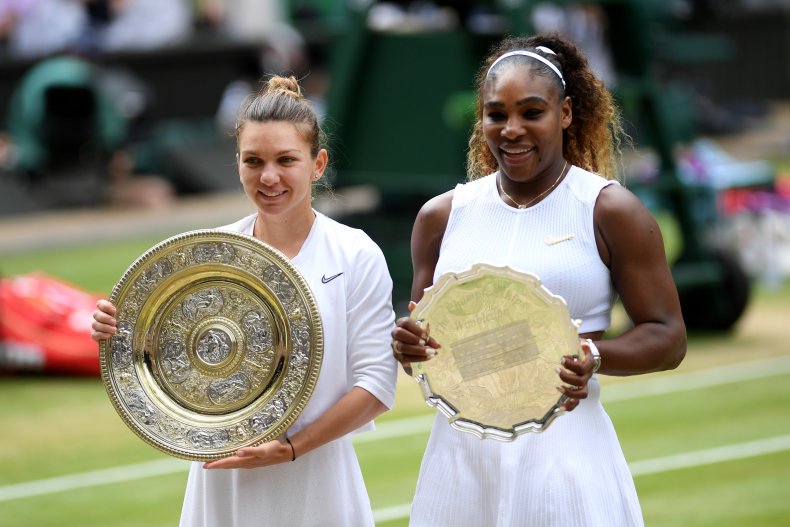 "Have you ever played a better match?" commentator Sue Barker asked Halep.
"Never," replied Halep. "It was the best match. I have worked a lot for this moment. It's an honor to play in front of the Royal Box. I don't have the words to explain."
It was the 11th Wimbledon final for Williams, and first for Halep. Williams was going her first Grand Slam win since returning to the court after giving birth to her daughter in September 2017. She was looking for her 24th Grand Slam title, which would tie Margaret Court's all-time record.
"I had nerves," Halep continued. "My stomach was not well before the match, but I came on court and gave my best. It's something special and I'll never forget this day. It's my mum's dream. When I was 10, 12 years old, she said I had to play the final of Wimbledon."
She added: "I have worked a lot to change my game, to be able to win matches on grass. It was an amazing tournament and I can't wait to come back. It's been an honor."
Serena Williams Loses in Straight Sets to Serena Halep in Wimbledon Final | Sports