Serena Williams Racism Row: Newspaper Reprints Cartoon on Front Page
The Australian newspaper that sparked controversy with a cartoon portraying Serena Williams as an overweight baby has defied the critics and splashed the cartoon on its front page.
The Herald Sun first published the cartoon on Monday, two days after Williams launched into a remarkable tirade against an umpire during the U.S. Open women's final.
Williams was given three code violations during her straight-sets loss to Naomi Osaka on September 9 and called umpire Carlos Ramos a "thief."
Mark Smith, the Herald Sun 's editorial cartoonist, portrayed Williams as a crying toddler in his latest sketch.
Get your unlimited Newsweek trial >
In the cartoon, the 36-year-old has an oversize nose and lips and is in the process of smashing her racket to pieces by jumping on it. To exacerbate the portrait of Williams as a baby throwing a tantrum, the umpire is pictured in the background pleading with the American's opponent to let her win.
But the woman portrayed speaking to the umpire looks nothing like Osaka, who is a dark-skinned Japanese woman, not the white, blond-haired woman in Smith's cartoon.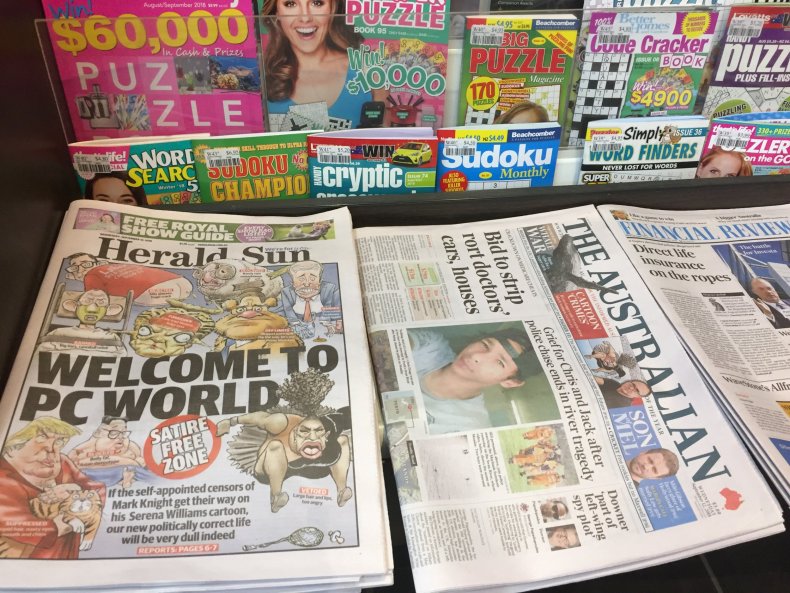 The cartoon and Smith were widely lambasted as racist, with Harry Potter author J.K. Rowling slamming the author for "reducing one of the greatest sportswomen alive to racist and sexist tropes and turning a second great sportswoman into a faceless prop."
Get your unlimited Newsweek trial >
ESPN's Jemele Hill said the "racism" in the drawing was "about as subtle as Fran Drescher's voice."
Both the Herald Sun and Smith have denied allegations of racism and, undeterred by criticism, the newspaper republished the cartoon on its front page on September 12.
The sketch was printed alongside unflattering caricatures of a number of high-profile figures, including former Australian Prime Minister Tony Abbot, President Donald Trump and North Korean leader Kim Jong Un.
The decision to publish the cartoon depicting Williams alongside other caricatures appears to be a thinly veiled attempt to portray the furor surrounding the tennis star as an attack on freedom of speech.
"If the self-appointed censors of Mark Knight get their way on his Serena Williams cartoon, our new politically correct life will be very dull indeed," the paper wrote in an editorial on its front page.
A day before the controversial front page was published, the Herald Sun editor, Damon Johnston took to Twitter to defend Smith. The cartoon, Johnston wrote, was "not racist or sexist [...] it rightly mocks poor behavior by a tennis legend."
Serena Williams Racism Row: Newspaper Reprints Cartoon on Front Page | Sports