Serena Williams Wins First Singles Title in Three Years and Donates Prize Money to Bushfire Relief Efforts
Serena Williams made a surprise announcement on Sunday, saying she would donate all winnings from the Auckland Classic tournament to bushfire relief efforts, as Australia continues to battle an unprecedented fire season.
The news follows her first title win in nearly three years, after she beat her fellow American Jessica Pegula 6-3, 6-4 in the singles final and snatched the $43,000 prize. Williams added she would donate her match-worn dresses to auction, so that more money can be raised.
"I've been playing in Australia for over 20 years and it has been really hard for me to watch all the news and everything that has been happening in Australia with all the fires," said Williams, at the on-court presentation in Melbourne.
"So much has happened so I decided at the beginning of the tournament, every match I played I'd donate a dress and I'd also donate all my prize money for a great cause. So thank you guys."
The victory earned Williams her 73rd singles title since she made her pro debut at Québec City in 1995—and her first since returning to the sport in 2018 after giving birth to her daughter Alexis (who was in the stands to watch her mom play today).
The former world tennis number one's last title was in 2017 when she played her older sister Venus in the Australian Open, while pregnant.
"It feels good. It's been a long time," said Williams, describing her win. "I played an incredible opponent today in Jessica and honestly, great match. I couldn't have played anyone better in this final."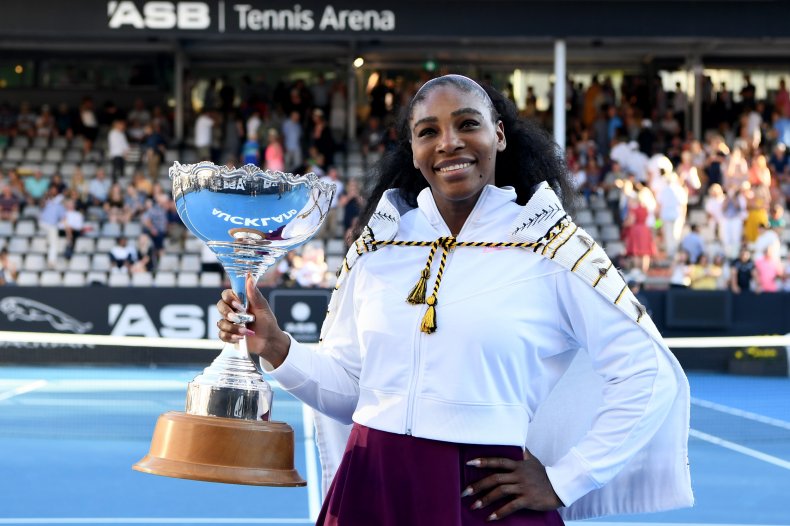 The Auckland Classic in New Zealand precedes the Australian Open, which kicks off later this month.
This year, the tournament comes in what has been a deadly and unrelenting fire season that has killed at least 27 people, forced thousands more out of their homes, and affected half a billion animals since starting November 2019.
As Newsweek previously reported, celebrities including Pink, Nicole Kidman and Keith Urban have pledged money to relief efforts. Cricket legends Ricky Ponting and Shane Warne will come out of retirement to raise funds during a charity Twenty20 match called Bushfire Cricket Bash. According to the AFP, it is scheduled for the Wednesday before the Australian Open.
While fires continue to burn, the latest forecasts suggest bushfire conditions should ease over the next few days, giving fire services time to gain control over the blaze.
However, dry, hot conditions are expected to continue and February is typically when the country sees the worst wildfires of the season. According to the latest update from Fire and Rescue NSW, there are 124 bush and grass fires (47 not contained) burning across the state of New South Wales alone.