Serena Williams Tears Up After Withdrawing From Wimbledon With Injury
U.S. tennis legend Serena Williams was seen leaving Wimbledon in tears on Tuesday after being forced to withdraw from the first round of the tournament due to a leg injury.
According to a Tuesday statement from Wimbledon, Williams had slipped on the grass and "had to leave the court to receive treatment," on her left ankle, Yahoo News reported. "She tried to carry on but retired at 3-3 after 34 minutes," the statement added.
At the time of injury, the 39-year-old was leading 3-1 in the first set of her first round match against Belarus player Aliaksandra Sasnovich. Williams lost her footing while hitting a forehand, and was seen struggling to get up from the ground immediately after the slip.
Once she rose to her feet, video footage showed Williams limping off the court as the crowd erupts into supportive cheers. The tennis star then exits in tears after waving to fans and shaking hands with Sasnovich.
"We're heartbroken for you, Serena," Wimbledon tweeted Tuesday. "Our seven-time singles champion is forced to retire from The Championships 2021 through injury."
In separate Tweets, Wimbledon shared a clip of Williams walking off the court by stating "Poise and grace in the most trying of circumstances," and "Wishing you a speedy recovery."
British tennis star Andy Murray also joined the conversation Tuesday, tweeting that the situation for Williams was "brutal" and that conditions were "extremely slippery."
Williams' withdrawal marks only the second time in her longstanding career she has exited a Grand Slam in the first round, and the first time she's exited Wimbledon that early, The New York Post reported.
According to the news outlet, Sasnovich commented on the injury by stating that "Of course I'm so sad for Serena."
"She's a great champion. It happens sometimes in tennis, but all the best for her and her recovery," Williams' opponent added.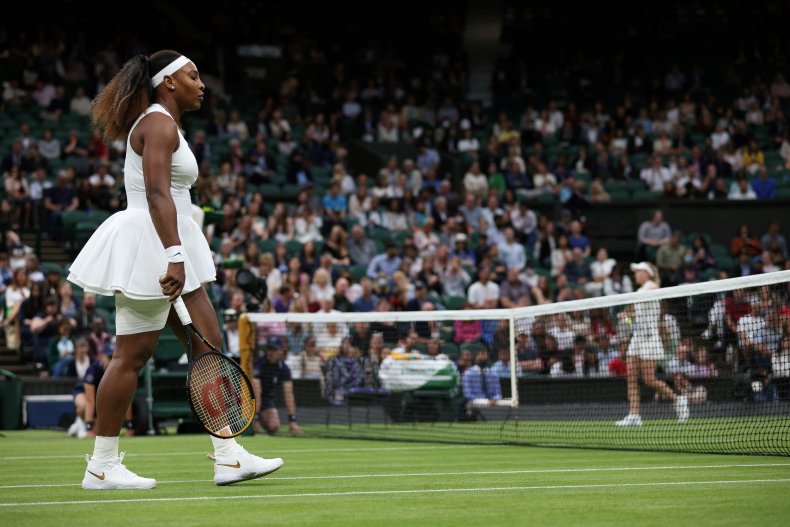 Williams has won seven single Wimbledon titles, with her last coming in 2016, along with a total of 23 Grand Slam titles. Tuesday's withdrawal came after the 39-year-old lost to Elena Rybakina at the French Open in the fourth round earlier this month.
Following that match, Williams expressed excitement to play again at Wimbledon, and noted the change of scenery would likely play to her advantage.
"I'm kind of excited to switch surfaces," she said of Wimbledon's grass court after exiting the French Open's clay court, People reported. "Historically, I have done pretty well on grass."
Tuesday's injury also put a damper on Williams' most recent pursuit to tie with Australian player Margaret Court's record-setting 24 Grand Slams.