Serena Williams U.S. Open Update: Tennis Star Fined $17,000 For Three Violations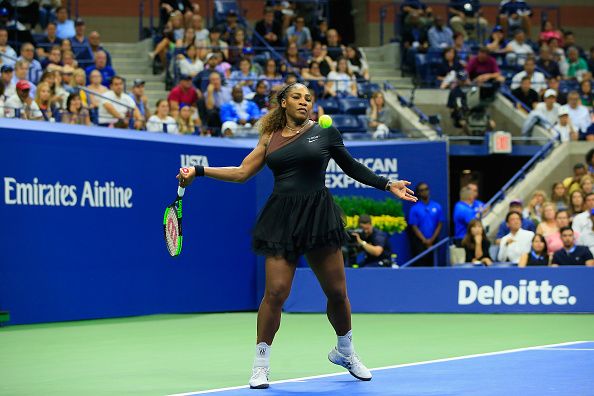 Serena Williams was fined $17,000 for three code violations following her controversial loss at the 2018 U.S. Open on Saturday. Williams lost the 6-2, 6-4 against Naomi Osaka, marking the first female Japanese victory in the tournament's history.
The U.S. Open referee's office announced Williams would have to pay $10,000 for "verbal abuse" of tennis player and chair umpire Carlos Ramos, whom she referred to as a "thief" during the intense match. Williams was also fined $4,000 for being warned for coaching and $3,000 for breaking her racket. The money will be docked from her runner-up prize of $1.85 million.
During the tournament Williams, 36, got into a heated confrontation with Ramos, 36, who penalized Williams for receiving illegal coaching from her coach Patrick Mouratoglou. Williams contested the call multiple times and said she didn't cheat.
"I didn't get coaching. How can you say that? You owe me an apology. I have never cheated in my life," Williams said.
The tennis champion received another penalty when she frustratedly broke her racquet and a third when she accused the umpire of being a thief. "You stole a point from me. You're a thief too," Williams said.
At a press conference following the tournament, Williams accused tennis of sexism, an accusation she has made before. "I've seen other men call other umpires several things," she said.
"I'm here fighting for women's rights and for women's equality and for all kinds of stuff," Williams said. "For me to say 'thief' and for him to take a game, it made me feel like it was a sexist remark. He'd never take a game from a man because they said thief."
She continued: "For me, it blows my mind. But I'm going to continue to fight for women."
The 2018 U.S. Open marked Williams' return to the tournament after giving birth to her daughter Alexis Olympia Ohanian in September 2017. Shortly after her daughter's arrival Wiliams revealed she nearly died after undergoing an emergency C-section.
While in labor Williams developed blood clots in her lungs. Constant coughing from the clots caused her C-section incision to split open, and when doctors went in to close the cut again they discovered a hematoma in her abdomen. Williams also had to undergo a second operation to insert a filter in her vein to prevent clots from developing in her lungs in the future.
In the days leading up to the U.S. Open, Williams was banned from wearing her famous catsuit by the leaders of the French Open. Williams said the catsuit was designed specially to help prevent blood cots.