Serena Williams's Bid for a Calendar Grand Slam Falls Short in Monumental Upset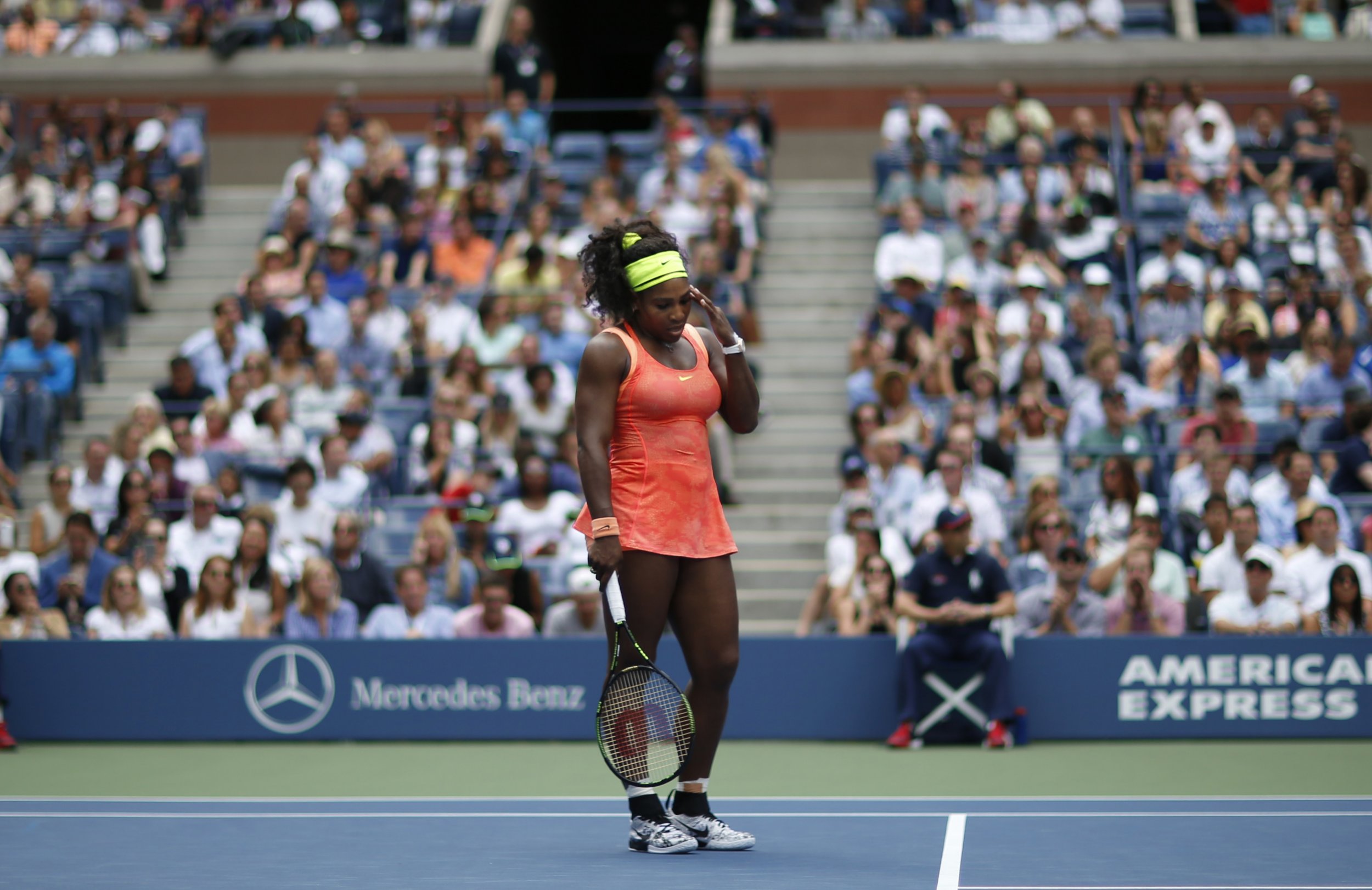 2-6, 6-4, 6-4.
Those would be your winning lottery numbers on this date as Roberta Vinci, an unseeded 32-year-old Italian, ended Serena Williams's pursuit of a Grand Slam just two matches shy of completion. In a match that lasted approximately two hours, Vinci—a 300-1 shot against the world's No. 1 player—vaulted herself not only into the U.S. Open final, but also into the pantheon of the greatest upset magicians in the history of sport.
Buster Douglas, who, in 1990, proved that Mike Tyson was mortal. The 2007 Stanford Cardinals, who were 40-point underdogs when they visited top-ranked Southern California and won. The 1980 USA Olympic hockey team, aka "The Miracle on Ice." The thoroughbred Upset himself, who in 1919 became the only horse ever to defeat Man o' War. All of them will welcome Vinci, who entered the week ranked No. 43 in the world, to the club.
Benvenuto!
"The best moment of my life," an awestruck Vinci told ESPN's Tom Rinaldi on the court immediately after the match.
This particular upset, however, was hardly about the disparity in resumes. Yes, Williams is ranked No. 1 in the world and entered Arthur Ashe Stadium with a 53-2 record in singles matches in 2015. Vinci, by contrast, entered with a 25-20 record. Williams toed the baseline with a career record of 25-3 in Grand Slam semifinals while Vinci had never lost one, because she had never advanced that far.
All of that was an afterthought. Serena Williams was supposed to be serving for history this weekend in Flushing. At stake for the 33-year-old was the first calendar Grand Slam—winning all four major tournaments in the same year—since Steffi Graf had done so in 1988. Also, by defeating Vinci on Friday and then 26th-seeded Flavia Pennetta in the final, Williams would win her 22nd career Grand Slam singles title, tying her with Graf for the most since the advent of the Open era.
This was supposed to be more than a tennis tournament. It was to be a well-earned coronation for Williams as arguably the greatest female tennis player of all time as well as the greatest distaff African-American athlete. And she may very well still be that. But her run at perfection, much like the one that the New England Patriots made in 2007 that fell just short in Super Bowl XLII, came up agonizingly and eternally short.
"I don't want to talk about how disappointed I am," said Williams, who actually led 2-0 in the third set before an uncharacteristic swell of unforced errors sealed her fate. She hit two into the net in the final game of the match without winning a point.
It has been a year in which sport has been teased, and occasionally rewarded, with iconic runs toward history. The Kentucky Wildcats, in their quest to become the first team to go undefeated while winning the NCAA basketball championship, started out 38-0 before losing to Wisconsin in the Final Four. American Pharoah, seeking to become horse racing's first Triple Crown winner since Affirmed in 1978, did exactly that. And the Chicago Cubs, who hope to win their first World Series since 1908, will most likely secure a National League wild card berth.
And yet the most dominant sports figure, certainly among bipeds, in 2015 has been Serena Williams. To win all four Grand Slams in one year requires one to finish 28-0 against the best players on the planet. Williams took 26 of those 28 steps. Honestly, when the day began, the chatter around the U.S. Open was about her expected final match against No. 2 seed Simona Halep. Last April, Halep had taken Williams to three sets in the semis at the Miami Masters before losing 6-2, 4-6, 7-5.
But Halep, too, lost to an underdog Italian foe (on the first full day of the San Gennaro Festival in Little Italy, mind you) and suddenly the U.S. Open Women's Final will feature more Italian long shots than a Rocky film.
"When you woke up this morning, what gave you the belief that you could win?" Rinaldi asked.
"No," Vinci replied with a dismissive grin, drawing gasps of laughter and cheers from the Arthur Ashe Stadium crowd.
But she did: 2-6, 6-4, 6-4.
Veni, vidi, Vinci.