With Thursday's Win, Williams One Match Away From a "Serena Slam"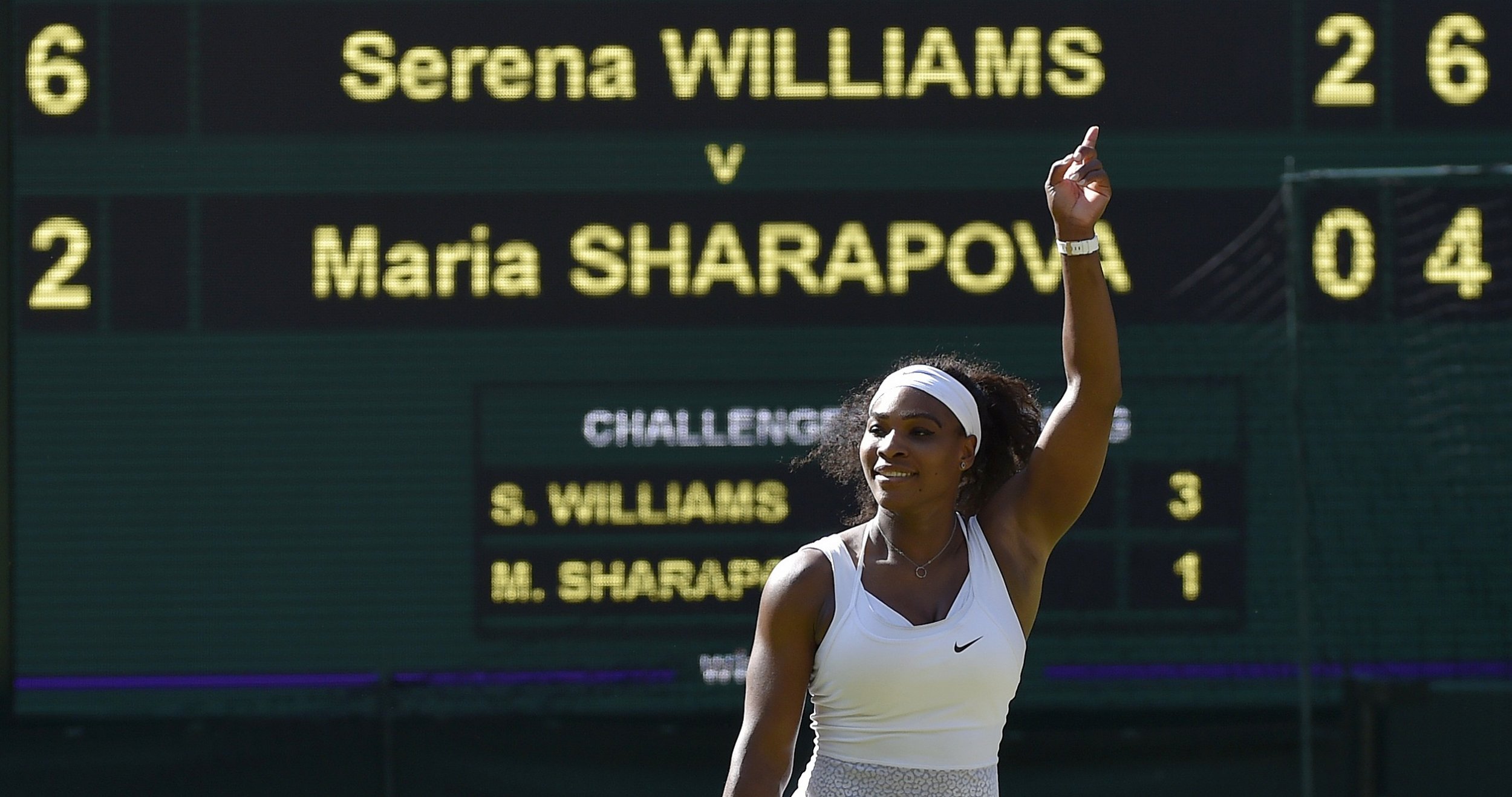 Serena Williams: the world's most dominant athlete.
On Centre Court at Wimbledon Thursday afternoon, Williams further distanced herself from the madding tennis crowd with a 6-2, 6-4 dismissal of Maria Sharapova. The victory was her 38th in 39 singles matches this year—her lone defeat came via withdrawal at the Italian Open in May—and her 17th in a row versus Sharapova, who happens to be the current most accomplished tennis player in the world who is not named Williams.
Serving for the match under sunny London skies, Williams struck an emphatic final chord redolent of the Beatles' "A Day in the Life." Sharapova failed to return a single serve in the final game, as Williams blasted a trio of aces and then, on match point, an unreturned serve. This was the younger Williams sister's 27th consecutive Grand Slam singles win, including last week's fourth-round victory against big sister Venus.
"The feeling of getting to the finals gets better," said Williams, who will face 20-year-old Garbiñe Muguruza of Spain in Saturday's championship match.
And more familiar. At last summer's Wimbledon, Williams lost in the fourth round to Alizé Cornet of France. At the time it was her third consecutive Grand Slam appearance in which she had failed to reach the quarterfinals.
Since that loss, however, Serena is 64-5 in singles matches, with two of those defeats being the result of withdrawals. She is the reigning champion of the U.S. Open, Australian Open and French Open, and she is now just one match away from a "Serena Slam" (holding all four titles concurrently), which would be the second of her career. Less than three months from her 34th birthday, Williams is toying with her peers at an age when the sport's icons are usually zipping up their racquet bags for the last time.
Navratilova won her final Grand Slam, also at Wimbledon, at age 33. Chris Evert won hers, the French, at 31. Both won 18 Grand Slams to Williams's 20. Steffi Graf, the only player of the Open era to have won more Grand Slams (22) than Serena, last hoisted a Grand Slam trophy when she was 29. Serena, whose career record in Grand Slam finals is an indomitable 20-4, looks physically capable of remaining atop the world rankings for at least another year or two.
Serena first ascended to world No. 1 in 2002 after she defeated Venus in the finals of Wimbledon, the second of what would be four consecutive Grand Slam wins for her (the first "Serena Slam"). She would fall out of the top 10 by the end of 2005 only to return to No. 1 four years later, in 2009.
This latest chapter of dominance, though, may be the Compton, California, native's greatest. She has held the WTA No. 1 ranking for 124 consecutive weeks, the third-longest streak of all-time (Graf held it for 186). Since returning to the top position on the women's tour in February of 2013, Serena has won five of the nine Grand Slams that have been staged. And the only slam that has eluded her in the past two-plus years is Wimbledon.
"Muguruza has beaten me before," Williams reminded everyone on Thursday afternoon, referring to a shocking straight sets defeat in the second round of the French Open last year. "She's a really good player. It won't be an easy match."
Perhaps not. But it has been quite a long spell since tennis fans have seen Serena play anything but.