A retired Russian intelligence (GRU) colonel is in critical condition years after he was convicted by Moscow's military court of "high treason" for allegedly spying for the British. On Sunday, he and a woman were found unconscious on a Salisbury, England, shopping center bench after exposure to an "unknown substance, BBC News first reported.
Crews in hazmat suits washed down the street around Sergei Skripal, 66, after he and an unidentified woman were found passed out on the mall bench Sunday. Witshire Police told the BBC the two appeared to know each other but "did not have any visible injuries." Authorities added that "they are currently being treated for suspected exposure to an unknown substance. Both are currently in a critical condition in intensive care."
The bizarre incident on a British park bench is drawing comparisons to the poisoning death of former FSB secret service officer and defector, Alexander Litvinenko. The former Russian agent died of acute radiation syndrome after drinking polonium-210-laced tea in a swanky London hotel in November 2006. A 2016 report issued by a British judge concluded that Litvinenko's death was an assassination likely approved by President Vladimir Putin.
Russia has repeatedly denied any responsibility in Litvinenko's poisoning death.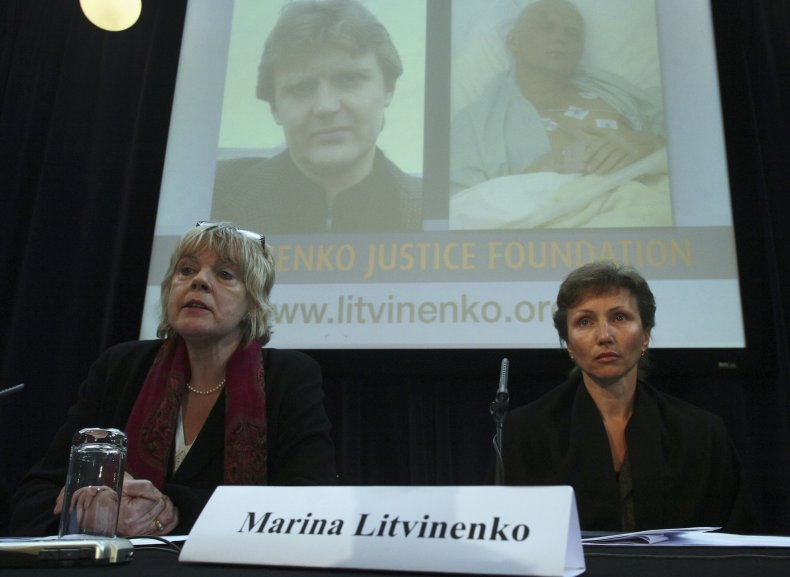 According to eyewitness Freya Church, Skripal's Sunday incident appeared as though he and the unidentified woman had taken "something quite strong." Church noted that while Skripal was "doing some strange hand movements, looking up to the sky," the younger woman appeared to lean on him "like she had passed out."
The older man was identified by the BBC as Skripal, who has a listed address in Salisbury. In 2006, Russia's military court and the Russian security service (FSB) accused him of handing the identities of Russian secret agents in Europe to the U.K.'s Secret Intelligence Service, or MI6. The Russians claimed MI6 paid him $100,000 for the continued flow of spy names dating back to the mid-90s. After being convicted of "high treason in the form of espionage" by the Russians in August 2006, he was stripped of all his titles and medals.
But in July 2010, Skripal was pardoned by then-Russian President Dmitry Medvedev as part of a prisoner swap involving 10 Russian spies arrested by the U.S. Federal Bureau of Investigation. One of the men involved in the 2010 spy swap, Igor Sutyagin, told the BBC he's not immediately convinced of foul play or a Russian poisoning.
"There are lots of former security officers that deserted to the West," he said, urging caution until more is known. "It is necessary to balance this information."
But Ian Bond, director of foreign policy at the Centre for European Reform is not as convinced.
"Very worrying news that Sergei Skripal, Russian imprisoned for spying for UK & swapped in 2010 as part of 'Anna Chapman' exchange, seems to have been poisoned in Salisbury. Another example of Russian intel treating UK as a free fire zone?" Bond tweeted Monday.
BBC security correspondent Gordon Corera said Monday afternoon that police are still trying to establish what caused the two to become sick but they can't confirm that a crime has been committed.