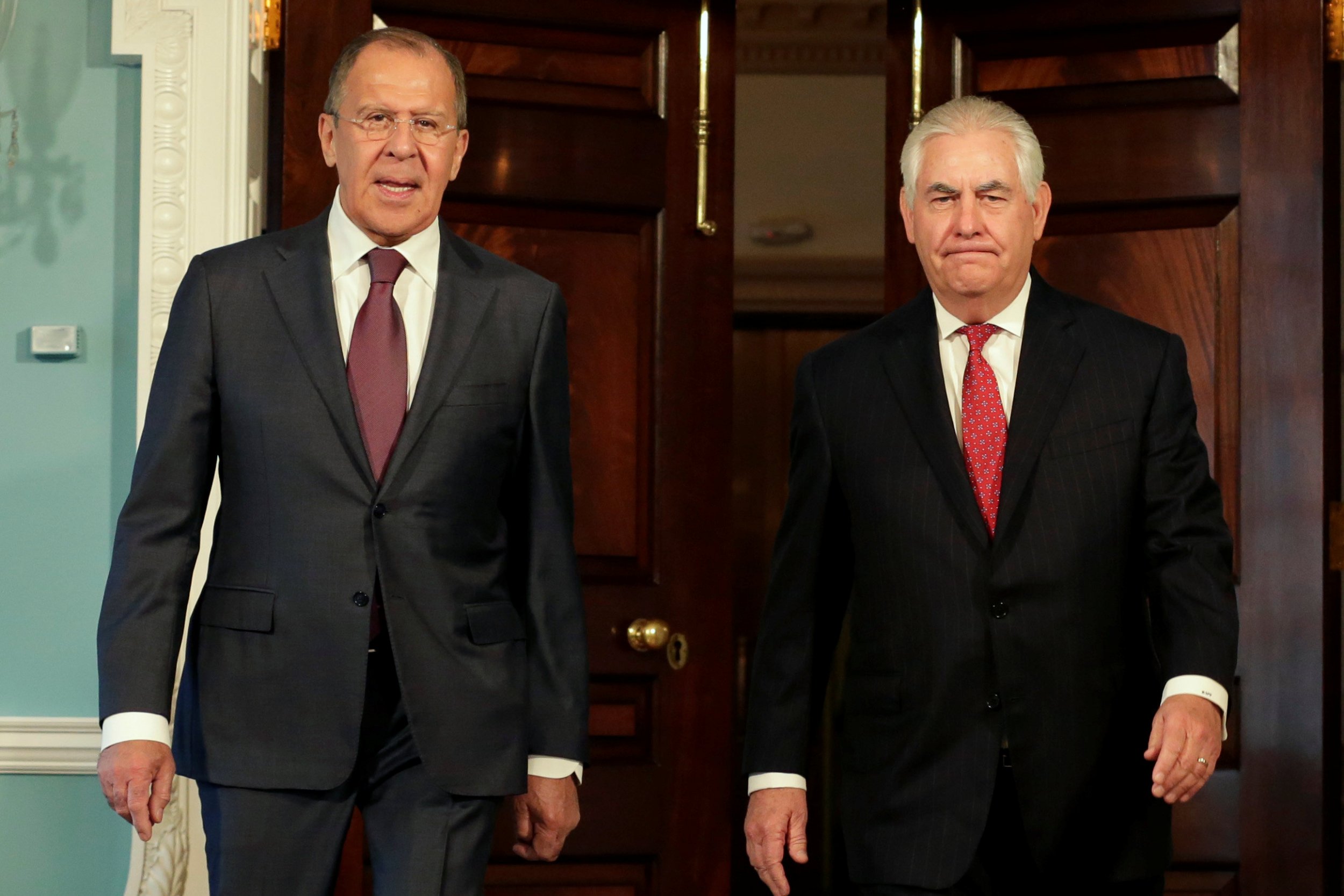 Russia's top diplomat Sergey Lavrov sarcastically laughed off a question Wednesday about President Donald Trump's firing of FBI Director James Comey, becoming the first leading Russian official to comment on the bombshell announcement. Lavrov, Russia's foreign minister, was at the State Department for a meeting with Secretary of State Rex Tillerson, just hours after the dismissal of Comey, who was leading an investigation into Russian interference in the 2016 election and possible collusion with the Trump campaign.
Related: Trump enraged by Russia interference probe before firing Comey, aides say
During a photo opportunity ahead of their sit-down meeting, NBC News reporter Andrea Mitchell asked whether the firing of Comey "cast a shadow over your talks."
Lavrov responded by inquiring "was he fired?" When the reporter confirmed the firing, he said "you're kidding, you're kidding" before displaying a mocking shrug, smirk and shake of the head and disappearing with Tillerson beyond the eyes of the media.
After meeting with Tillerson, Lavrov is expected to travel to the White House for a meeting with Trump, the first face-to-face meeting that the president will have with a senior official in the Russian government.
Lavrov, though, has already been a significant figure in White House affairs and particularly the investigation into alleged coordination with the Trump campaign. Trump's original national security adviser, Mike Flynn, resigned in February after it emerged he had lied to Vice President Mike Pence about the nature of conversations with Lavrov during the transition.
Lavrov also met with Tillerson in Moscow last month amid growing tension between the U.S. and Russia over Syria. The meeting came just days after Trump ordered a cruise missile strike on a Syrian air base in response to a chemical weapons attack allegedly carried out by the Syrian government.
But on Wednesday, Tillerson offered a welcoming tone.
"I want to welcome Foreign Minister Lavrov to the State Department and express my appreciation for him making the trip to Washington so that we could continue our dialogue and exchange of views that began in Moscow, the dialogue he hosted on a very broad range of topics," Tillerson said.