Tropical Storm Sergio Updated Path, Track: Where Is the Storm Heading Next?
Hurricane Michael spent the week traveling from the Gulf up to Florida and then through Georgia and the Carolinas and Virginia before heading out to the Atlantic. Meanwhile, in the Pacific, Tropical Storm Sergio was making its way in the direction of Baja.
The storm had maximum wind speeds of 45 miles per hour Friday and was prompting tropical storm warnings in parts of California, according to the National Hurricane Center. Sergio was scheduled to pass over the Mexican state of Baja California, early Friday morning and then continue northeast in the direction of Mexico.
It was traveling northeast at about 24 mph and was expected to pass through Mexico on its way to New Mexico and then the western side of Texas. Sergio wasn't expected to cross into U.S. territory until the early morning hours of Saturday. The storm was also expected to lose some of its steam, "weakening while moving northeastward to northeastern Texas by Saturday evening," according to the National Weather Service.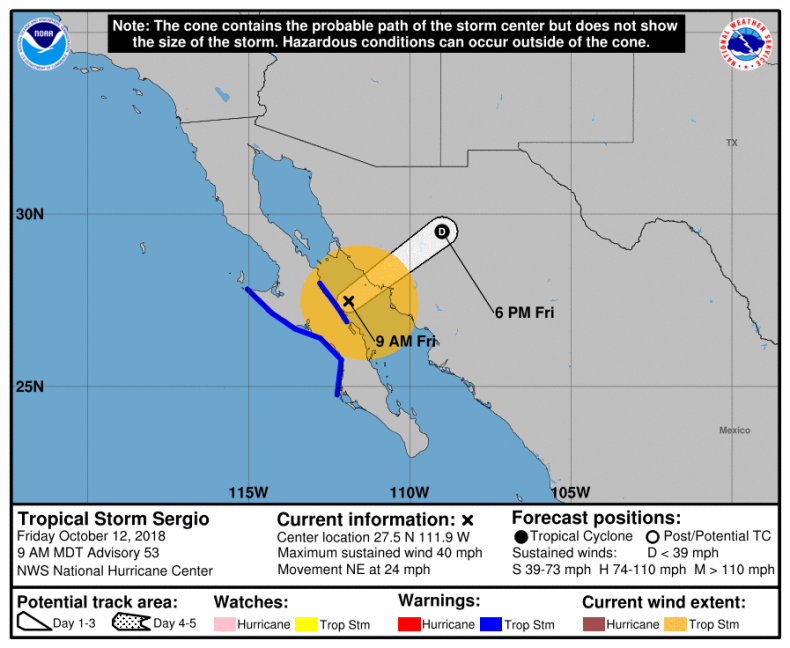 In addition to strong winds, the storm could bring some heavy rainfall and the potential for flash flooding. There was a marginal to slight chance that there would be flash flooding in parts of California, Arizona, New Mexico and Texas.
The chances of flash flooding were small though and did not pose a large threat to those in the areas. "On Saturday morning showers and thunderstorms will move into Texas continuing to move northeastward into parts of the Lower Mississippi Valley overnight Saturday," said the forecast from the NWS.
Updates about Sergio are available from the NHC and the forecasts through the rest of the storm's progression will be updated there as well as on the NWS website. Those in the area should check the forecasts and any local notices to stay up to date with any risks associated with the storm.
The Pacific hurricane season began on May 15 and continues until November 30. While there could be storms outside of the season, most of them generally happen during that time period. Hawaii was hit with several tropical cyclones this year. In the Atlantic, hurricane season starts two weeks later but also runs until November 30, there have been about an average to slightly above average number of storms develop there so far this season.