Who Is Serial Killer Guy Georges, Where Is He Now and Is He Still Alive?
The Women and the Murderer (also known as Les femmes et l'assassin) is available to stream and download on Netflix now. The true-crime documentary traces the capture of serial killer Guy Georges told from the perspective of a police chief and a victim's mother who worked tirelessly to catch him. Newsweek has everything you need to know about the case, the killer Guy Georges and his whereabouts today.
Who Is Guy Georges?
Guy Georges is a convicted French serial killer from Vitry-le-François, France.
Born Guy Rampillon on October 15, 1962, Georges grew up in the French social care system and was in and out of trouble throughout his youth.
In his later years, Georges embarked on a killing spree between 1991 and 1997. He was convicted of murdering seven women.
His victims were raped, tortured, and murdered in the neighborhood of Bastille in Paris, granting him the nickname "The Beast of Bastille."
Georges also assaulted at least 13 other women, including attempting to strangle his adoptive sisters Roselyne as early as 1976 and Christiane in 1978 when he was just a teenager, reports Crime and Investigation.
As a result of the attacks on his adoptive sisters, Georges was placed back into foster care. In his late teens in February 1979, Georges carried out his first assault. He attempted to strangle a woman named Pascale C. but she managed to escape. He was arrested by police but was released one week later.
Crime and Investigation details Georges' violent tendencies did not stop there. They only got increasingly worse. In May 1980, in two separate assaults, he attacked Jocelyne S and Roselyne C, stabbing the latter in the face. Both girls survived the attack and Georges was arrested.
He served a one-year sentence in an Angers prison and following his release, committed petty crimes in and around Paris.
In 1981, Georges committed his first rape. He attacked, raped and stabbed his neighbor Nathalie C. leaving her for dead but she survived the ordeal. In June 1982, he attacked again but the victim, Violette K., escaped. He was then sentenced to 18 months in prison.
Upon his release in February 1984, he attacked Pascale N., raping and stabbing her but she survived and alerted police. He was sentenced to 10 years imprisonment for the attack.
Due to good behavior, Georges was allowed day release towards the end of his sentence. On the evening of January 24, Georges did not return and instead made his way to Paris. It was on that night he committed his first murder, killing 19-year-old student Pascale Escarfail.
He eventually returned to prison one week later and was officially released on April 4, 1992. His murder spree continued for six more years, taking the lives of Catherine Rocher, 27, Elsa Benady, 22, Agnès Nijkamp, 32, Hélène Frinking, 27, Magali Sirotti, 19 and Estelle Magd, 25. He also continued to assault other women in the Bastille area.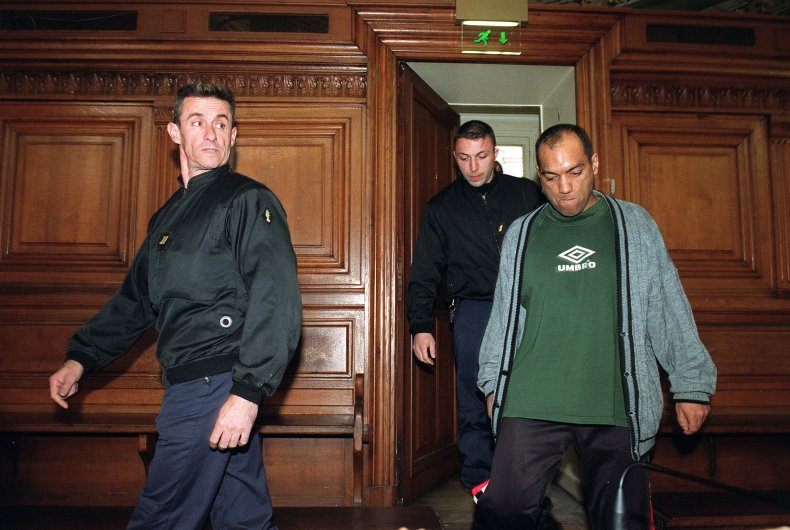 Where Is Guy Georges Now—Is He Still alive?
Guy Georges is still alive today. He is 58 years old and remains incarcerated at Maison Centrale Ensisheim (Ensisheim Central House).
On March 27, 1998, Guy Georges was arrested in Montmartre.
He was arrested for the rape and murders of Pascale Escarfail, Catherine Rocher, Elsa Benady, and Agnes Nijkamp after his DNA was found at all four crime scenes. He confessed to police following his arrest.
Ahead of his trial, Georges was found to be legally sane and fit to stand trial but was declared a "narcissistic psychopath" by psychiatrists.
Despite the DNA evidence, as well as the confession given after his arrest, Georges pleaded not guilty to all of the charges at his trial.
Georges eventually admitted he was guilty of murdering Escarfail, Rocher, Benady, and Nijkamp as well as the rape and murder of Hélène Frinking, Magali Sirotti and Estelle Magd.
He was sentenced to life imprisonment on April 5, 2001, without the possibility of parole for 22 years.
The Women and the Murderer is streaming on Netflix now.