Woman Dubbed 'Serial Stowaway' Arrested Again at Chicago Airport
A woman known as a "serial stowaway" was arrested Friday after an attempt to get around security in Chicago's O'Hare International Airport.
Around 10 p.m., officers caught 67-year-old Marilyn Hartman trying to move TSA line dividers. She was then apprehended and taken into custody, where she awaits formal charges.
Earlier this year, Hartman was sentenced to 18 months of probation following a similar incident in which she got on a plane to London without a boarding pass. After pleading guilty, Hartman apologized to the airport and for "causing problems for them," WGN reported. She is no longer permitted in the city's O'Hare or Midway airports without a ticket.
In 2018, Hartman was successful in breaching the TSA at O'Hare, and made it to London's Heathrow Airport with neither a ticket or passport. It was not until the plane had taken off that airline personnel realized Hartman had not purchased her flight.
British Customs officials detained Hartman immediately after the plane reached the airport. She was sent back to Chicago where she was charged with felony theft and misdemeanor criminal trespass, but had been declared unfit for trial. She was moved to a mental health facility in July.
It remains unclear how Hartman was able to elude security.
"This matter is subject to an ongoing investigation and TSA is working closely with our law enforcement and airline partners in that effort," a spokesperson for the TSA had said at the time—according to the Chicago Tribune. "During the initial investigation it was determined that the passenger was screened at the security checkpoint before boarding a flight. Upon learning of the incident TSA, and its aviation partners took immediate action to review security practices throughout the airport."
Local media reported the Chicago Department of Aviation had released a statement claiming that no one on the plane had been harmed by the security breach.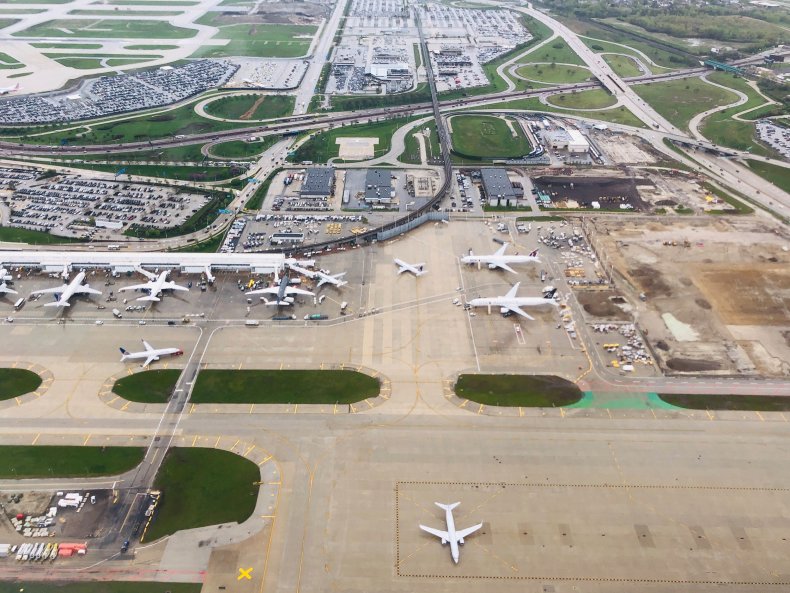 According to previous reporting by Newsweek, Hartman has had past run-ins with law enforcement for trying to sneak on planes—by her own admission.
"I told you the last three or four times, I hope I never see you again. I don't feel very confident about that," Judge William Raines told Hartman in 2016. "I think you're going to be back."
Hartman was first called a "serial stowaway" by Cook County prosecutors following an arrest at O'Hare in July 2015, the Chicago Tribune noted.