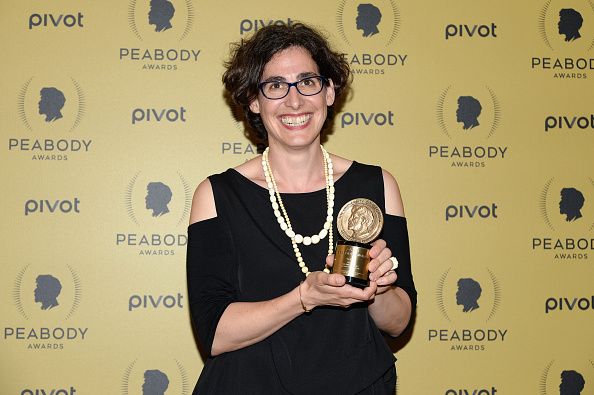 If you're one of the millions of people who listen to the hit podcast Serial each week, you'll be familiar with creator and narrator Sarah Koenig casually mentioning that she called the Taliban, as if she were phoning an old pal.
To most people, getting phone time with the Afghan militant group would represent an insurmountable challenge. But Koenig has her ways.
In an appearance on The Late Show with Stephen Colbert on Wednesday night, Koenig detailed how surprisingly easy it was for her to get in touch with the group.
Impressed by her access, Colbert asked the question on everybody's mind: "Did you call 1-800 Taliban?"
"We've been working with this wonderful reporter," Koenig replied. "He's based in Islamabad, and he knows all these guys. He grew up with a lot of them."
Though Koenig's revelation that a burner phone—a prepaid phone that the caller usually destroys so as not to leave a trail of the conversation—was used wouldn't shake anyone who has watched ten minutes of Homeland, her claim that some of the Taliban are fans of the podcast might come as a surprise.
They're definitely not the only ones tuning in. The first season of Serial was a global phenomenon, bringing in an average of 2.2 million listeners for every episode. The story examined the case of Adnan Syed, convicted for murdering his high school girlfriend Hae Min Lee in 1999. Syed has always maintained his innocence, though his friend Jay Wilds testified that he helped him bury Lee's body.
The second and current season focuses on the more well known story of Bowe Bergdahl, a U.S. Army officer who was captured by a Taliban-affiliated group in 2009 after some believe he deliberately deserted his post in Afghanistan. Bergdahl has admitted to leaving his post, but asserts he did so to report mismanagement within his unit.
The Obama administration negotiated his release in 2014 in exchange for five imprisoned Taliban militants. Since returning to the U.S, Bergdahl has been charged with desertion and misbehavior before the enemy.