The 200th instalment of one of Serie A's most heated rivalries gets underway on Sunday, as Inter Milan hosts Juventus at the San Siro.
To say this fixture needs no introduction would be doing the Derby d'Italia a disservice. With 35 and 18 titles respectively, Juventus and Inter are the two most successful clubs in Serie A—A.C. Milan is tied with its city rivals on 18 titles—and their rivalry has defined Italian soccer for decades.
From Juventus' controversial 1-0 win late in the 1997-98 season when Inter was denied a stonewall penalty, to the Bianconeri's relegation to Serie B in the wake of a match-fixing scandal and Inter's subsequent run of five straight titles, there's no love lost between the two.
The first meeting of the season, however, comes with added layers of intrigue.
After winning this fixture just twice in the past decade, Inter looks finally well equipped to take the fight to Juventus, who has won the title in the last eight seasons.
The Nerazzurri invested over $150 million in the summer and the results have been almost immediate, with Inter leading the table with 18 points after winning the first six games.
Inter has the second-best attack in Serie A with 13 goals and the best defense, conceding just twice in six games.
Juventus is two points adrift, an unfamiliar position for the Bianconeri who had led Serie A or at least shared the lead for 552 consecutive days until last month.
If Inter leading Juventus even at this early stage of the season adds spice to the fixture, the fact man responsible for Inter's turnaround is Antonio Conte makes it even more intriguing.
The former Italy coach led Juventus' revival earlier in the decade, winning three consecutive titles with the Bianconeri and delivering a first Scudetto in almost a decade.
Conte, who won 12 trophies with Juventus as a player during a 13-year spell in Turin, returned to coaching after a sabbatical year following a two-year spell at Chelsea and on Sunday he will come up against Maurizio Sarri, who replaced him at Stamford Bridge.
The Inter coach, however, is unlikely to extend an olive branch to his successor at Chelsea. The duo engaged in a war of words last month, after Sarri complained about Juventus having to play in the afternoon heat against Fiorentina.
"I don't want to say anything, otherwise we'll have to start comparing balance sheets and financial resources," Conte replied when asked about Sarri's comments.
"Someone ought to calm down, as he [Sarri] is on the powerful side now."
Here's everything you need to know ahead of Sunday.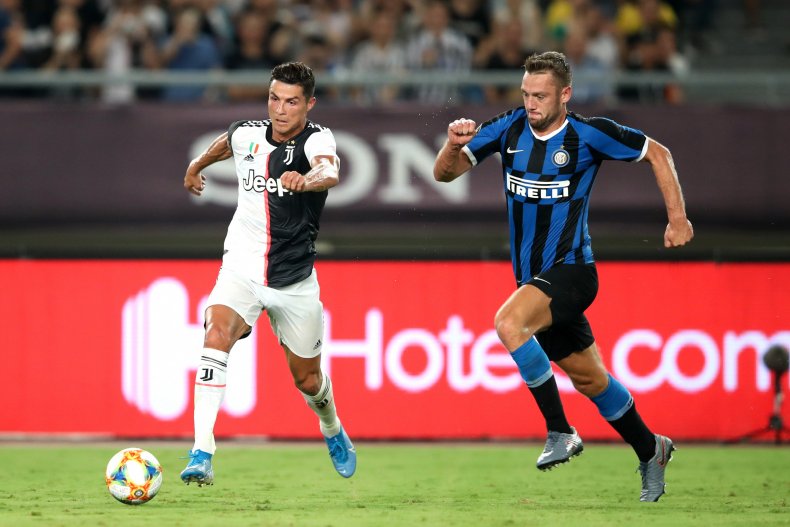 When and where is the game?
Inter Milan hosts Juventus at the San Siro Stadium in Milan on Sunday, October 6, with kickoff scheduled for 8:45 p.m. local time (2:45 p.m. ET).
The two rivals have played each other 199 times in Serie A, with Juventus winning on 90 occasions, while Inter has prevailed 58 times.
Inter has won just twice against Juventus in the last 10 years.
TV coverage and live stream
The game will be broadcast live on ESPN+ and will also be available in Italian on RAI Italia via fuboTV.
Form
Inter Milan is top of the table with six wins in as many games, while Juventus is two points adrift. Both were in action in the Champions League this week, with Inter losing 2-1 away to Barcelona after leading 1-0, while Juventus comfortably beat Bayer Leverkusen 3-0 in Turin.
Team news
Inter Milan will be without the suspended Alexis Sanchez but Romelu Lukaku is again available after missing the trip to Barcelona with a thigh issue.
Juventus, meanwhile, will be without Douglas Costa and Danilo, who have joined long-term absentees Giorgio Chiellini, Marko Pjaca and Mattia De Sciglio on the sidelines.
Odds
As reflected by the bookmakers, there is little to choose from between the teams. According to Oddschecker, Inter is a slight favorite at 17/10, while Juventus is at 37/20 and the draw is at 43/20.