Series of Chemical Accidents Sparks Flood of Conspiracy Theories
Several chemical accidents have occurred in the first few weeks of February, spanning the nation and sparking conspiracy theories. The accidents released toxic chemicals into the air and waterways, and some people are certain the events are connected.
The accidents
A train carrying toxic chemicals crashed in East Palestine, Ohio, on February 3. Shortly after, officials conducted a controlled burn to prevent an explosion, releasing the chemicals into the atmosphere.
On Tuesday, a truck carrying nitric acid crashed in Arizona, spewing the fatal chemical into the atmosphere.
A day later, a chemical fire broke out in a storage tanker in Oklahoma.
Most recently, a massive fire broke out at a warehouse storing plastic plant pots in Kissimmee, Florida, on Thursday.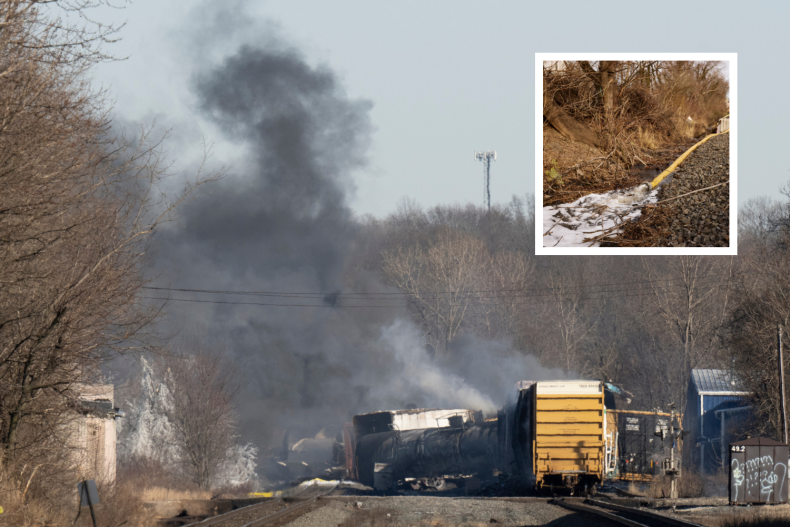 The conspiracy theories
The events have many people concerned, and some are attempting to explain the events by connecting them. Some suggest that the chemical fires are connected to the unidentified flying objects recently shot down.
"Has anyone thought to connect the 'chemical accidents' and 'object downings' dots? Maybe they already started the attack on us and we don't even know it? They're keeping us in the dark and we're just going skiing with it!" one person tweeted.
Another pointed out how concerning it is that the East Palestine crash happened only a few months after the movie White Noise was released. The film depicts an industrial accident that takes place and forces society to take cover. The movie, which was shot in Ohio, was released on Netflix last year.
"Really wild how nobody's talking about the train crash/chemical burn in East Palestine, Ohio. Toxic chemicals poisoned towns in multiple states, maybe forever, and there was an entire movie about the EXACT same scenario made late last year," one person tweeted.
One conspiracy theorist said that the chemical accidents were occurring only in Republican states.
"So, when do we reach the point when we can agree that all these fires with poisonous chemicals are no coincidence anymore? Also interesting they only happen in red states," the person tweeted.
Train derailments also have occurred in South Carolina and Texas, although they didn't release any hazardous materials.
In Splendora, Texas, a train carrying household chemicals crashed into an 18-wheeler on Monday. Officials said no hazardous material was released. Diesel and oil leaked from the truck.
On Monday, a train hit an unoccupied car parked on the tracks in Lake City, South Carolina. The train derailed but did not contain hazardous materials.
Newsweek reached out to the White House for comment.