Exotic Cat Found Roaming Cincinnati on Cocaine Taken In by Zoo
An exotic cat found roaming Cincinnati on cocaine has been rescued and taken to a zoo for treatment.
The serval—a wild cat native to Africa—had escaped from its owner's car at the end of January, and was on the loose in the Cincinnati neighborhood of Oakley.
The cat had escaped while its owner was being arrested by police, Fox19 reported. The unhappy cat then ran up a tree, where authorities worked to get it down.
Once the serval was rescued from the tree, a toxicology report revealed the animal had cocaine in its system.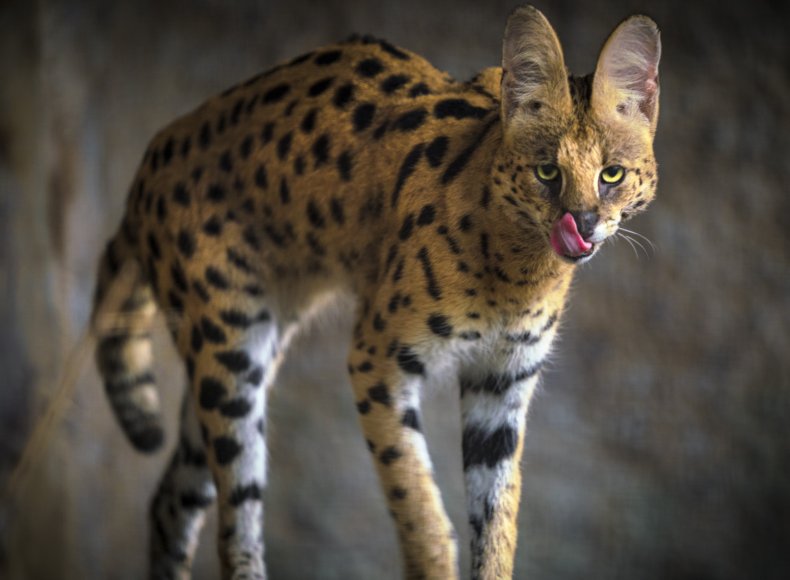 Ray Anderson of Cincinnati Animal CARE, a shelter and rescue center that assisted with the rescue alongside authorities, told Fox19: "Now, we can't say how the animal got the cocaine in the system. I don't know if it was environmental or experimental."
Animals can occasionally become intoxicated with drugs by accident, by eating or licking them on a surface. Cocaine can have severe health effects on animals. In cats, it is likely to cause intermittent hyperactivity, which may be followed by lethargy. In severe cases, if a large dose is given, the cat may develop seizures.
While rescuers were trying to get the cat out of the tree, it broke its leg in the process, Fox19 reported.
Rescuers were not sure "what they were dealing with" at the time. Anderson told Fox19 that in hindsight, it probably should have involved "a whole lot more people."
At first, rescuers believed the cat was a hybrid F1 savannah cat—the offspring of a serval breeding with a domestic cat— which is legal to own in Ohio. It later became clear it was a serval, however, after DNA testing. This cat breed is illegal to own in the state. Any wild and exotic pets are illegal in Ohio, but some people still keep them.
Once the cat was rescued from the tree, it was taken in by the Cincinnati Zoo.
In a statement, a zoo spokesperson said the cat had been receiving veterinary care and is "doing well," as reported by Fox19.
"The next step will be for our Cat Ambassador Program team to work with him and determine if he's a good fit to be an ambassador animal. He will likely be behind the scenes for a while," the spokesperson said.
Information on the cat's owner was not available, but officials from Cincinnati Animal CARE determined that they had been cooperative in the case. Charges will not be pressed at this time.
Newsweek has contacted Cincinnati Animal CARE for more information.