Server Praised for Whipped Cream Topping Revenge on Complaining Customer
A server's revenge using whipped cream topping is delighting the internet, and the viral post has been turning heads ever since.
The Reddit post, which has garnered 14,000 upvotes and 1,000 comments, reveals a lot about the situation in the title.
"I served this to a customer that was complaining about his meal," the post is titled. "He posted about it on FB [Facebook], it then went semi-viral, and I was fired."
Redditor @Klovee1 shared the post to the subreddit "Antiwork" on June 27, and it featured a screenshot image from a cell phone of a social media post of a desert, presumably posted by the customer who had been complaining.
The image was shared by someone named Paul, and it showed an outside table with someone sitting across from the person taking the image, who was seated in front of a dessert on a plate with three forks. The dessert, a piece of carrot cake, was topped with whipped cream in the shape of a man's genitalia going down the side of the slice.
"Dude, just take the L and call it a day," the post was captioned. "Feel free to re-post."
There are many food servers in the world, and according to Zippia, there are more than 1,974,622 of them working in the country. Of those, 64 percent of them are women, whereas 36 percent are men. The average age of these workers is 39 years, and the top 10 percent of the highest earners make $32,000 or more.
The United States Bureau of Labor Statistics reported the median income of food and beverage servers made $25,980, or $12.49 an hour, in 2021. On average, the industry is growing with more than a million openings projected every year over the current decade.
Getting a job in food and beverage serving usually doesn't have any formal education requirements or work experience stopping job applicants, and workers can be employed in restaurants, schools, or other dining locations. Part-time work is commonplace in the field as well.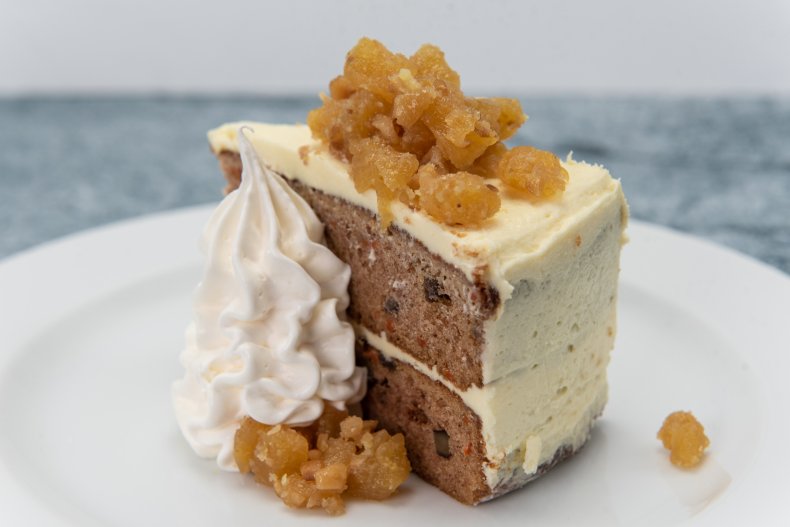 The post amassed numerous comments, and people are reveling in the server's revenge in the form of whipped cream topping. Some people had jokes about the situation. "Reason for leaving last job: Whip creamed penis," a Redditor said.
One user admitted they would have just pretended if they were in that situation. "I would feign ignorance and accuse him of being a pervert," they said.
Not everyone realized the risqué whipped cream shape at first. "I genuinely didn't even realize [until] just now," a user said. "I was like, 'Wow, he's so kind, and [he] gave him tons of cream!"
People praised the server's move, and one such Redditor thought it was only missing a cherry. "Dude, if you're going to get s**t-canned, this is the way to go," they said. "You only missed the cherry on the tip. Well done sir, well done."
Comments of appreciation included things like, "That's the best way I've ever seen to subtly tell someone to eat a dick," "Genius," and "10 out of 10 for style! Great execution as well."
While one user didn't think this type of revenge was all that bad. "Of the things someone can do to mess with a person's food, extra whipped topping is not so bad," they said. "Even if it is in that shape."
Some people would have reacted differently had they received the piece of cake and topping. "Omg," a user said. "If you served that to me, I'd have probably p**sed myself laughing. You deserved a raise. Even if I was rude to you. Touché."
However, not everyone would agree with the server's topping shape. "You 100 percent deserved to be fired," a user expressed. "Don't get me wrong, it's funny. But you couldn't have seriously thought you'd get away with that did you?"
Newsweek reached out to Redditor @Klovee1 for comment.
This isn't the only viral moment involving work-related situations. A man's clever workplace fridge hack using breast milk bags delighted the internet. Another man was backed for using "insulting" phone wallpapers to deter his nosy co-workers. In addition, a woman was supported for quitting her job after her leave request was denied.