Server Takes Revenge on Customer After They Dine and Dash
A restaurant server appeared to hit her breaking point after a group of patrons walked out on their $125 bill.
"To the girls that ran out and didn't pay their tab, you left your glasses, b*tch," said server Jessica Guevara in a TikTok video on Saturday. The employee, whose social media indicates that she lives in San Diego, California, has racked up over 480,000 views on the clip.
Holding up a pair of glasses to the camera, Guevara proceeded to drop it on the ground and stomp repeatedly. She snapped the eyewear in two and crushed the lenses out of their frames.
"Hope these were $125," she said in the caption.
Dine-and-dashing can take a direct hit on the livelihood of restaurant workers. Under federal wage-and-hour law, a restaurant can require an employee to pay the loss from dine-and-dash customers if it does not push the worker's wages below federal minimum wage, according to Johnny C. Taylor Jr., CEO of the Society for Human Resource Management (SHRM).
However, certain states—including New York and California—have laws that prohibit deductions from employees' paychecks for cash shortages and other business losses.
Though some viewers were taken aback by Guevara's revenge, most still took her side.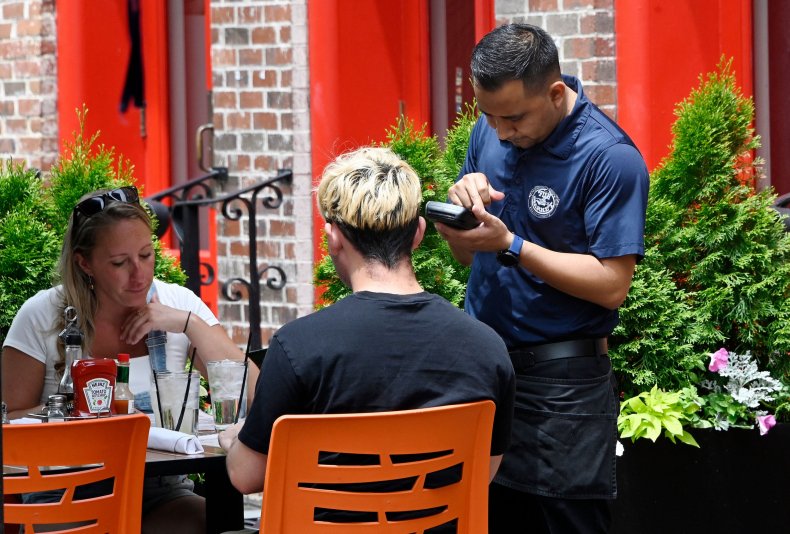 "Girl glasses are like $300 [oh my God], my soul," commented a viewer, adding, "But go you."
"I would have just called the cops," said another user.
Several viewers said they also worked as servers and empathized with Guevara's rage.
"I may (or may not) have run someone's expensive cell phone through the dishwasher in a similar situation," commented a commiserating viewer.
Restaurant workers nationwide are suffering from a burnout crisis. The pressures of staffing issues and longer work hours, rising food prices, supply chain blockages and higher guest expectations have driven an exodus from the industry. According to Limeade, an employee wellness company, 52 percent of food service and hospitality workers who left their jobs in 2021 said burnout pushed them to quit.
Last month, another server went viral for describing how 11 people walked out of her restaurant and left only $3 toward a $220 bill.
After a group left without paying their $100 bill to a pregnant server in Boston, Massachusetts, in 2021, incensed residents rallied to send her money.
Meanwhile, a California man dubbed the "dine-and-dash dater," who abandoned a series of dates to pick up expensive dinner bills, surrendered himself to a 120-day jail sentence in 2019.
Newsweek reached out to Guevara for comment.