A crackdown is underway on Americans seeking to pass off their pets as service animals.
In recent years, more than a dozen U.S. states have passed legislation to prevent the practice—in a bid to protect those for whom service animals provide vital support.
Such laws make it a misdemeanor to represent an untrained dog as a service animal, and often come with fines of up to $500.
Service animals are highly trained in order to assist people living with a disability. The dog's duties might include: guiding people who are blind, alerting people who are deaf, pulling a wheelchair, or protecting a person who is having a seizure.
Governments, businesses, and nonprofit organizations must allow service animals to accompany their owners in all areas open to the public.
But in recent years a surge in the number of registrations for "emotional support animal," which have fewer legal protections, has blurred the lines for many businesses and frequently caused confusion.
Which Animals Can Be Service Animals?
Under federal legislation, the Americans with Disabilities Act (ADA), only dogs can be service animals.
These must be "trained to do work or perform tasks for people with disabilities," and should be harnessed, leashed, or tethered, unless their handler is unable to use such controls or it would interfere with the animal's safety or effectiveness.
In addition to the potential duties listed above, service dogs might also be trained to remind a person with mental illness to take prescribed medications, or calm a person with Post Traumatic Stress Disorder (PTSD) during an anxiety attack.
While there is no certification or official national registry of legitimate service dogs, the American Humane Association believes there to be about 20,000 working in the U.S.
The ADA has a separate provision on miniature horses trained to assist people with disabilities. Under the legislation, public places can be required to modify their policies to permit such miniature horses—generally standing 24 inches to 34 inches to the shoulder—"where reasonable."
Is That the Only Definition?
No. The ADA's definition of service animals differs from other legislation.
Under the Air Carrier Access Act (ACAA), which aims to prevent discrimination against passengers with disabilities by air carriers, service animals are limited to dogs.
These must be "trained to do work or perform tasks for the benefit of a qualified individual with a disability, including a physical, sensory, psychiatric, intellectual, or other mental disability."
The ADA and ACAA do not consider "emotional support animals" to be service animals.
Airlines sometimes allow passengers to take emotional support animals on board flights; however, many have tightened rules in recent years amid a rise in demand.
In 2018, United Airlines banned a woman from taking a large "emotional-support peacock" named Dexter on a flight.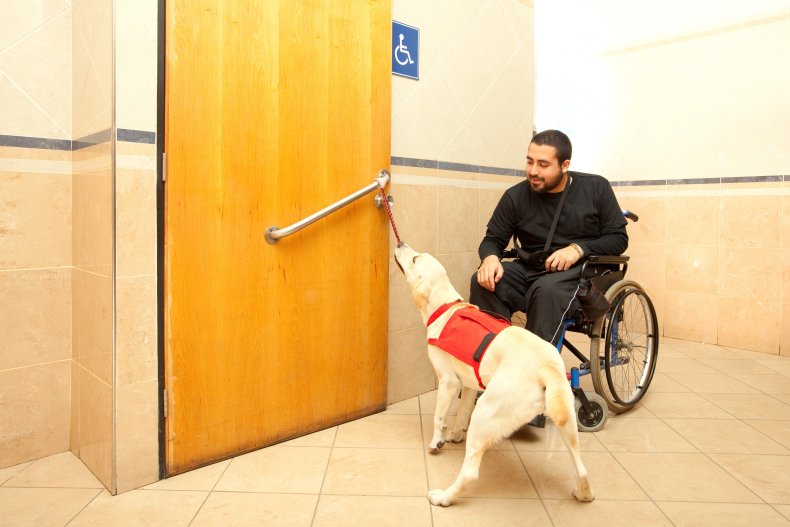 Another piece of legislation, The Fair Housing Act, which aims to prevent housing discrimination, has its own definition of an "assistance animal."
Under that legislation, an assistance animal "works, provides assistance, or performs tasks for the benefit of a person with a disability," or "provides emotional support that alleviates one or more identified effects of a person's disability."
That does not rule out the inclusion of emotional support animals; however the U.S. Housing Department states: "An assistance animal is not a pet."
Some state legislation also defines service animals in other terms.
What About Emotional Support Animals?
The number of Emotional Support Animal (ESA) registrations have rocketed in recent years.
While no national agency keeps track of the numbers, a study from the University of California at Davis found ESA registrations by animal control facilities in the state increased 1,000 percent between 2002 and 2012.
Gaining such status requires only a therapist's letter. Alternatively, The Guardian reports, for-profit websites, known to some as "ESA mills," will provide a quick disability appraisal by a clinician before selling official-looking items such as high-visibility vests for your dog.
Registered ESAs come with perks—albeit fewer than those of service animals. Under the Fair Housing Act, for example, ESAs cannot be charged pet deposits and may be free to move into animal-free apartments.
Correction 9/24/21: This article has been rewritten to accurately define the difference between service dogs and emotional support animals.