Service Dog Delivers Eight Puppies at Florida Airport
A family missed their flight to Philadelphia, Pennsylvania, after the service dog they were traveling with unexpectedly went into labor at the airport.
The two-year-old yellow Labrador Ellie, short for Eleanor Rigby, began giving birth to eight puppies in the middle of Tampa International Airport in Florida while her owners were traveling through the concourse on their way to catch the flight, reports WPVI.
The family was aware that Ellie was pregnant, but not know how close she was to giving birth, reports the BBC.
The Tampa bay Fire Rescue department were able to assist Ellie, and even live tweeted as she gave birth to seven male puppies and one female pup.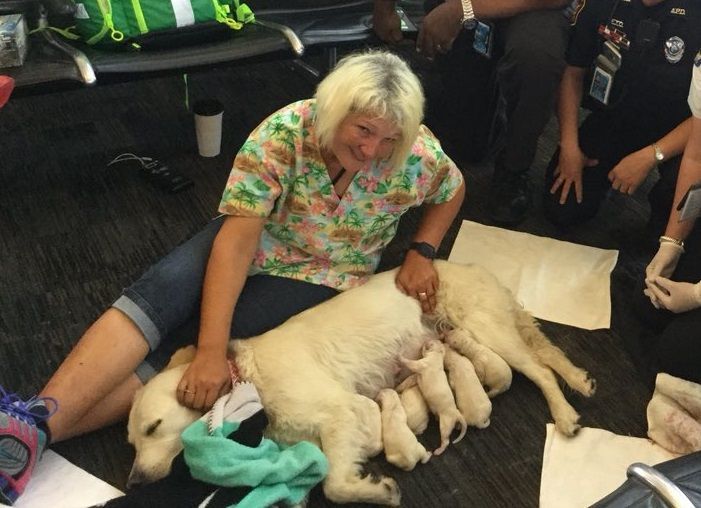 "Tampa paramedics do it all! [Paramedic] Larry Glanton and Lt. Natalie Brown teamed up to deliver the 8 puppies @FlyTPA #AirportPuppies." the department wrote at about 4 p.m. on Friday (May 25).
A small crowd of fellow passengers and airport staff gathered outside the Gasparilla Bar at TIA's Airside F in order to witness the puppies being delivered.
The father of the pups, Nugget, was present at the birth. Nugget is also a service dog and was due to travel with the family and Ellie on the flight to Philadelphia.
Tampa International Airport described the incident as a "ruff day for this mama at Gate F80" in a post on Twitter.
After missing their flight, the family—with the two service dogs and eight new puppies—decided to drive the 1,000 miles to Philadelphia instead, reports the Miami Herald.
Service Dog Delivers Eight Puppies at Florida Airport | U.S.