Service Dog Saved Life of Illinois Man Who Suffered Heart Attack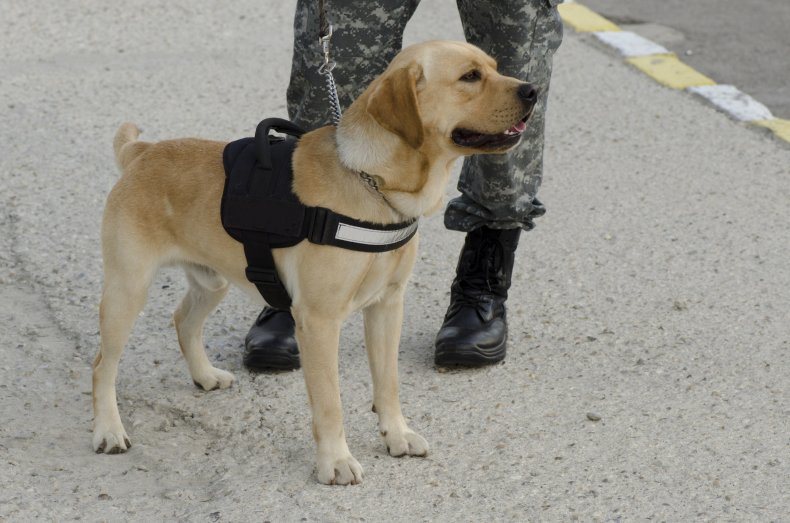 A service dog reportedly saved the life of an Illinois man who recently suffered a heart attack.
Robbie Stouffer told WMBD that he may owe his life to his dog, Carolyn. Stouffer adopted Carolyn about one year earlier from Freedom Paws Service Dogs Foundation, a group that provides veterans and first responders suffering from post-traumatic stress disorder (PTSD) with trained service dogs.
"I had a heart attack and I didn't know it was happening," Stouffer told the outlet, while noting that Carolyn had let him know he was having an emergency. "I picked up my phone and then she sat down. And I thought this is kind of weird, weird behavior."
After calling 911, Stouffer followed the instructions of a dispatcher by unlocking his front door. He then collapsed on the floor. After Stouffer was transported to the hospital, doctors treated him and fitted a heart stent.
Stouffer was reunited with Carolyn only hours later. He said that the presence of his constant canine companion helped ease his worries about any medical issues he might experience in the future.
"Goes to work with me, she goes to doctor's appointments with me, shopping... Carolyn is a sweet, very sweet dog. Very smart," Stouffer said. "It's better than your best friend. I can't really really explain the security and the feeling that someone's there."
Carolyn was paired with Stouffer when she was 2-months old. Stouffer said that after they "started to build a bond," the dog's "goofy" personality emerged. By the time of the heart attack, she insisted on getting close as much as possible and could sense his condition.
Freedom Paws Service Dogs CEO Corey James told WMBD that it became apparent that Carolyn and Stouffer were "a match" after only "a couple of training sessions."
Although the National Service Animal Registry estimates the average up-front cost of a trained service dog is between $15,000 and $30,000, James noted that his group provides dogs "at no cost to the veteran."
A service dog is defined as any dog that assists a person with a disability, which can include physical or psychiatric conditions. Dogs trained to help people with conditions like PTSD require specialized training.
President Joe Biden in August signed the Puppies Assisting Wounded Servicemembers (PAWS) Act into law, potentially making it easier for veterans to be paired with service dogs. While the Department of Veterans Affairs previously included service dog funding for veterans with physical disabilities, the new law launches a pilot program that expands funding to include mental health conditions like PTSD.
Newsweek reached out to Freedom Paws Service Dogs Foundation for comment.