Service Restored for Most Customers After Nashville Bombing Disrupted Network, AT&T Says
A majority of AT&T services have been restored in Nashville, Tennessee, following the Christmas Day explosion, outside the AT&T building.
According to a press release from AT&T, the company's "mobility network is now operating normally, nearly all home internet and video customers have been restored and our business customers are back online."
"As of late Sunday evening, adequate power is available on most floors of the building," the press release said. "Recovery work will continue today as we address the few remaining services and customers that still may be impacted by this event. Twenty-three of our disaster recovery technology and support trailers arrived in Nashville yesterday. This equipment will be critical as we maintain service and make repairs in the days ahead."
Newsweek was directed to the update from AT&T after reaching out for comment.
The update comes a few days after an explosion occurred near the AT&T building in Nashville. On Christmas Day, officers with the Metro Metropolitan Nashville Police Department (MNPD) responded to a call of shots being fired on 2nd Avenue, following reports of a van broadcasting a warning message urging residents to leave the area.
Anthony Quinn Warner, 63, of Antioch, Tennessee, was named as a person of interest in the bombing, and on Sunday, the FBI said in a press release stating that forensic test results of human remains recovered from the blast site, "were consistent to those of Anthony Quinn Warner."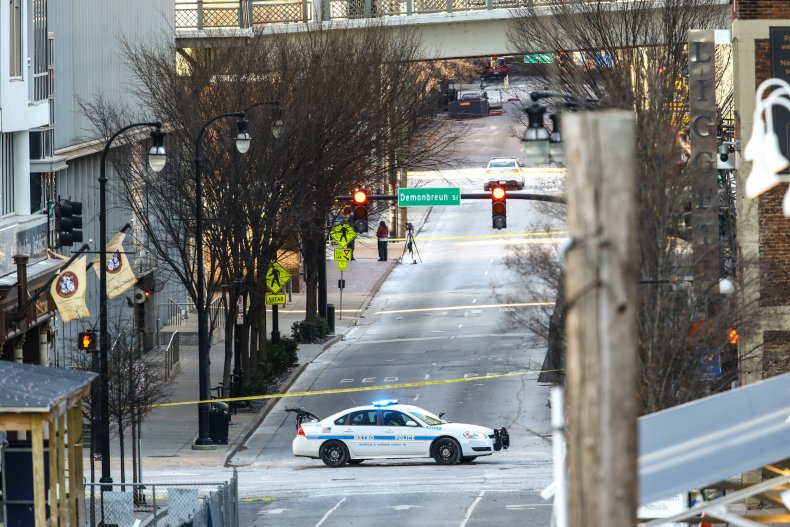 "FBI and ATF agents are continuing to recover and analyze evidence. The motive for the incident is still unclear," the FBI wrote in the press release. "Leads are still being followed, but at this time, there is no indication that any other individuals are involved."
Prior to AT&T's update on Monday, federal and local authorities said that the blast disrupted 911 call centers as well as cell phone services and phone lines in Tennessee and surrounding areas.
The blast, "led to service disruptions across parts of Tennessee, Kentucky and Alabama. More than 48 hours later, some customers are still experiencing outages," AT&T wrote in a press release on Sunday.
While AT&T's most recent update states that a majority of services in Nashville have been restored, on Sunday, the city's Mayor John Cooper said that the incident appeared to be an "infrastructure attack" on the AT&T building.
"Those of us in Nashville realize that on 2nd Avenue there is a big AT&T facility and the truck was parked adjacent to this large, historic AT&T facility, which happens to be in downtown Nashville, somewhat surprisingly," Cooper said while appearing on CBS' Face the Nation. "And to all of us locally, it feels like there has to be some connection with the AT&T facility and the site of the bombing. You know, and that's a bit of just local insight, because it's got to have something to do with the infrastructure."
Newsweek reached out to Cooper's office for comment but did not receive a response in time for publication.