Character Appears to Knock Over Child in Second 'Racist' Sesame Place Clip
A clip of a Sesame Place character seemingly knocking over a small child has emerged on social media after the facility issued a public apology to a mother who claimed one of its employees shunned her children.
On Sunday, footage posted by Instagram user @__jodiii__ of a Sesame Place (a Sesame Street theme park) parade where two Black children were seemingly ignored by one of the characters went viral and sparked outrage online.
The first incident took place at the Sesame Place theme park in Philadelphia and shows a Sesame Street parade where two young girls with outstretched arms wait to be approached by the character Rosita. After high-fiving other people along the parade route, the character waves her hand at the two girls and walks away.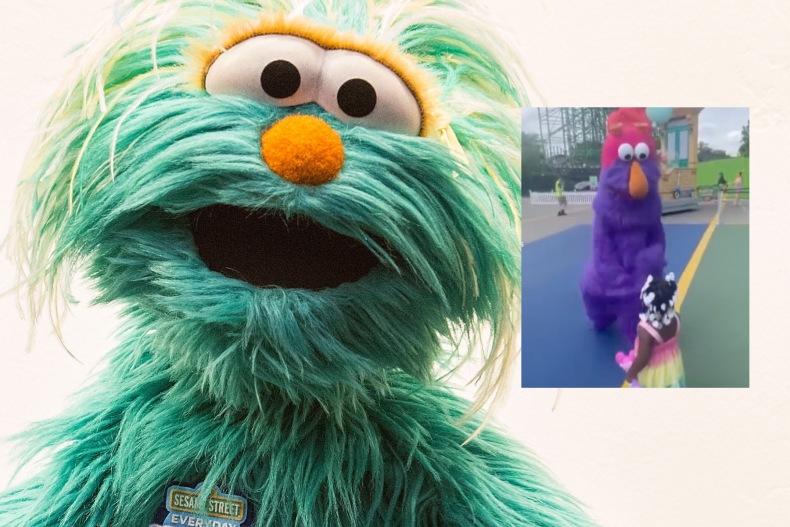 "We were on our way out of Sesame Place and the kids wanted to stop to see the characters. THIS DISGUSTING person blatantly told our kids NO then proceeded to hug the little white girl next to us!" the video's caption reads.
Now, a second clip, originally posted by TikTok user @frobabies has emerged which shows the Sesame Place character Honker, walking into a small Black child until they fall to the ground.
"Not sure who's in these @sesameplace costumes but this is completely unacceptable!" the caption reads.
Newsweek has attempted to contact the poster via TikTok. The video has since been shared on Twitter by filmmaker Matthew A. Cherry who also tweeted his frustration at the situation.
"Alright several people need to answer for this racist behavior towards Black children at @SesamePlace. WTF is this. I'm so pissed," Cherry tweeted.
On Twitter, this clip has clocked up more than 94,000 views at the time of writing, while on TikTok it has amassed more than 428,000 views.
"Oh no! This is unacceptable," reads one tweet, while another commentator asked: "What the hell was that?!?"
Newsweek has contacted Sesame Place for comment regarding this second video of Honker.
Sesame Place Philadelphia officially responded to the claims made in the Rosita video with a statement on Monday that defended the behavior of its employee, saying Rosita's shunning of the two girls was not racially motivated.
"The costumes our performers wear sometimes make it difficult to see at lower levels and sometimes our performers miss hug requests from guests," the theme park said.
"The performer portraying the Rosita character has confirmed that the 'no' hand gesture seen several times in the video was not directed to any specific person, rather it was a response to multiple requests from someone in the crowd who asked Rosita to hold their child for a photo, which is not permitted."
Sesame Place claims that "the Rosita performer did not intentionally ignore the girls and is devastated about the misunderstanding."
The park also released a statement to Newsweek saying that they "sincerely apologize to the family for their experience in our park on Saturday; we know that it's not ok."
"We are taking actions to do better. We are committed to making this right," the statement continued.
"We will conduct training for our employees so they better understand, recognize and deliver an inclusive, equitable and entertaining experience to our guests. For over 40 years Sesame Place has worked to uphold the values of respect, inclusion and belonging. We are committed to doing a better job making children and families feel special, seen and included when they come to our parks."