Sesame Street began on PBS on November 10, 1969 and across over 4,000 episodes has seen hundreds of celebrity guest stars visit the series. Everyone from C3PO to Celine Dion has joined Big Bird, Oscar the Grouch and the Cookie Monster over the past five decades.
To celebrate five decades of the show, HBO is due to air its Sesame Street's 50th Anniversary Special on Saturday, November 9, with celebrities like Joseph Gordon-Levitt and Meghan Trainor becoming the latest celebrities to appear among Jim Henson's creations.
To celebrate these new stars joining the world of the show, here are some of the weirdest celebrity visitors to the street over the last 50 years.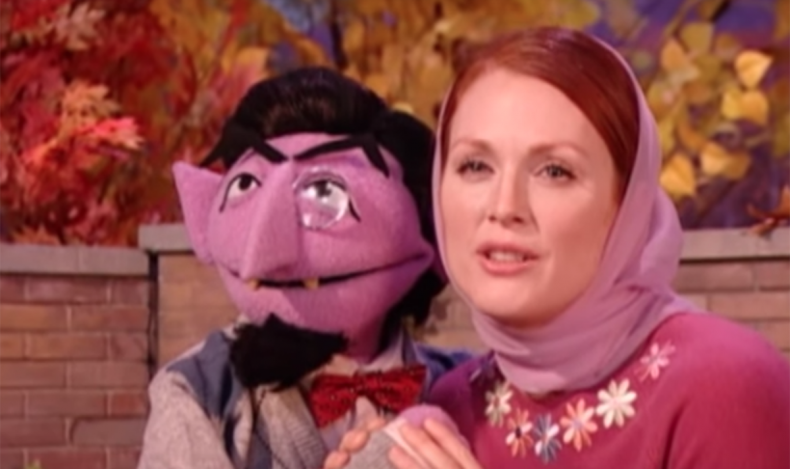 Julianne Moore
Sesame Street has never been afraid of a niche cultural reference, but perhaps its most obscure was "Far From Seven," a 2004 spoof of 2002 film Far From Heaven, with Julianne Moore reprising her role alongside The Count, who implies he is having an affair with a number 7.
R.E.M.
Though it might be enough to make fans lose their religion, Michael Stipe, Mike Mills and Peter Bick all seem to be having a lot of fun when performing "Furry Happy Monsters," a version of their song "Shiny Happy People" which, unlike the original, is actually about monsters rather than Prozac.
James Blunt
Singing maybe the only song to feature the word "hypotenuse," British musician James Blunt joined Telly in 2006 to sing "My Triangle," a three-cornered take of his international hit single "You're Beautiful."
C-3PO and R2D2
A long, long time ago (1979) in a galaxy far, far away (a TV studio in Manhattan), Star Wars' most beloved droids C-3PO and R2D2 met Big Bird and co to deliver a secret message and get oiled down.
Celine Dion
In 1998, the year when her Let's Talk About Love album was the biggest-selling in the U.S. (only kept off the top spot by the soundtrack to Titanic which she also featured on), Celine Dion took the time to appear on the show to sing a song called "Happy to Meet You."
James Gandolfini
Though best known as the morally bankrupt Tony Soprano in The Sopranos, actor James Gandolfini showed his softer side in a 2002 segment where he talked to Zoe about feeling scared of the dark, getting a haircut and giant talking vegetables...cue the Golden Globe-winning actor getting terrorised by a broccolli Muppet.
Mel Gibson
Before the controversies, Mel Gibson was unproblematic enough to appear in the nation's favourite TV show, playing himself in a piece where he tells Telly the difference between duck-billed platypus and regular ducks.
Tim Gunn (+ Heidi Klum)
Project Runway mentor Tim Gunn made it work in a 2013 segment where he played a magazine editor named Bill Ding judging a best home competition, while former costar Heidi Klum introduced word of the day "compliment" in 2008.
Ice Cube
One-time "F*** Tha Police" songwriter Ice Cube made his full transition to family friendly actor when he presented the word of the day ("astounding") in 2014 in a segment that sees him turn into an actual ice cube.
Lassie
Many pop culture icons have walked down Sesame Street, but few have had a legacy more lasting than Lassie, the heroic border collie who has made a number of appearances on the show, including an appearance on a 1995 episode kissing Oscar the Grouch.
Spike Lee
In one of Sesame Street's strangest spoofs, they parodied 1999 serial killer film Summer of Sam, directed by Lee, by getting the director to play himself in a segment where he tries to make film Summer of Snuffy. However, Lee gets so annoyed with Mr. Snuffleupagus' constant cheerful demeanour in a sad scene that the director plays the role himself, complete with a red snuffle nose.
Richard Pryor
Pryor joins the surprisingly long list of stand-up comedians with X-rated material who have appeared on the kid's show. Pryor appeared on the show multiple times in the 1970s, filming segments where he discussed parts of the body and recited the alphabet.
Sesame Street's 50th Anniversary Special airs on November 9 at 7 p.m. ET on HBO.