Democrats Promise to Grill Sessions—Respectfully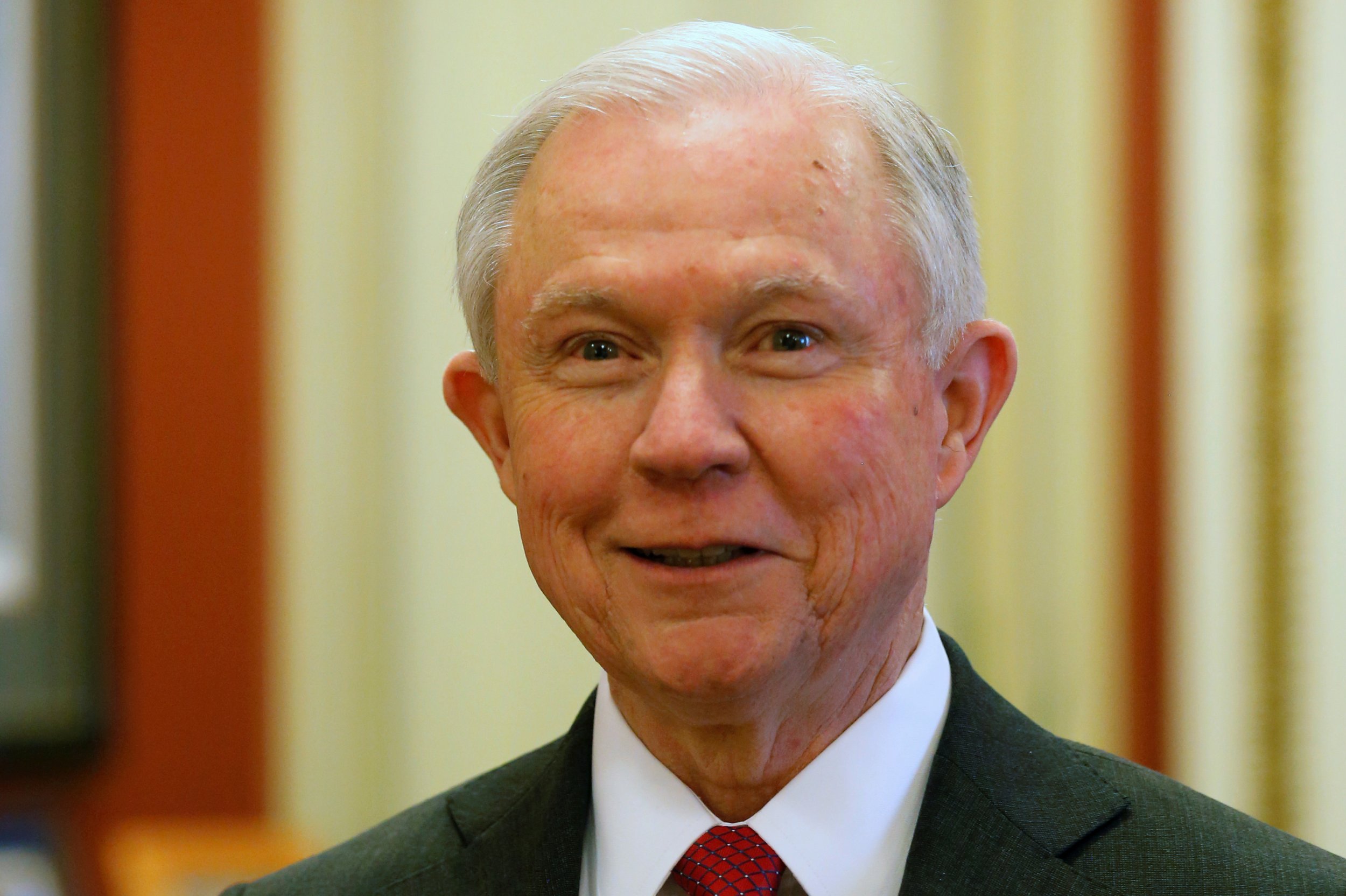 Democrats face a tricky balancing act as the Senate kicks off its confirmation hearing for President-elect Donald Trump's attorney general nominee, Senator Jeff Sessions, this morning. In tension is the party base's desire to hammer Sessions for his controversial past—particularly on issues of race— with senators' lengthy professional and personal relationships with the Alabama Republican.
Some top Democrats have admitted it's something they're wrestling with. "We've spent a lot of time together in a non-official capacity, in the gym, traveling. So there's a personal element which makes the decision of how you vote different," Illinois Senator Dick Durbin, the No. 2 in the Senate Democrats' leadership ranks, told reporters last week after meeting with Sessions. Trump Secretary of State nominee "Rex Tillerson, he could be standing back here now, and I wouldn't be able to pick him out of the crowd. But I sure know Jeff."
Related: Sessions crack compromise: anomaly or opening?
Durbin is a member of the Senate Judiciary Committee—which will conduct the Sessions hearing on Tuesday and Wednesday—and so is Sessions, who has served in the Senate for nearly two decades. The two have not only spent countless hours sitting at hearings together, but they've also crafted deals on legislation, including the 2010 Fair Sentencing Act that reduced the disparity in sentencing standards between crack and powder cocaine. The pair are so familiar with one another at this point, Durbin joked, "we could give one another's speeches." So "there weren't a lot of surprises" when the pair met to discuss Sessions's nomination, he said.
That does not, however, means Sessions has Durbin's vote when his nomination comes to the Senate floor. "I have a lot of deep concerns," the Illinois Democrat said after the meeting. So do many other progressives: Opposition to Sessions from Democrats' base is among the most intense for any Trump Cabinet nominee. Nearly 150 civil and human rights groups sent a letter to senators in December calling on them to oppose the nomination of Sessions, a former U.S. attorney. In it, they alleged he has "a deeply troubling record as an opponent of civil rights enforcement," is "a champion of voter suppression tactics targeting African Americans" and has "a history of making racially insensitive statements." More than 1,000 law professors and more than 100 state lawmakers have sent similar letters. Sessions's past—including allegations of racism that surfaced when the Senate considered and rejected his nomination as a federal judge in 1986 —is likely to be front and center at his hearing.
Democrats have plenty of firsthand knowledge about Sessions's uncompromisingly conservative positions on immigration, voting rights, criminal justice reform and other issues important to liberal activists. They are queuing the Alabama senator's votes against bipartisan immigration reform, LGBT rights, gender discrimination and prison sentencing reform legislation during his hearing as subjects for his hearing.
One Senate Democrat, Sherrod Brown of Ohio, has already announced he will vote against Sessions's nomination, and it's likely more will follow. Ultimately, Sessions is unlikely to win anywhere near the same support that sitting senators Hillary Rodham Clinton (94 yea, 2 nay) and John Kerry (94 yea, 3 nay) received from their colleagues at the time when they were nominated for secretary of state under President Obama. But he is still expected to be confirmed on the strength of a unanimous vote from the Senate's 52 Republicans.
Overall, however, Democrats are still treading much more cautiously than many would have had Sessions not been a longtime colleague. When Durbin was asked by a reporter last week if he believed Sessions was a racist, the Illinois senator was quick to distance himself from any name-calling, although he acknowledged the concerns about his colleague's record. "I'm never going to say that, I'm never going to call him anything," Durbin said.
Though many old-timers in Congress lament the decline in decorum and camaraderie among lawmakers in recent years, the Senate in 2017 remains a tradition-laden institution. Members of Congress are still expected to follow certain standards of respect and courtesy when it comes to interacting with colleagues. For example, when members of opposing parties address each other on the Senate floor, they still refer to each other as "my friend," and as "the gentleman" or "gentlelady" from a given state. Some newer members of the chamber have challenged these kind of formalities from time to time in recent years, but it has always provoked an uproar.
Democrats on the Judiciary Committee promised to be, as Minnesota Democrat Amy Klobuchar put it, "fair minded but tough" with Sessions during the hearing. "Senator Sessions is justifiably liked and respected as a colleague," Connecticut Democrat Richard Blumenthal said after meeting with Sessions last week. But "we have an obligation to advise and consent no matter who the nominee is."
"There is a factual record here," Blumenthal added, "that needs to be carefully and thoroughly assessed."
Klobuchar agreed. Like Durbin, she has teamed up with Sessions on legislation in the past, although the two did not work out together at the gym, she noted with a laugh. "It's an interesting image," Klobuchar said wryly. Despite her relationship with Sessions, she said, "You have to step back and look at it like any other nominee."