Foreign Requests for Evidence Spike as Sessions's Justice Department to Help More With Bribery and Corruption Cases Abroad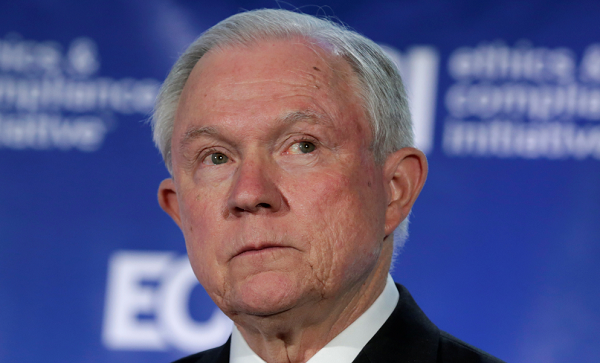 As more and more countries ask for help in bribery and corruption investigations, the Department of Justice will increase its cooperation with its investigative counterparts abroad, the head of the DOJ's fraud section said Wednesday.
The cross-border nature of financial fraud has heightened the need for partnerships between regulators and prosecutors in different countries, acting Principal Deputy Assistant Attorney General Trevor McFadden said in Sao Paulo during a speech.
"Increasingly, prosecutors around the world understand that investigating and prosecuting transnational crime necessitates transnational cooperation," said McFadden, speaking at the American Conference Institute's 7th Brazil Summit on Anti-Corruption.
"Indeed, just as criminals seek to exploit geographical boundaries to protect themselves and their illegally derived assets, so must the mechanisms of international cooperation serve to disrupt their ability to do so."
As an example of new cooperation, McFadden announced DOJ plans to send an anti-corruption prosecutor to the U.K.'s Financial Conduct Authority. While the DOJ already has attorneys and agents stationed in cities around the world, that assignment is the first time the DOJ has detailed a prosecutor to work in a foreign regulatory agency on white collar crime issues.
McFadden also cited the surge in requests for legal assistance from foreign law enforcement and regulatory agencies. Over the past five years the number of requests from other countries seeking evidence to support foreign bribery and corruption investigations has gone up almost 150 percent, and there has been a 75 percent spike in U.S. requests to other countries for evidence to support bribery and corruption probes, he said.
It has always been in the U.S.'s best interest for other countries to prosecute corruption, says law professor Harry First of New York University. "Everyone is better off if their countries don't have to pay bribes to do business. But if we're the only ones prosecuting our own companies, then our companies are at a disadvantage," First tells Newsweek. "The best solution, at least for industrialized countries, is to have no bribery. But that requires lots of prosecutions both from the US and enforcers in other countries."
To speed up the response to foreign requests for information and evidence, the DOJ has established two units: the Cyber Unit and the Mutual Legal Assistance Unit. The Cyber Unit deals with requests from foreign authorities for electronic evidence, which have increased exponentially over the past 10 years, while the MLA Unit handles requests for non-cyber evidence.
"These new resources reflect our recognition that it is important to our own prosecutions—and those of our international colleagues—that requests for assistance are handled carefully and expeditiously," McFadden said, according to a copy of his prepared remarks that were provided by the DOJ.
The steps toward more foreign cooperation by Attorney General Jeff Sessions, who was appointed by President Donald Trump earlier this year, continues measures taken by Attorneys General Eric Holder and Loretta Lynch, who were appointed by President Obama.
In 2014, for example, the DOJ launched its Global Central Authorities Initiative, which helps strategically located countries fight transnational crime and terrorism and helped train people in countries including Egypt, Morocco and Kenya.
"Overall, this looks like a speech that says continuity," says First. "The Justice Department has historically tried to cooperate with foreign prosecutors.… We've pushed them for years to bring their own prosecutions."
The DOJ's Office of International Affairs, which the Cyber and MLA Units will be a part of, is the "nerve center" for international law enforcement coordination, according to the DOJ. The office focuses on the extradition of fugitives, gathering international evidence and negotiating treaties that focus on global law enforcement strategies.
Another type of cooperation McFadden described is multinational settlements by companies that broke the law in multiple countries, naming as an example Rolls Royce and its $800 million settlement paid to three different countries where it paid bribes.
"In closing, the Criminal Division will continue to do its part to punish and deter crime—including corruption—with international implications," McFadden said in Brazil.
"Increasing our commitment to international collaboration, we hope, will ultimately have the effect of safeguarding our countries, our markets and our citizens.