Jeff Sessions Needs to 'Go' to Fix 'Problems' In Justice Department, Chaffetz Says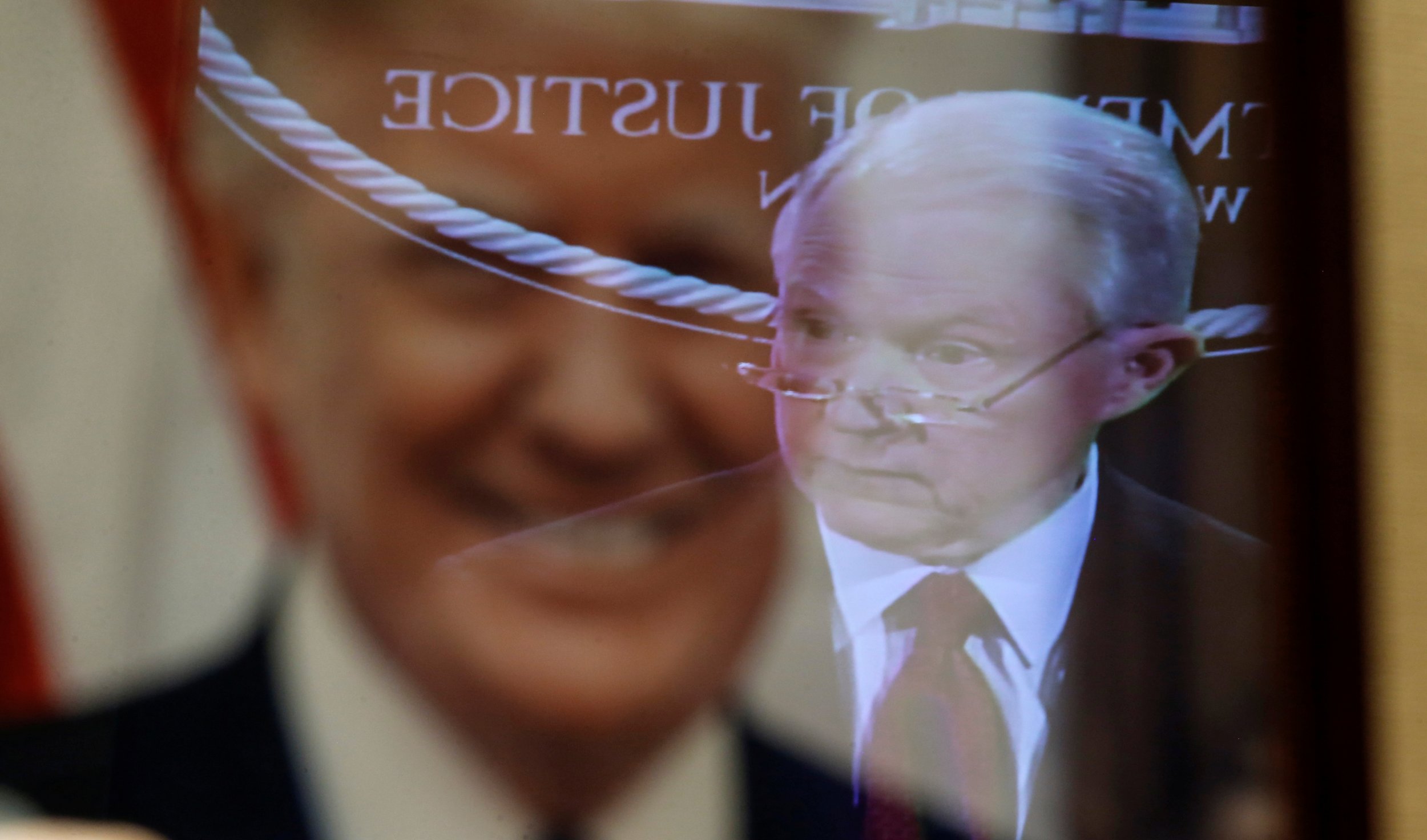 Attorney General Jeff Sessions may be to blame for the "deep systemic problems" at the Justice Department and is the reason Special Counsel Robert Mueller even has an investigation into President Donald Trump, a former top Republican congressman said Saturday.
Former House Oversight Committee Chairman turned Fox News contributor Jason Chaffetz explained his reasons for why the former Alabama Republican senator needed to leave his post as the head of the nation's top law enforcement agency.
"It pains me to say this a little bit [but] I don't think the attorney general is up to the job he's doing," Chaffetz said on Fox News. "He's absent from this. The reason there's a special counsel is because he had to recuse himself from everything."
Chaffetz added: "And my own personal opinion, I think its time for the attorney general to go because you need leadership. There are some deep systemic problems there."
Chaffetz also accused Sessions of refusing to pursue probes into an ex-member of Democrat Hillary Clinton's IT team, and former Attorney General Eric Holder's "Fast and Furious" scandal.
"I mean I got a laundry list of things that the attorney general will not pursue, and he can't run the department and agency," he said.
The segment in part focused on a recent call by Trump's legal team for Sessions to appoint a special counsel to investigate alleged corruption within the FBI and Justice Department after text messages - sent by a former member of Special Counsel Robert Mueller's team last year - were released and may have showed a bias against Trump.
Sessions pushed back on that request during a press conference Friday, stating "concerns" could have "innocent explanations." Trump recently stated the FBI is in "tatters," which Sessions also disagreed with as well as FBI director Chris Wray during a recent testimony before Congress.
"We're going to take seriously the concerns that have been expressed," Sessions said. "I would just say that we intend to monitor our people to maintain high standards. But I got to tell you, sometimes things that appear to be bad in the press have more innocent explanations."
Mueller, who was appointed by Deputy Attorney General Rod Rosenstein after Sessions recused himself in March from any investigation involving Russia, is currently probing whether the president's former campaign colluded with Russia to win last year's election.
Rather than naming another special counsel, Chaffetz said the ongoing internal investigation by the Justice Department's Inspector General Michael Horowitz could instead check the FBI. That probe was looking into how former FBI director James Comey and current Deputy FBI Director Andrew McCabe handled Clinton's private email server investigation, as well as leaks from the FBI and Justice.
Peter Strzok, a top FBI counterintelligence official, exchanged the aforementioned texts with FBI lawyer Lisa Page last year, and they included disparaging comments about Trump and if he were to win the election. Other messages were critical of the Obama administration and Clinton.
However, the existence of the messages was only revealed after they were made available to the media this week. And Horowitz told lawmakers in a letter issued Friday that he had no problem with Justice sharing the texts with Congress but he was never consulted about releasing them to the press, according to Politico.
Sessions job status has remained a hot topic of discussion throughout Trump's first year in office. Reports indicated a frosty relationship between the president and attorney general, especially after Sessions removed himself from anything to do with Russia.
Words like "enraged" were used to describe Trump's feelings towards Sessions, and The New York Times reported in September Trump shouted at his attorney general after Rosenstein appointed Mueller, humiliating Sessions like never before.