Jeff Sessions's Leak Probe Press Conference Was Misleading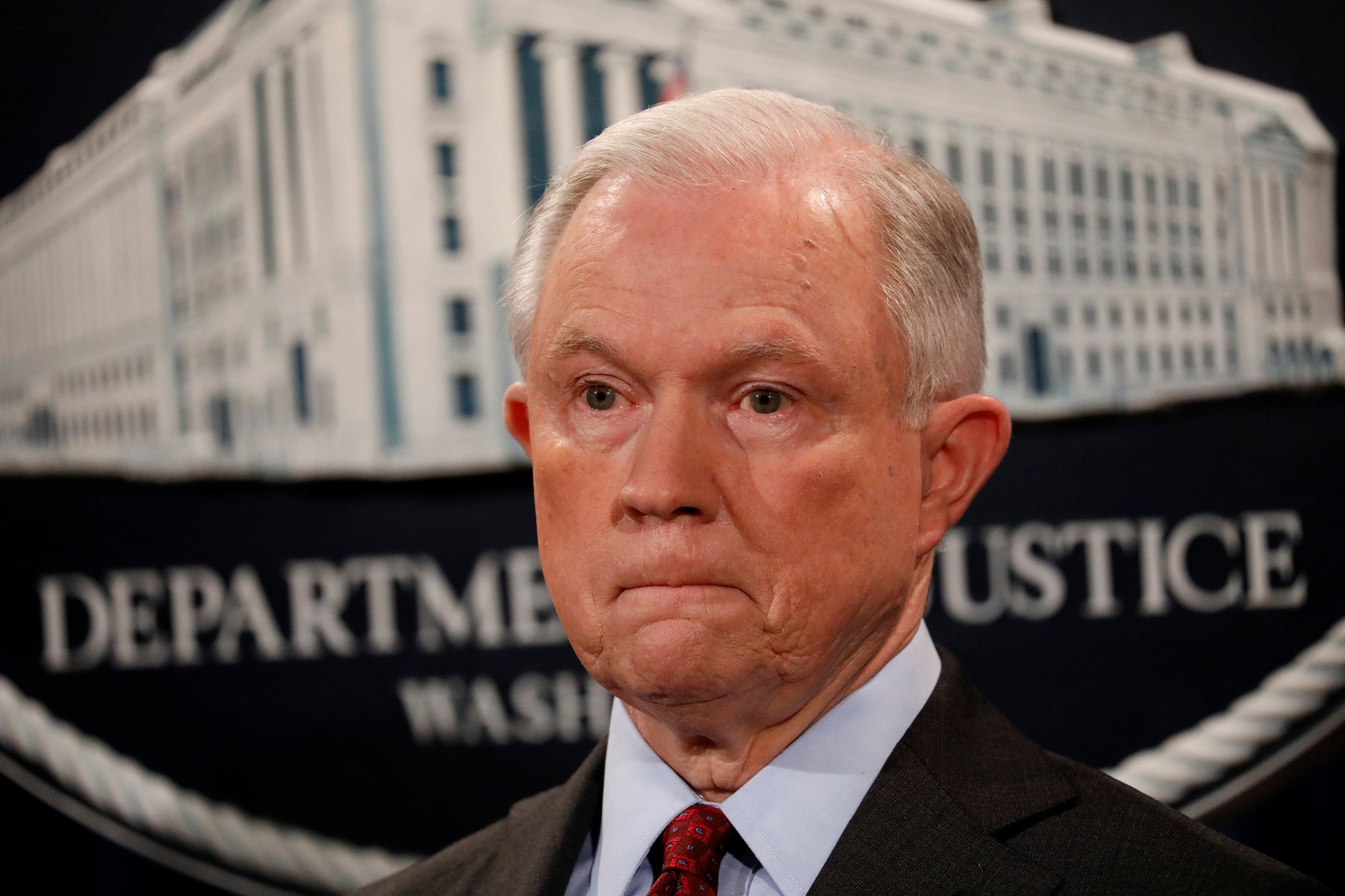 Another day, another Donald Trump show. The president was absent from the elaborate press conference that Attorney General Jeff sessions held at the Justice Department on Friday to showcase the administration's intent to crack down on leaks.
But his looming presence was palpable. The president reportedly often watches and critiques the TV performance of his officials.
"This culture of leaking must stop," Sessions said, echoing Trump's increasingly bitter tweets.
Flanking Sessions were Deputy Attorney General Rod Rosenstein, the Director of National Intelligence, Daniel Coats and William Evanina, head of the little-known National Counterintelligence and Security Center.
Related: Republicans would support Trump firing Jeff Sessions
"Conspicuously absent," The Washington Post noted, "were representatives for the FBI, which generally investigates leaks." Rosenstein said the new FBI Director, Christopher Wray, wasn't there because he had just started his job this week.
Unlikely. Wray's office is just a short walk across Pennsylvania Avenue from the Justice Department. If Wray were unavailable, plenty of other top FBI officials certainly were. Under a president obsessed with how his officials come across on television, the exclusion of them seemed deliberate.
Donald Trump's loathing for the FBI, particularly former director James Comey, has been one of his signature themes. He fired Comey. He has discussed firing another former FBI director, Robert Mueller, from his post as the U.S. special prosecutor investigating possible collusion between Russia and the Trump campaign. He suspects the FBI has been a prime source of leaks hurtful to his administration. Last week, he tweeted that Sessions had taken a "VERY weak position" on "Intel leakers."
The tableau presented by Sessions, who is struggling to hold on to his job after weeks of withering criticism from Trump for recusing himself from the Russia investigation, seemed designed to suggest to the president's political base that other, more trusted security agencies would play a prominent role in the leak investigation.
Not going to happen. As opposed to what the TV pictures might suggest, U.S. intelligence agencies are barred from criminal investigations of leaks (although they conduct their own internal probes).
"Only the FBI has jurisdiction to conduct that type of investigation," Robert L. Dietz, who has held senior legal positions at the CIA, NSA, the National Geo-Spatial Agency and the Defense Department, tells Newsweek. "Indeed, the entire intel establishment has no authority over leaks."
The National Counterintelligence and Security Center, says Marion "Spike" Bowman, a former deputy chief of the agency, is only a policymaking body and "has no powers other than persuasion" to get access to the progress of a leak investigation. It cannot "peer into" a counterintelligence investigation and report back to its parent, Coats, the Director of National Intelligence, who was featured at the Sessions press conference. It has "no investigative, subpoena or other powers," he tells Newsweek.
Historically, critics of leak investigations, including government officials, have called them "a fool's errand." They can often lead right back to the offices of the White House or cabinet official who demanded them.
But Sessions added a dark element to his Friday announcement, suggesting he might start issuing subpoenas to reporters. The secret monitoring of media organizations could well accompany such investigations, history shows.
Press freedom organizations denounced the idea. The Reporters Committee for Freedom of the Press said it would "strongly oppose" a revision of Obama administration guidelines generally prohibiting such subpoenas. It also announced it had set up a toll-free hotline for reporters to call for legal advice if they got a subpoena.
Most leaks involving controversial Trump administration policies and its in-fighting and chaos have not included classified information. But some national security officials, both Democrats and Republicans, said Thursday they were shocked by the leaks of complete transcripts of Trump's private telephone conversations with the president of Mexico and prime minister of Australia. Both transcripts revealed Trump saying things in stark contrast to his public positions. He had denounced previous reports characterizing the calls—accurately, as it turned out—as "fake news." Sessions indicated he was going to get to the bottom of who leaked the transcripts.
But far from being investigated and punished, whistleblowers should be recognized as playing an important role in a democracy, says Danielle Brian, executive director of the Project on Government Oversight, a Washington, D.C. nongovernmental organization. Leak probes, she said, can stumble onto rightful efforts to expose crimes by government officials.
"Whistleblowers are the nation's first line of defense against fraud, waste, abuse and illegality within the federal government," Brian told The Washington Post. "The last thing this administration wants to do is to deter whistleblowing in an effort to stymie leaks."